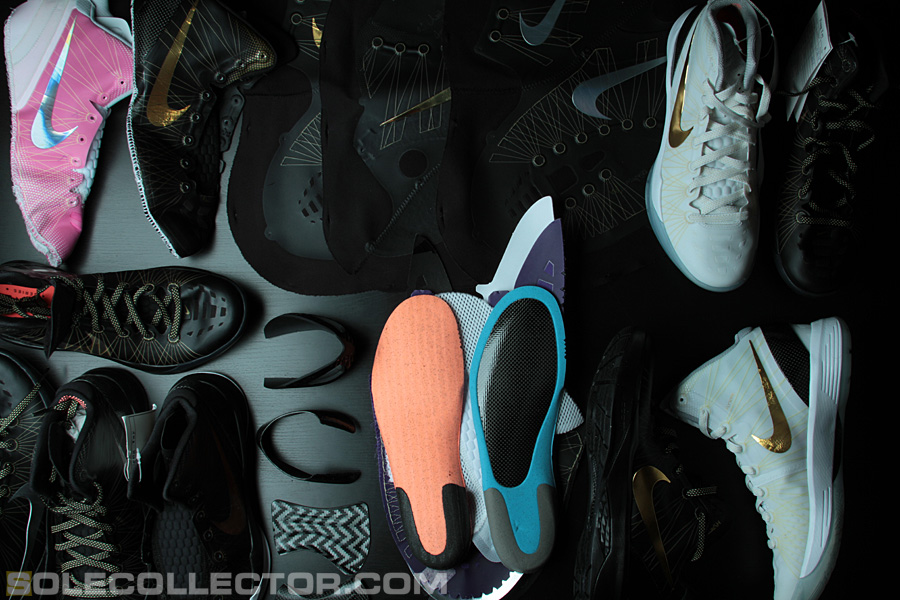 words, images & interview by Nick DePaula
As published in the April iPad Issue of Sole Collector Magazine. The Zoom Hyperdunk 2011 Elite is priced at $200 and available now.

With LeBron James, Kobe Bryant and Kevin Durant all wearing their own signature Elite models throughout the playoffs, Nike Basketball couldn't just up and leave their remaining key athletes dry. Expect to see Blake Griffin, in what will be his first trip to the postseason, along with several other key stars like defending champions Dirk Nowitzki and Tyson Chandler in an Elite version of the Hyperdunk 2011. Much like the Kobe VII Elite, the Hyperdunk ditches a TPU heel counter and shank for true carbon fiber, and features a revamped and re-skinned upper for an even closer fit and Kevlar-laced support.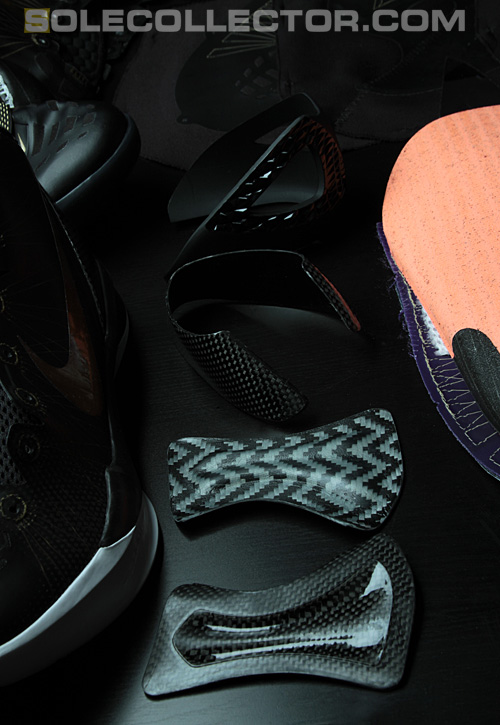 For most people, the Hyperdunk was this year's best performing shoe, and the key thing I was left wondering after playing in it was, "How much better could this actually get?" As Nike Basketball Design Director Leo Chang explains ahead, quite a few updates and enhancements actually went into it as the category looked to launch its debut Elite Series. Read more on the stronger, yet lighter, new Hyperdunk that Blake Griffin will be leading.
Nick DePaula: Building on the upgrades you guys made to both the LeBron 9 and Kobe VII, this year's Hyperdunk is also a key model for your team in the Elite Series. Was there as much of a re-engineer on these as the other two?
Leo Chang: The Hyperdunk was a fun one, too. It probably doesn't look like it changed a ton, but actually, that was the one that we gutted the most between the Hyperdunk and the Kobe. Here's one of the very first samples here, and you can just see how adding in Kevlar initially made getting that panel right so tough. It's dual thread on there, so there's a top thread and a bottom thread, but it was hard for the factory to get the alignments exact and straight. I just decided, "Alright, lets skin the whole thing, but lets cut the layers in half." In the original Hyperdunk 2011, you had four layers. There's mesh, a hot melt where we could embroider onto, a mesh on the outside and then skin. We took away two layers. What you see here is a textile backer that we found that we embroider the Kevlar onto; then we skinned over that and then cut the bottom layer off. We added more Kevlar in to spread out the pressures of the cables and get a nice, even distribution. With the Kevlar being a one to two percent stretch, you didn't need as much help from the bottom layer that's normally there to help hold it all in. So we just cut it off. What you get is an upper that's way more dynamic and conforming to the foot than the original 2011, which you liked, right?
NDP: I loved that shoe. I thought it was great.
LC: But if you compare the two now, you can really feel the difference in stiffness to start along the upper of the two. We even looked at the seam on the medial side of the original Hyperdunk 2011. It's a closed seam on that one, and we put a binding tape on the panel now. You can see how that closed seam is kind of bunching up, and then it gets kind of stiff in there. We reconstructed that with a zig-zag stitch between the panels and then used tape over the top to hold it in. It really moves and flexes with the foot better.
NDP: Much like the Kobe and LeBron, these also include a pretty sizable carbon fiber counter.
LC: Just knowing that the carbon fiber was going to be applied to a much stiffer material, too, there isn't really a transition to a soft upper or anything like that. The counter would just start to delam really badly if we didn't have the contour exact. Reinforcing that and getting it just right at the heel was real tough. Another thing we looked real closely at was the inner bootie. We had these bootie wings that were real conventional in the Hyperdunk, and we wanted to also look at how we can make that better. We actually made this side wing of the sleeve lighter and slimmer, and then we just fused the edge of it so we didn't need to put a binding tape on it either.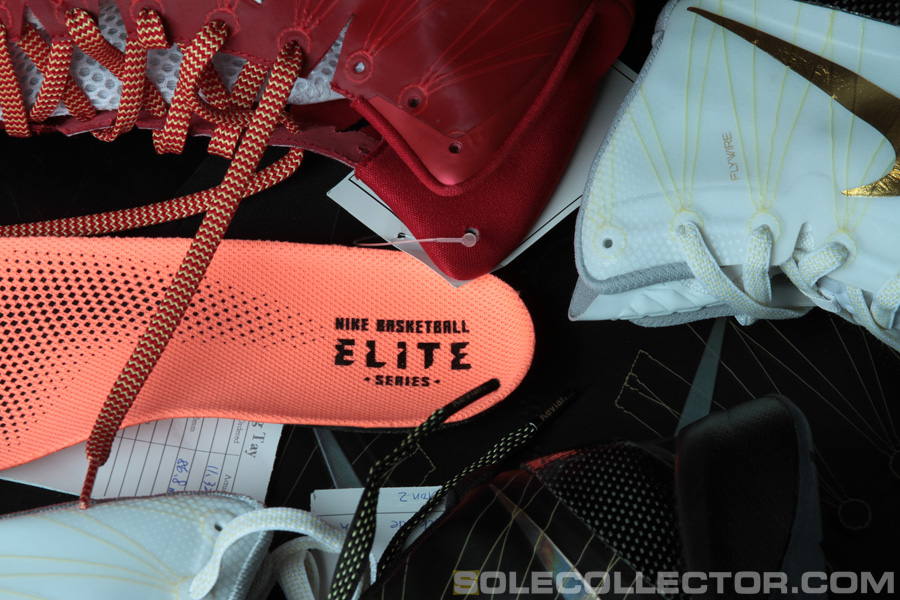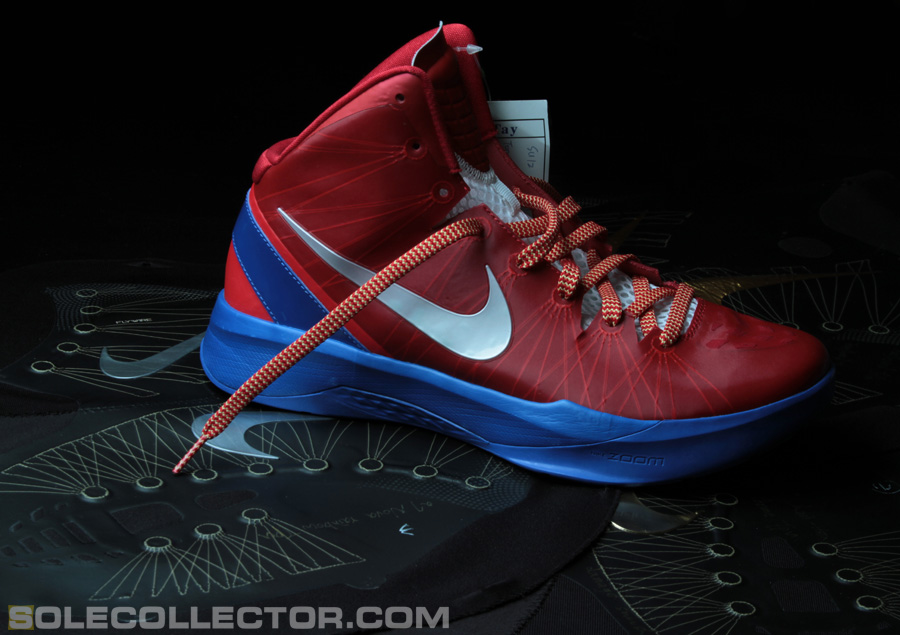 NDP: With Kobe and LeBron leading their models, is the idea for Blake to be the guy that leads the Hyperdunk and have other guys throughout the League wear it, too?
LC: Yeah, and he's our face for the Hyperdunk, but a lot of guys will be wearing it.
NDP: And that'll be in team colors and then the white and black with gold once we get to the Finals?
LC: The NBA doesn't actually allow us to do gold until the Finals, so that'll be the plan for sure. We're going to do Swooshes, laces and outsole pops that are in team colors, but it'll primarily be white and black executions for our guys. The reasoning behind that was, you know what, we've been doing a ton of all-over body colors and everyone else is now doing that, too. We felt like it'd be a time to cleanse the palate and really clean things up out there. We can go back to the fundamentals of black and white, and then in the Finals, it'll be about that trophy gold. The one thing that everyone in the playoffs is looking for is that trophy.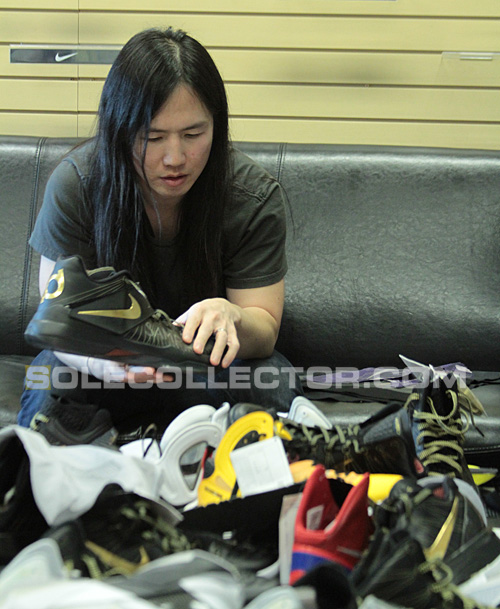 NDP: You have the Hyperdunk mid here, but there will also be a low that's made just for guys on court?
LC: Yeah, that won't be at retail, and I think there's only so many $200 shoes that we can put out there this time, so we wanted to keep it tight. The other thing we also did on the Hyperdunk was we added a grippy texture along the collar and got rid of the foam lobe notches in there. The counter was so responsive and really held its form, so when you put your foot in there, you're already locked in. You can put your hand in there and you'll really feel it hugging. It's just not even close to the same as the regular Hyperdunk heel counter. That was pretty cool, to be able to re-engineer the shoe altogether, make it fit even better and also get it a half ounce lighter. It's hard, because a lot of the weight comes in the tooling, but we weren't going to be able to get anything out of there since we used the same one. Actually, at one point we looked at doing a new tooling –
Jason Petrie: At one point you were! [laughs]
NDP: And that's one thing I was going to ask about. Since the uppers have gotten to be so light, is the next stage of lightweight just figuring out how to get that balance down?
LC: Yeah, definitely. You don't ever want to have a shoe that feels bottom heavy.
NDP: And KD will have his own, too?
LC: Yeah, we're working on that. We just sent him some stuff, and we're working through some fit issues now. He's got a really skinny foot, and we used a similar upper to the Hyperdunk Elite, but there was just too much room inside of the shoe for him. A lot of times when we go thinner, the volume of the shoe will of course increase. We have to go back in and re-engineer the bootie to make sure it works for him.
NDP: Are you guys pretty excited to battle off in the Finals?
JP: It's going to be a hell of a couple weeks when it gets going.
LC: I was just talking to Lynn Merritt yesterday, and I was joking, "I'm looking forward to OKC and Miami!" He just laughed.
JP: OKC just got DFish too, and we got Turiaf.
NDP: I like that signing a lot.
JP: He's the modern day Cliff Livingston.
NDP: A comparison everyone dreams of as a player, I'm sure.
[everyone laughs]
NDP: I was just talking about Turiaf and Luc Mbah a Moute. I'd give those guys 10-year deals if I was a team. Those guys are the best cheerleaders ever, great guys and just have great energy on a team.
JP: Turiaf can also catch a ball and do something with it. [laughs]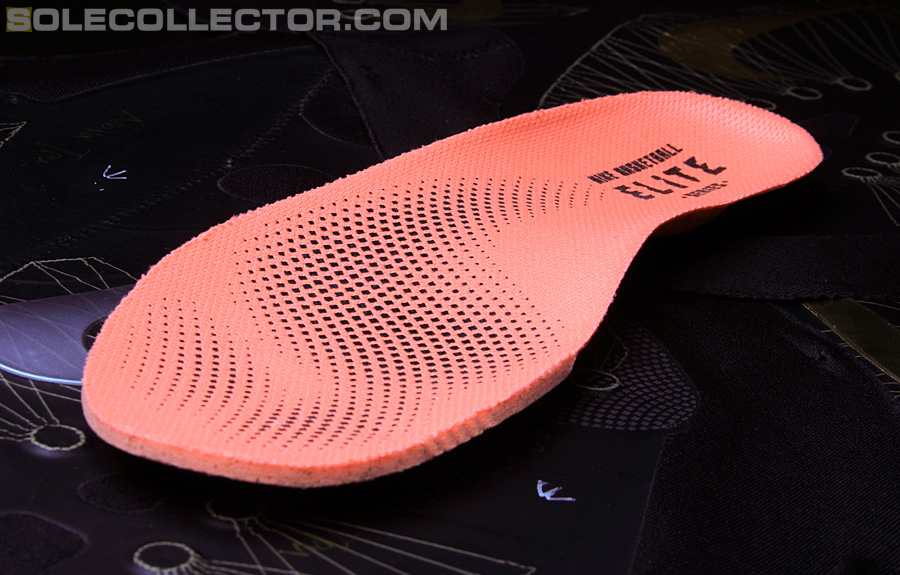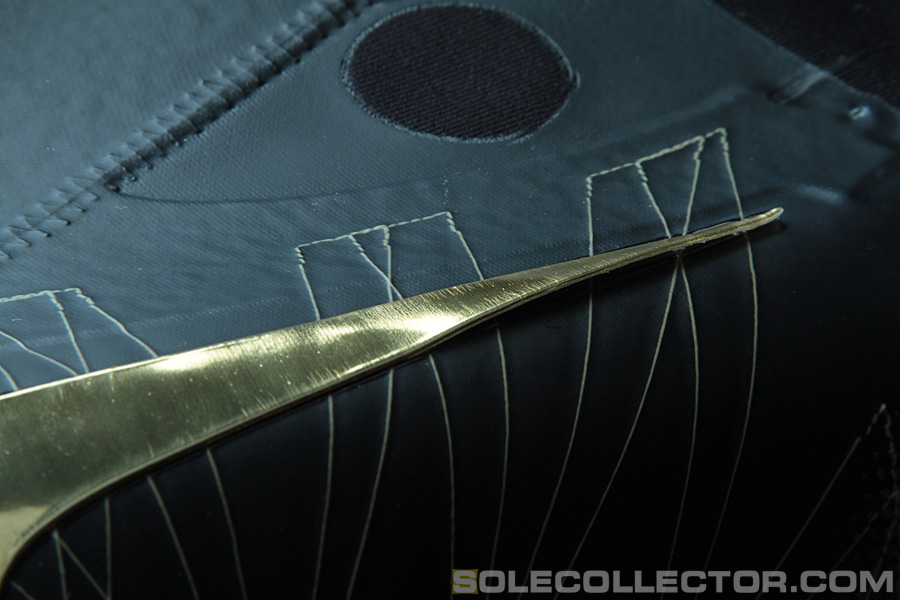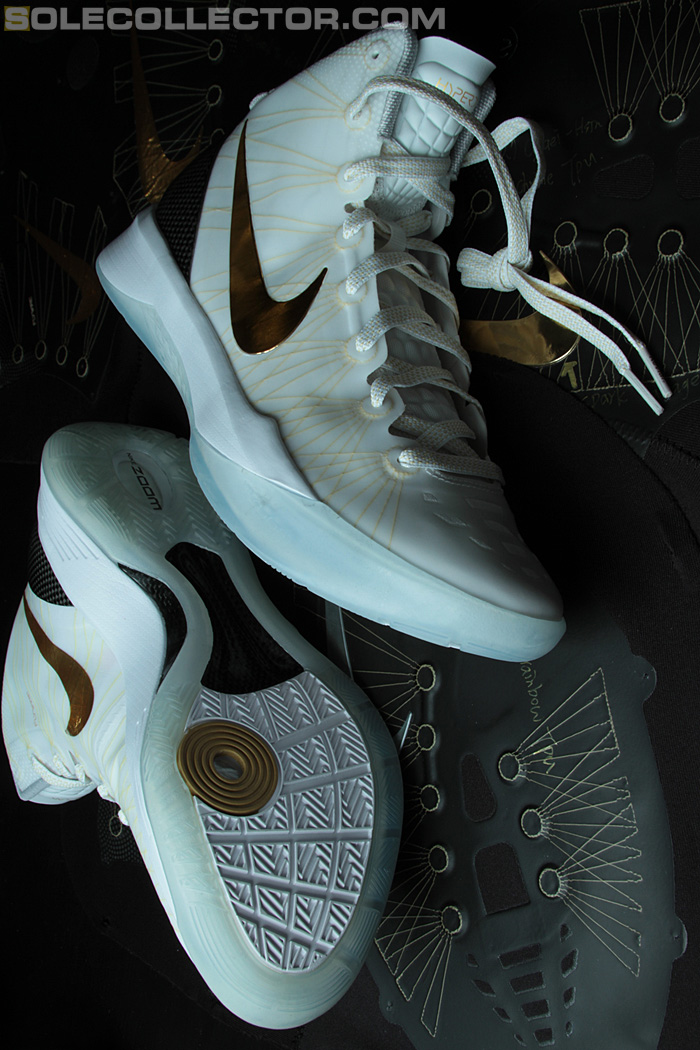 NDP: Elite has been a tagline that's been used on jerseys too for March Madness. Is this going to be something that we can begin to expect every playoffs, and will this also be a moment that you carry into bigger events like the Olympics?
LC: More to come on that, and we're still mapping all of that out. We're definitely going to keep it on the LeBron line as we get into future versions, but whether we do it across all is a tough one. There's a lot of stuff we have to deal with the team and with every team when it comes to special moments, so I'm not sure what we'll do with regard to that.
NDP: What's the actual application on that Swoosh?
JP: It's different on all three.
NDP: But it's not like the Michael Johnson cleat, I take it?
[everyone laughs]
JP: Man, I'll tell you what. We went through so much black magic to actually get these things to work. The LeBron is actually a stock-fit film that fits into a recess in the naked carbon fiber piece. There's an electro-plating process to make sure the stock-fit will work, and then it's pressed down in there and locked in. Leo went through hell to get the Swoosh on the Hyperdunk to work.
LC: We had a HF-weld chrome TPU Swoosh at one point, and it's funny, 'cause this one with the chrome in there is really sensitive to the welding process. It can actually catch fire if it gets too hot.
JP: That's the next level, I guess. Actually setting the factory on fire. [laughs]
LC: We had done stuff that was more iridescent and a film, but you can see how lovely the bonding was. [laughs]
NDP: Oh sweet. It just comes right off.
LC: Exactly. It just didn't bond. We tried a few other versions with iridescence, but even some of those, because of the heat on the bonding, you could just take your finger and wipe the iridescence right off. You could smudge it right off. So we looked at better ways than that.
JP: We definitely want our shoes to pass the Fat Joe test.
[everyone laughs]
LC: Oh my God. [laughs] We tried sandwiching the Swoosh under the cables, but then the cables get disrupted and it just looked real rough. At the end of the day, it was just not bonding with a few of the applications, and you definitely don't want to pay 200 bucks and have your Swoosh fall off right away.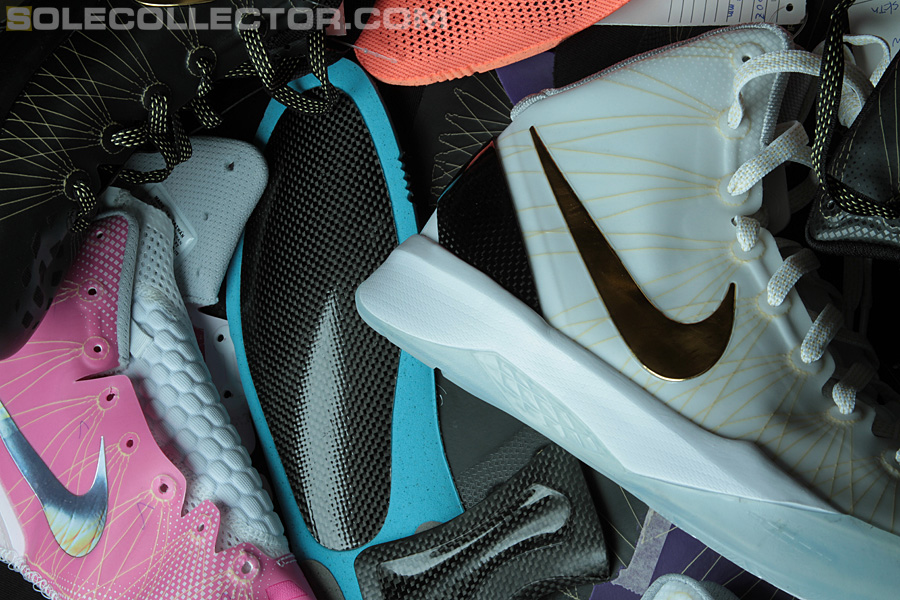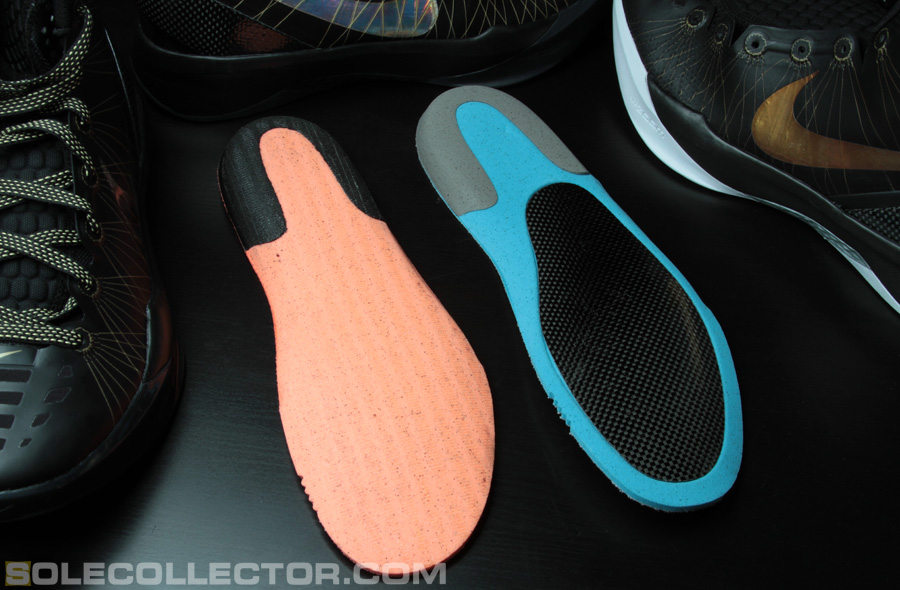 NDP: Something I noticed on the table here is an insole that has a carbon fiber plate in it. How close was that to making it?
LC: That was another thing we looked at in talking to Matt Nurse, from the NSRL a lot, was his idea to have this great sensation of having a carbon fiber plate in the actual sockliner and having that over the Zoom bag. Not only does that disperse the pressure from the plate across the entire shoe, but it also moderates the Zoom units, and instead of your individual metatarsal heads digging down into the Zoom bag, you'd have this whole plate working as a spring plate against the Zoom unit.
JP: It feels drastically different.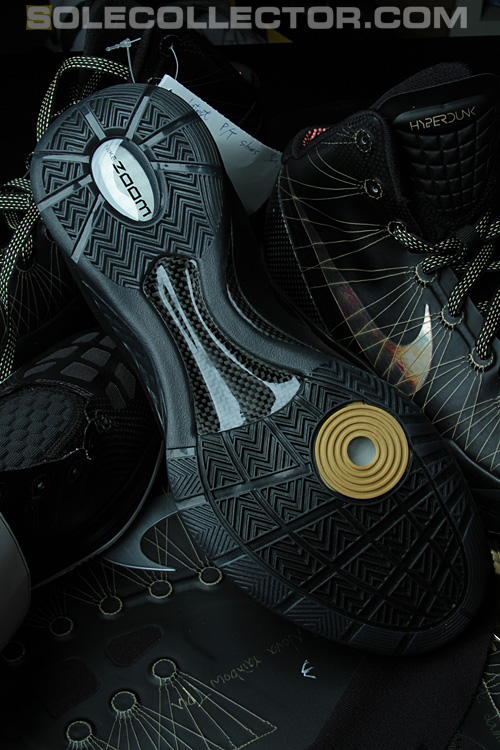 LC: It's the idea of sinking versus floating. When you flat land on something, it disperses the pressure, compared to a harder landing where you just sink down. With that, it just came down to us dialing down a few things and working with the time that we did have. It was also just really expensive, and we would've needed more time get it to work just right for this timeline. The transition of having you go from plate to foam and the way those two things reacted to each other just needed more work.
JP: It's a great concept, and there's definitely more to come there.
LC: It was cool. Having a dual-density heel bucket in the back of the insole really helps, too. The Mercurial Vapor was one of the first shoes that we've done that has a heel bucket like that. When you have that, versus just a flat insole, it really adds more cushion because you're using the whole pad of your heel in there versus just the flat shape of an insole.
NDP: The Kobe VI was a shoe that I thought incorporated that concept really well.
LC: Yeah, that had it, and that ring of dual-density foam really helps with the pressure at the heel there. We even worked on little things along the way with the NSRL. We originally had a graphic along the entire sockliner, and Matt Nurse told us that you want the front of the insole to stick, but you actually want the heel to rotate just a little bit like a ball in a socket as you're turning on cuts. Not having the graphic in the back was good to have your heel rotate with the shoe as you cut. Things like that really helped.
NDP: Is Pro Combat something that's going to be in the line more and more?
JP: I can't speak for the line, but I know that LeBron really identifies with it, and I think we're going to continue to evolve it. We'll try to figure out some different methods and some different ways to integrate it that will really fit LeBron's needs. It's most applicable to LeBron, because he lives and breathes the Pro Combat. He really likes the feel of it and has spoken out about using it.
NDP: For somebody that's just that random dude at the mall, and not really in tune with the break strength differences between Kevlar, Vectran and Nylon [laughs], they'll see that you're going from $125 to $200 and from $170 to $250. What's the one tagline or way you guys are explaining the price difference?
LC: I think it just all comes down to the fact that you're truly getting the best of the best. [It's] the whole idea of making something that's great even greater, in terms of fit, comfort, stability, lockdown and all of those things. Everything just got turned up a notch.
JP: And to the mall guy, like you said, that's not interested in whether or not Kevlar or Vectran gives you less stretch, it's still the best material that we can put into a shoe. Carbon fiber is the best material we could use for support. The gold Swoosh is a premium execution. You're not getting more performance out of the Swoosh, but it signifies that this is something very special and very different. We kept things like that in mind, too. There're a lot of people that aren't necessarily looking for a $200 basketball shoe to go play in and mess up on their first day on the court. But if they want to represent that lifestyle off the court, it has to have some triggers that reflect both the performance and that desire to be the best that's a tick above from what everyone else is wearing.