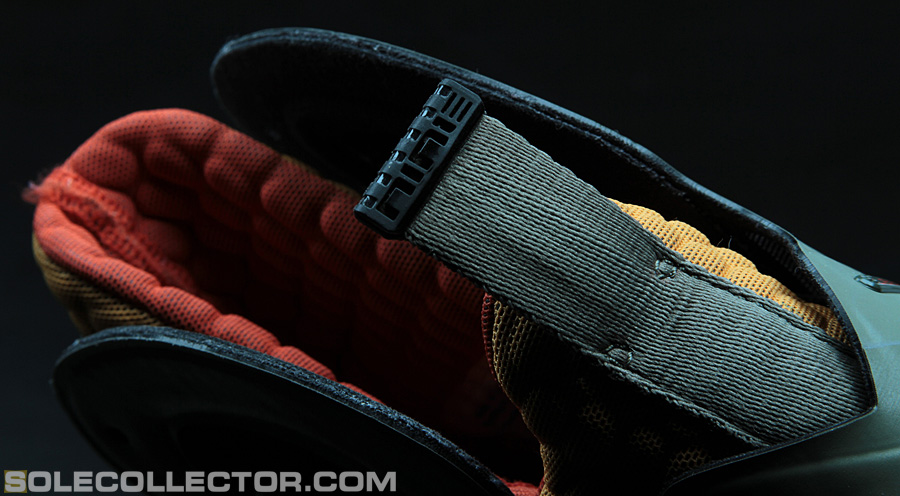 words, interview // Nick DePaula
images // Nick DePaula & Brennan Hiro Williams
additional studio photography courtesy Ryan Unruh

Below you'll find a shortened version of our interview with Jason Petrie and Leo Chang. The full version is available now in the April iPad Issue of Sole Collector Magazine. The Nike LeBron 9 Elite is priced at $250 and available Saturday, April 28th.

For almost ten years now, LeBron James has worked hand in hand with the Nike Basketball team to offer up insights into what he's looking for. Sometimes that brings us a pack highlighting three of his favorite cities or a promo run of sneakers honoring three of his favorite sports heroes. Or sometimes the team finds out after the fact that he wasn't remotely feeling their "Taxi" VI theme. (Afterall, Kings don't take cabs.)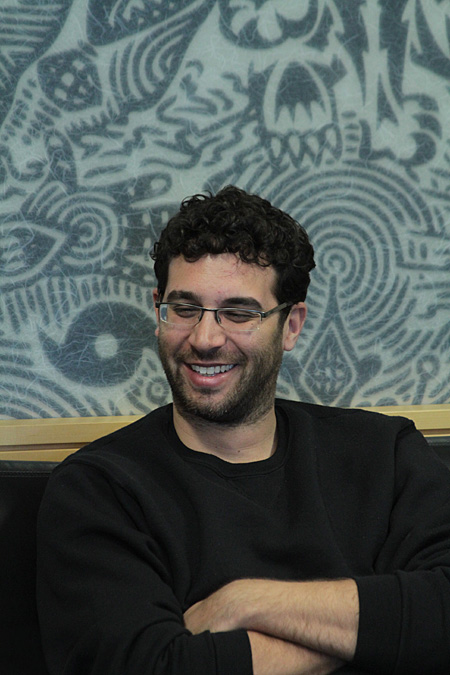 Regardless of however many colorways and themes they release during the year, it's still the playoffs that mean the most to LeBron, and it's still the time of the season that he's been most vocal about focusing on to really drive performance in his footwear. This year, Nike Basketball is looking to innovate and elevate more than ever before with the introduction of the Nike Basketball Elite Series, led by the LeBron 9 Elite.

After moving through his Zoom Soldier series and wearing a "post season" version of his last two signature shoes for the playoff stretches, the direction as of late from LeBron was crystal clear: Upgrade the model. Upgrade the materials. And pour every last ounce of design and performance into it to provide him with all of the tools to try and track down his very first championship.

That insight straight from the athlete also helped to shape the full Elite Series, which will also include the Zoom Hyperdunk 2011 and Zoom Kobe VII. To hear all about the initial starting points of the Elite Series, we caught up with Nike Basketball Design Director Leo Chang and Senior Designer Jason Petrie. Check out our lengthy roundtable discussion below as we dive into the many, many material upgrades throughout the shoe, which owns the distinction of boasting the group's most expensive retail price ever.

Nick DePaula: Just from a bigger picture perspective, is this whole idea of taking in-season shoes and really elevating them for the playoffs something that's been thrown around for awhile now? How far back did those discussions start?

Leo Chang: The whole idea actually came from insights from LeBron. When he talks about transitioning from the regular season to the playoffs and going to the sprint to the finish and the goal of getting a trophy, that led us down this path. That's what's driven the PS in the past, and that's really what drove this Elite Series collection. For us, it was about taking the best Nike Basketball product and making it even better. The best of the best. J [Petrie] and I looked at our shoes and re-engineered them from the inside out and made a lot of design tweaks to them too.

NDP: I've heard you guys mention an approach similar to what Nike Soccer does, where they build some amazing equipment and don't really worry about the price point getting as high as it does. Was that something that was discussed among your group in terms of how they approach that really high end Vapor product, and did you guys have a price threshold that you wanted to be mindful of?

LC: It's funny, cause at the very beginning, we really were just told that all of the shackles were off.

Jason Petrie: And that's something you never hear.

[everyone laughs]

LC: The idea really was, "Do whatever you need to do to make these the most amazing shoes ever. Take the shackles off and go crazy." At some point, we had some shoes that were coming in pretty expensive.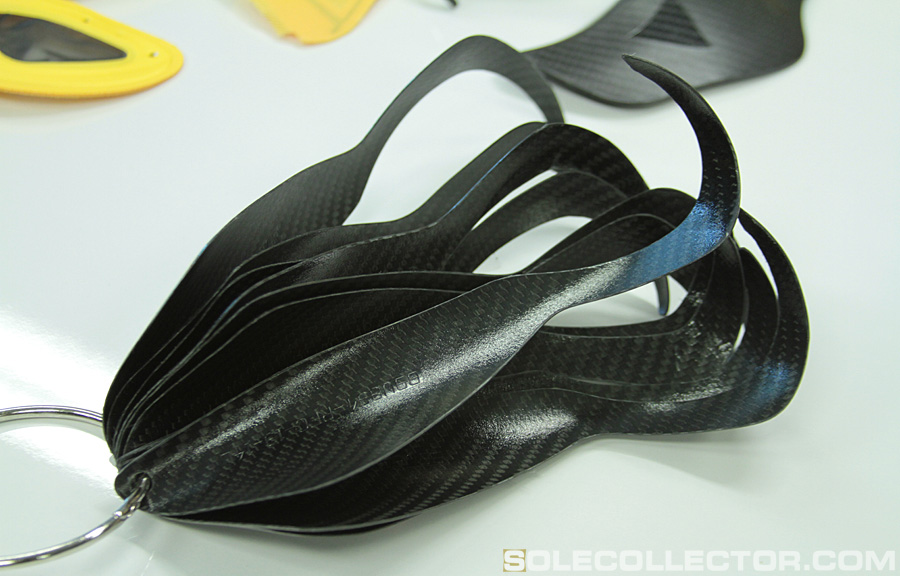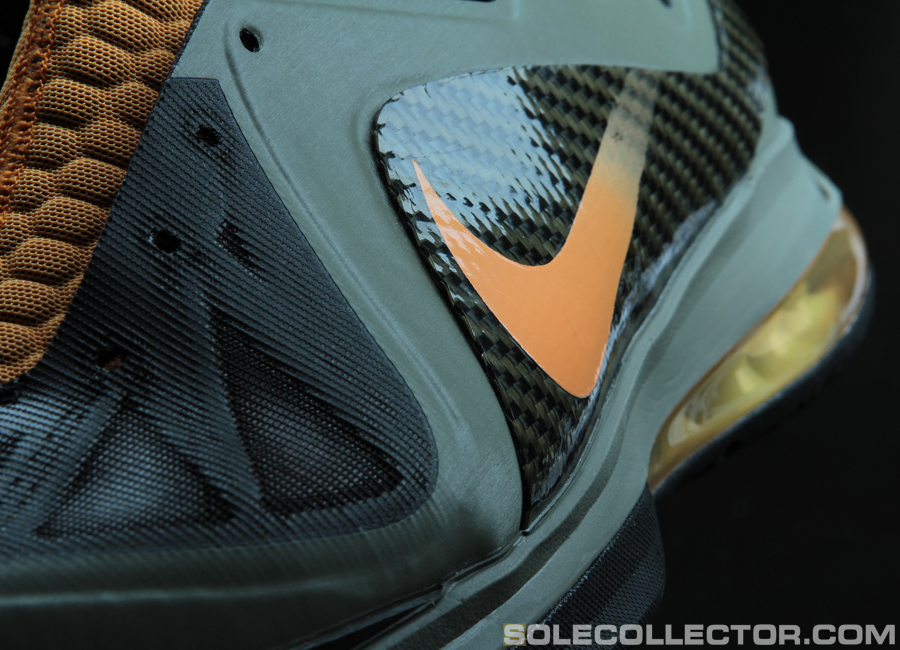 Above: An early round sample colorway of the LeBron 9 Elite.

NDP: That's what I'm curious about. Did you have stuff that was even $350 and up?

LC: Oh yeah. We did.

JP: I can't really speak for Leo's shoes, but if we wouldn't have edited the 9 a bit, it would've been above $350 for sure.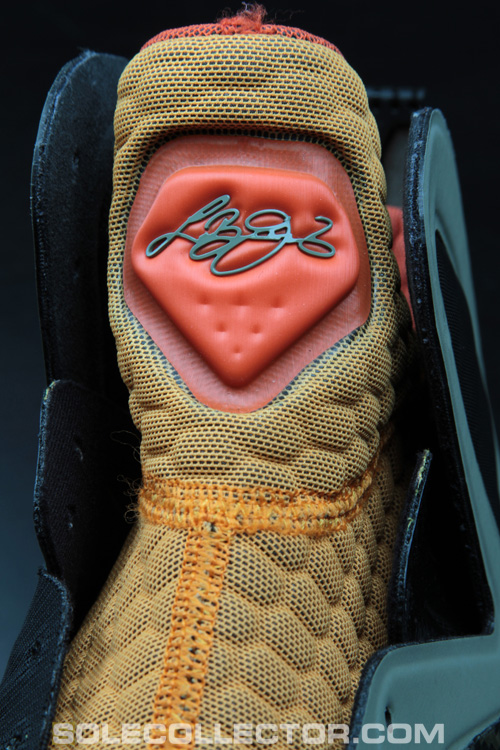 NDP: Was that because of there being more carbon?

JP: A little bit of everything. At one point, we had full-length Zoom in the sockliner over the heel Air bag. Kevlar everywhere. Full Pro Combat. We had different construction stuff that we can't really do otherwise normally. The Swoosh application even was crazy, and it was a treatment that was driving the factory nuts.

LC: J and I were in Taiwan working on this series, and we'd spend literally hours just working on different Swoosh solutions beyond just a flat TPU, a skin Swoosh or an embroidery that we normally do.

JP: Tying it in as a collection made it a bit tough too, because all three shoes had a different way that each shoe's Swoosh was going to need to be applied. The cool thing for us as designers, was we looked at each other when we were told, "Hey man, literally the shackles are off." And it was like, "Really? Come on." But from the very top down, they made it clear, "Just go. Dream and execute." Leo was the one that really drove the idea of taking the Elite level that Nike Soccer has become known for and really taking that to the next level for our shoes. We wanted to use the best of the best materials and make the illest run of playoff shoes ever.

LC: We really started with some big picture ideas and just wanted to start thinking about what options we could throw out there. From there, we wanted to hone in on what the key features that exist on all of the shoes are. If you start with the carbon fiber, we wanted to upgrade all of the shanks to real carbon, versus the glass fiber that we use in a lot of our normal shoes. The glass fiber shanks are really light, and they're better than TPU and nylons, but they sit right in the middle of price and quality between the TPUs and plastics that are also available. Upgrading to a carbon shank across all of the shoes, and then also using carbon counters in the heel was a big upgrade.

JP: In taking inspiration from LeBron, this is something that he's talked about for years now, "How do you take that AMG concept and make something the best of the best?" He really wanted to integrate his orthotic into the shoe and bring you even closer to what he's got. In the end, it proved to be way too stiff for normal people to wear.

NDP: That was one of the first things I noticed when you guys threw all of these parts onto the table.

JP: Yeah, and the idea was to bring you to the pro level in terms of how some of the stuff he wears is like an Indy car. Kobe will wear his shoes as is right out of the box, but LeBron has a souped up orthotic. We wanted to try and bring that in as an ultimate performance piece since cost was no barrier anymore, but as we see with many things for LeBron, he needs that full plate, but if you or I tried to play in, it would just be too stiff.

NDP: Ah, makes sense.

LC: We also had a carbon fiber toe bumper along the forefoot, but that was too stiff too.

JP: It was, and we replaced it with a TPU toe bumper and you get similar performance out of that.

LC: So that was one really big key item, the carbon fiber. We wanted to use it across all of the shanks and heel counters. The other piece was using Kevlar or Vectran Flywire across all of the shoes. Then, there was also the idea of using Pro Combat tongues and booties for the best dynamic protection. All of the shoes also have an anatomical sockliner with an internal traction pattern.

NDP: Nice, the nubs.

LC: Exactly, and the nubs are a sticky print graphic. We took some insights from our NSRL guys like Matt Nurse, and one of the things that he's always talked about is to try and reduce the movement of your foot inside of the shoe. We looked at some finishes and materials that we could add along the top of the cloth liner to prevent sliding inside and over the footbed.
Below: A look at a sample tooling of the LeBron 9 Elite, featuring a carbon fiber shank similar to LeBron's custom orthotic that extends into the forefoot.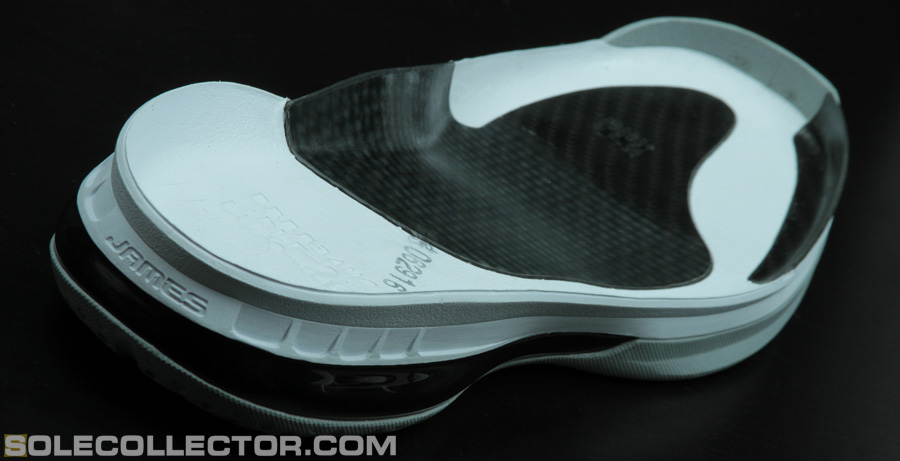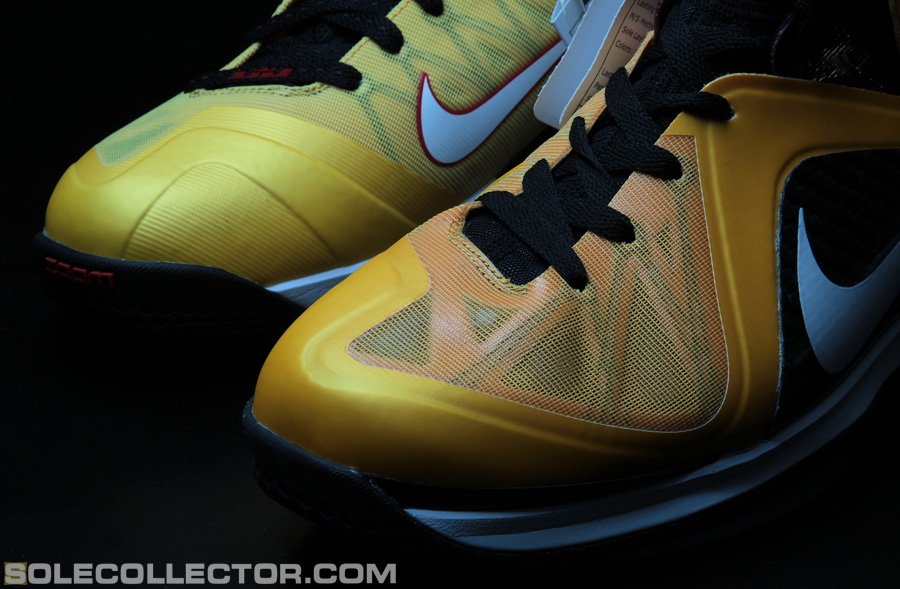 NDP: You mentioned the Kevlar and Vectran, and that's what the original Hyperdunk initially was going to use. Over time, it's gone to nylon.

LC: Exactly, but we wanted to go back to Kevlar. We also have Kevlar laces, which give you less stretch.

JP: We really wanted to go no holds barred, and that's why there's Kevlar everywhere.

LC: These laces are literally ten times the cost of our standard laces. [laughs]

JP: And they won't stretch on you!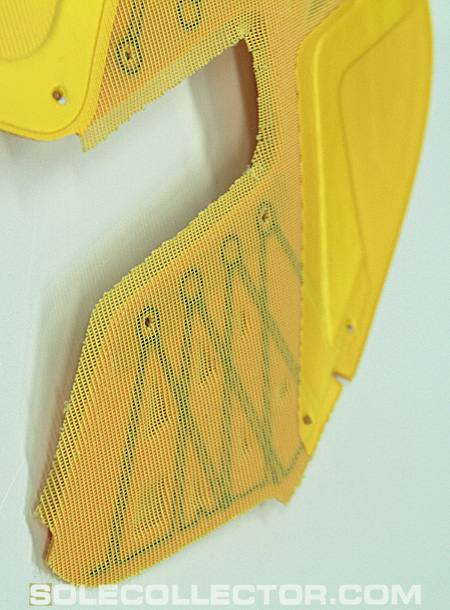 LC: You mentioned that the original concept of Flywire was to use Kevlar. At the time, a lot of things were happening. We kept hearing there was actually a shortage of Kevlar because of the war and some other stuff, and they needed it for military equipment I guess. The other key thing is just the complexity of using the material, because it doesn't have any stretch. When you embroider it, most thread has some stretch and you can adjust it nicely to accommodate the embroidery just fine. But when you go from nylon, which has anywhere from 20 to 30% stretch, to Kevlar, which has one or two percent stretch, that's a big difference. That's why it works so well, because you don't need as much of it, but it has no stretch and will really lock you in right where you need. That becomes a difficult thing to work with on the manufacturing level though. We went through some early pattern shells, and the embroidery was pressed, but the cables would be all wobbly and not at all straight. The material underneath it would stretch and the cables wouldn't stitch correctly. When you take it off the hoop, it would be a mess and go slack.

NDP: The Hyperdunk and Kobe VII obviously carry on pretty much the same design, but the LeBron 9 really shifts that launch version. Can you talk about the early stages of working on the 9 Elite and some of the things you wanted to get after first?

JP: We knew we were going to do a PS, so from the start I had a thought of what it could be. When we started to develop the 9, we got to thinking about different things we could do with the wing and the different materials that we could incorporate into it. There were challenges on what we could and couldn't do on the 9, and that helped to inform what we'd look to do on the 9 PS. We were formulating this Elite series at that same time, and the first thing I said was, "Hey, I can really build this exactly how I'd dream of building it." It started to come along organically just from working on the 9, and then when I talked to LeBron again it really all started to click. He's talked about the AMG line for awhile, and when the car turns, your seat turns along with it. Things like that that go beyond most performance. With the 7 PS, the first one, and then the 8 PS, it was more of a race car and sprinting flat and we were using Hyperfuse to strip things away. This is more about stripping some things away, replacing it with other things and really going after that luxury performance at an entirely new level.

From the beginning, it started with that wing and the original idea for it was around a space shuttle actually. I had heard someone say that LeBron jumps like he has booster rockets on, and everyone else jumps like they're on springs. That thought permeates my mind for a lot of things we do for him, and if you look at a space shuttle and the booster rockets that are separated on it, that drove the shape of the wing here. It could separate into different elements on the side, and we looked to separate it into the carbon fiber for support along the sidewall and then having some breathability and ankle mobility at the collar. That started to define the gesture of the shoe, and then we wanted to bring in things that really worked on the 9, like the midfoot harness. We're able to now use our Fuse and Flywire process together for the PS, which is different from how the 9 was actually constructed. The 9 was a little ahead of that process, and Leo actually led the way with the Hyperenforcer on that. Exploding things like the Pro Combat and just blowing it out was big too. We had to somewhat limit that on the 9 because of price, but we can flood it everywhere in there for the Elite.

The tooling actually changed too, because when it comes to playoff time, lets make this thing super performance and super simple. We didn't want a whole lot of moving parts, and you'll notice that the shoe isn't double-lasted anymore either. We had a flex construction in the 9, where we had a softer forefoot foam and the shank was kind of an S-shape that went under one side of the bag and over the other. This is just on one side underneath the bag. We also got a little more volume into the forefoot Zoom bag and we're using a more efficient system overall.

NDP: What's the size difference on the Zoom bag, versus what was on the first 9?

JP: Two more millimeters.

NDP: From 6 to 8, cool.

JP: Exactly.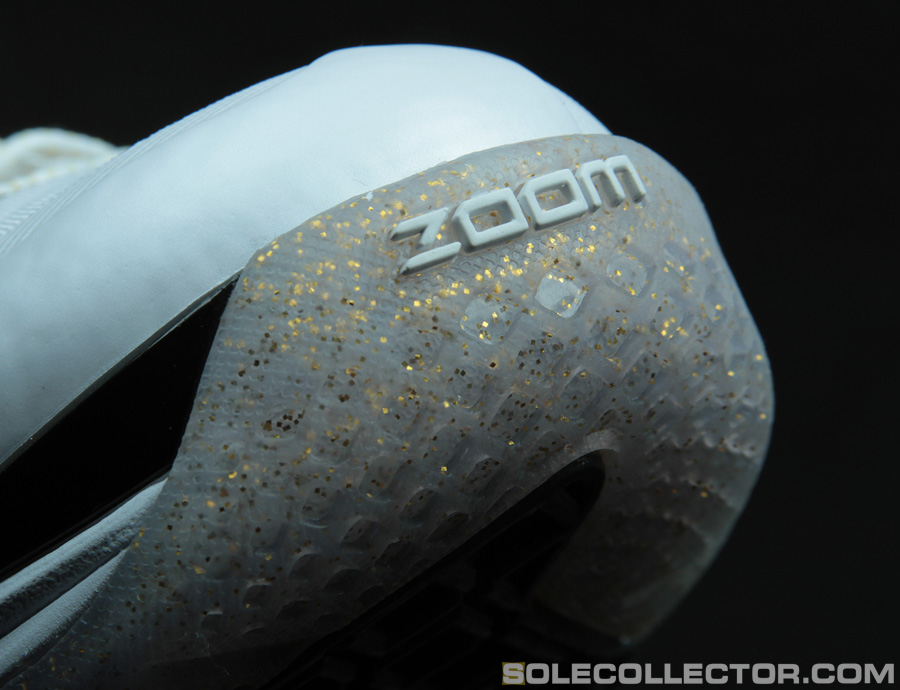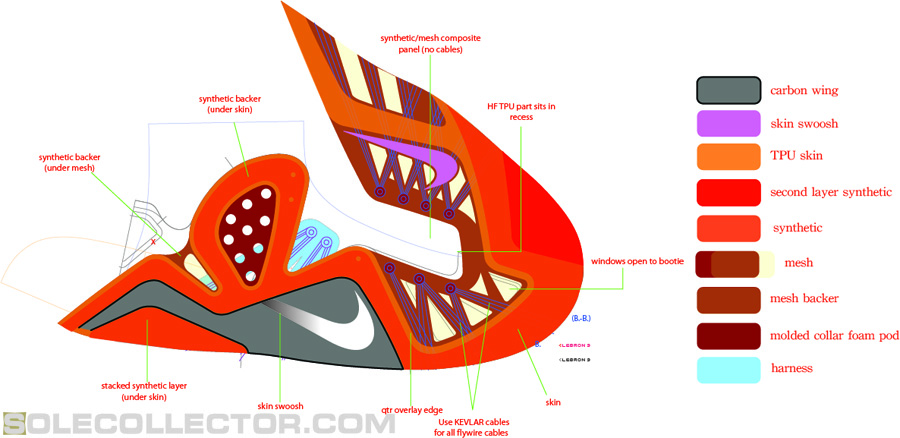 NDP: Can you just talk about the general direction and what it's like designing for the postseason now? Before, it wasn't a takedown model necessarily, but he would go into the Soldier and it was a lower priced model. The 7 and 8 PS were also stripped down and priced lower. Now, the model has become more elevated.

JP: That has been part of the strategy, and we followed that model going into the 7 PS. It was like a Soldier PS, and we went to Zoom from the Max 360 and we took it to something that was more similar to the Soldier III the year before. From talking to LeBron, he just really wanted to have us focus on this time of the year, and he talks about it being when the lights are brightest and it's the biggest stage. He's told us, "It's the most important part of the season, and I want my shoe to reflect that. I don't want to wear the same thing I've been wearing all season. I want to take it up ten notches." We've eeked towards doing that with the 7 and 8 PS, but now with the 9, it's now not a step backwards in price, and it's now going to that next level across all facets of the shoe. That all came from him. It's something he's said for a few years now, and this is finally getting to what LeBron asked us for.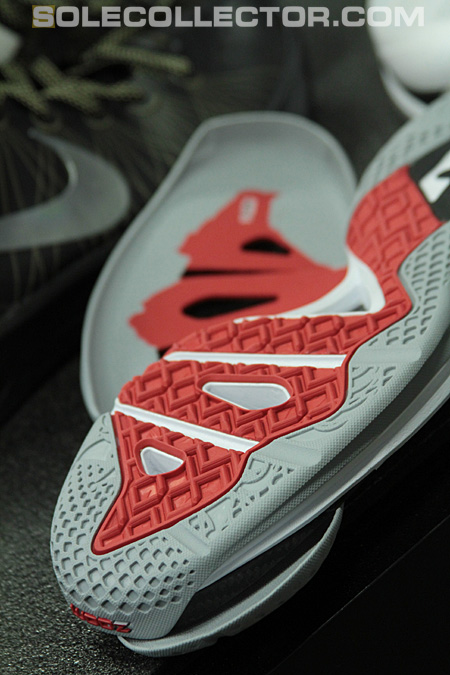 NDP: It seems like for four years now that each time we've talked about his playoff shoe, we always had in mind that this would be the year he wins his first title.

[everyone laughs]

NDP: But I like that if he does win this year, it's not in what might be considered a lesser model. I was never a fan of the Soldier approach. His first Finals, he wore the Soldier I, and I thought the LeBron IV was such a great shoe that I didn't understand him switching out. I really think this is a better approach.

JP: It makes sense. I see the argument too though to just have one shoe. We see a lot of kids say that too, and when we were all kids, Mike would have one shoe and four colorways of it. He'd win a championship in it in June, and it was oftentimes the same shoe that you'd buy in February or in October. But it's a new age. LeBron wants to stay fresh and wear new stuff, and you can clearly see that he likes wearing different PEs all of the time. He doesn't like to stay in the same thing for too long. He feels like if he's taking his game to a different level, that he wants his shoes and everything around him to go to a different level too. I think every player feels like that, and you're proud of your team and excited for the playoffs and going after that gold trophy. That's your end goal.

LC: On that point, Craig Zanon [Nike Basketball Global Vice President and General Manager] had talked to us about the legacy of the PS, and as we look back on this era, MJ had his signature thing, but with LeBron, he brought that playoff shoe to the market and it's been consistently a concept car approach for him. We want him to be remembered by that, and we have an opportunity to have this incredible concept car each playoffs.

JP: From a design standpoint, that's incredible. That's what you wish for, and we have an athlete asking for that. With the brand willing to support that and with all of the innovation we're driving in basketball, we're going to be able to achieve some amazing things and do some really cool stuff.

NDP: You mentioned "no shackles" quite a bit at the start. Was there any hesitation, whether it was internal here or from retailers, about jumping up so much in price?

LC: We actually held the whole collection pretty tight. We had the story of wanting to make the best of the best and really push the innovation, but in terms of retail, we knew we were going to keep it pretty limited being that the price was going to be high. We held off on showing it to too many people, and if anything we just seeded the idea along the way. We didn't really show too much to retailers.

JP: The other thing is, you really want something like this to be right when you first show it, just because the expectations will naturally be so high. That was what was cool about the fact that the whole collection didn't leak online early. I was waiting every day for it to show up, but when it did, it was from us, and it came across in a good manner. We had official photos for the first time people saw the LeBron, and that means a lot. This is a real refined product and it's important to see all of the details and components that are built into it. Once you play in it, you'll start to see all of the performance cues and things that are crafted into it.

LC: And it's definitely going to be controversial, just in terms of comments that people will have. "Oh, Nike is just killing us with $250 shoes." But if you look at what's going on on eBay and you look at what people are paying for Posites --

JP: Or even what people would pay for Bapes, jeans and other crazy stuff over the years. If you're paying for something, the idea was to really put a ton into it and to make sure that things that really cost money can help to define these really nice things. That's the bottom line. We want to push consumers and be able to offer the very best things that we can make.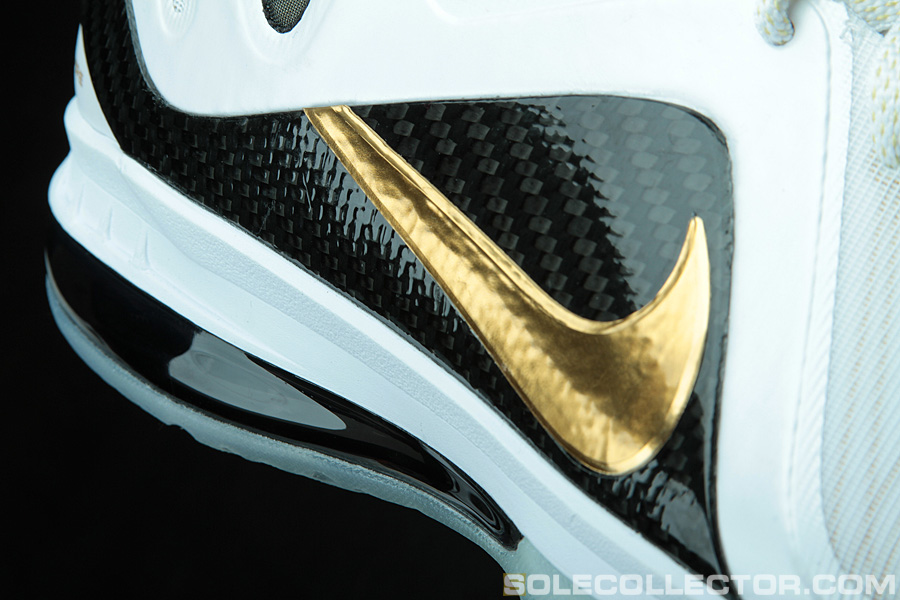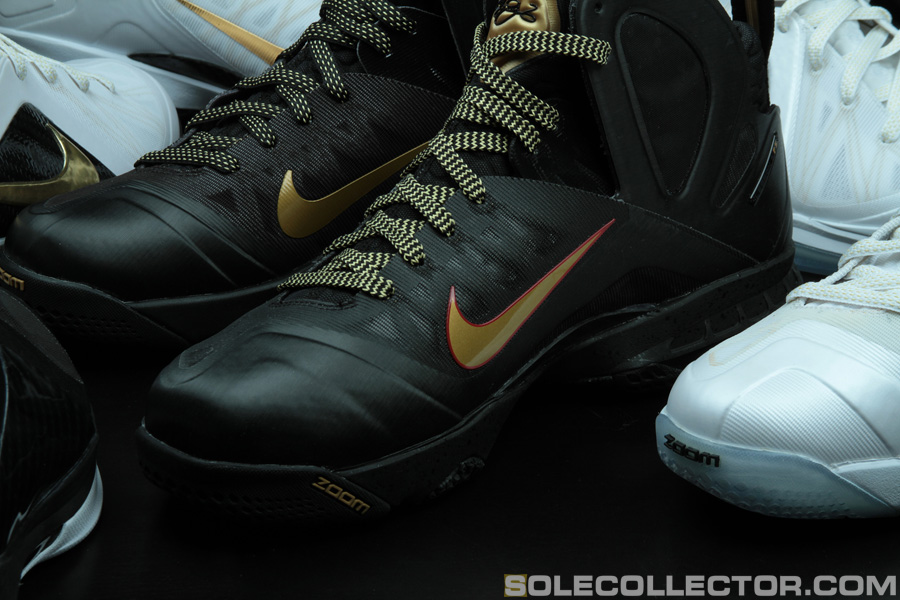 NDP: One of the interesting comments I saw was, "Does this mean the shoes that I'm paying $170 for aren't the best anymore? Does that mean they're not putting everything that they can into it?"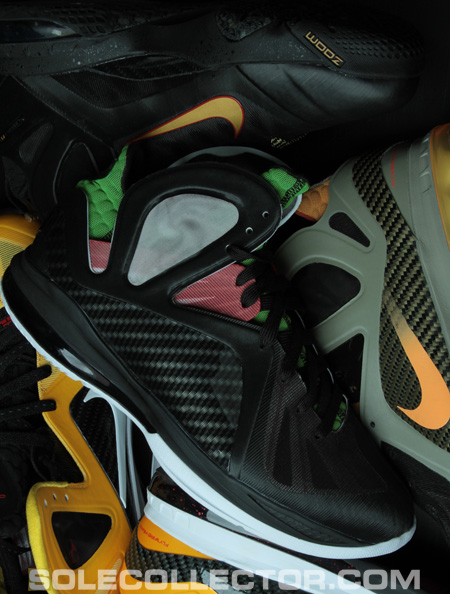 LC: The reality is, certain materials just cost way more. We couldn't build an all carbon fiber shoe for $150. It's just impossible.

JP: That's the thing. The price has only gone up because of the cost of the parts that are in it. It's not like because it's an Elite we're just going to charge more. We've done all we can to make sure that we're building everything into it to achieve our goal of making the best of the best. There's no egregious spending just because.

LC: J got so excited about all of this stuff, that he was looking at some website earlier today and thinking about getting a carbon fiber toilet seat.

JP: Hell yeah!!

[everyone laughs]

JP: I'm in.

LC: It was what, $250?

JP: $299 -- count me in.

LC: The lightest weight toilet seat ever.

JP: I'll be flipping that thing up QUICK.

NDP: Woooow.

[everyone laughs]

LC: It was incredible. It looked amazing.

NDP: I'm not even sure how the rest of that bathroom would have to be designed and I definitely don't have a follow up question for you.

[everyone laughs]

LC: They had towel racks too!

JP: And a tub. The tub was thirty-five grand! [laughs]

LC: Why you need a carbon fiber tub, I don't know.

NDP: Well, to move on. [laughs] Can you talk about the wear testing process? Just being curious about it when I first saw the shoe, the first thing I thought was, "Is that something that holds in LeBron perfectly, but is it accommodating enough for most people?"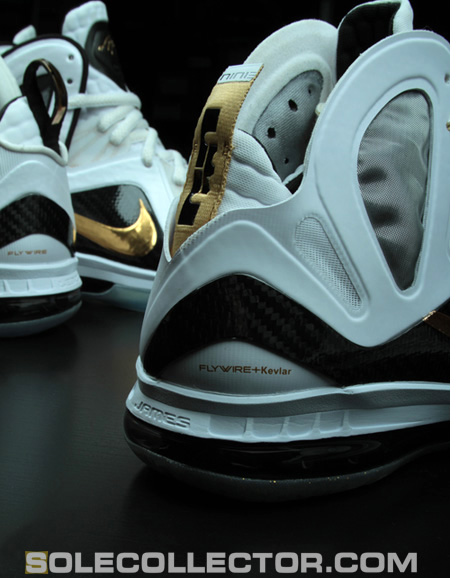 JP: We spent a lot of time on that wing placement. How high it is. How wide it is. How far forward it goes. Does there need to be a cutout in the heel? It's been all over the place as we went through weartesting. It was too far forward for awhile there. We had that shank through the forefoot at one point and it was super stiff. It felt great in some areas and horrible in others. Through that process, we definitely refined it to be in a perfect place. It felt great for everyone, and we got it to a point where no wear testers mentioned it or complained about it. LeBron sings the praises of it all day long. We padded the backside of it with Pro Combat and it's molded to the shape of your foot. It's contoured and in an area where it's going to function, instead of impede. Now, you may not need that much support if you're a smaller player, and it might be over-supportive for a small guy, but it is there if you need it and it's not going to encumber you and it's definitely not going to cut in like a blade or anything like that. It took a long process of engineering it to get it to the right place. That's the same process for anything really, like with Leo re-engineering the entire upper of the Hyperdunk to make it super thin. It wasn't like we said, "Hey, we're going to slap carbon fiber on it and that's going to be great." It really was about the engineering of each shoe.

LC: To J's point, a smaller guy that doesn't need as much support is not going to wear that shoe anyway. They would wear a Hyperdunk or a Kobe. That's why we've created a spectrum of product from most supportive and protective to something very lightweight and accommodating for all.

NDP: And the outsole pattern is pretty much a slightly altered variation of the first pattern?

JP: It's just tweaked a bit, and we worked with our apparel and graphics partners and looked at some of the stuff that they were doing. We had that chain link '6' and '9' on the outsole, which was actually driven from one of LeBron's doodles during a meeting. We took that '6' and '9' chain and evolved it into more of a herringbone pattern. There's not a whole lot of trickery to it, and it still tells that story of his numbers. It lines up with some of the tees and apparel we're doing, but it also is more tried and true and gets back to that more simpler approach, just like how the midsole construction does. You want to have performance that you know is going to work.

NDP: And what colors will he wear?

JP: White and black will be his home and away initially. We'll do a couple of PEs for him too. Unfortunately, I don't think Riles is going to let them wear the yellow.

NDP: Well I remember last year that being an issue too and yellow wasn't allowed as a base color.

JP: Yeah, and the whole team has to do it. I don't know if adidas or whoever else is on the team will have something in yellow -- man, Spalding now too!! [laughs]
Below: The final LeBron 9 Elite outsole, and a sample stage version below it.