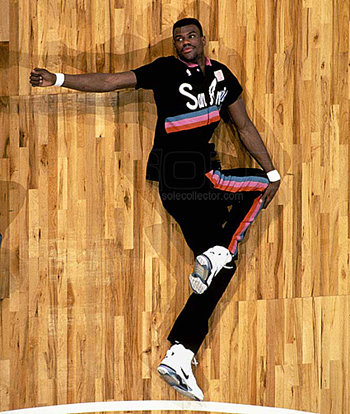 words & images // Nick DePaula
originally posted November 11, 2010
It was a different time.
Ankle support nearly meant calf support. Impact protection meant fitting in as much Air and sheer volume as possible. And of course, colors were vibrant whenever possible. Why not throw a Pump system into the mix too, even if you're not the company that started the mechanism's craze to begin with? Not too much regard for sticking strictly to team colors, either, in 1991.
It might look a little funky now -- and about 3 inches too tall -- but the Air Force 180 High was an ideal big man shoe in its day. That much lockdown and little mobility was considered a sign of tremendous support. For The Admiral, it was his year in the Air Force 180 High that he truly came into his own and was recognized as one of the league's best centers.
After putting up 25.6 points per game and a career high 13 rebounds per outing, David Robinson was named to both the All-NBA First Team and the All-Defensive First Team at the end of the 1991 season, both firsts in his career.
With the Air Force 180 High by his side all season, he's been forever linked to the shoe ever since. Enjoy a detailed look below at an original pair of the Air Force 180 High in the exact colorway worn by Robinson, and be on the lookout for a pump-less retro to release this fall.
To browse through the Air Force 180 High and more than 1,500 other classic Nike sneakers, check out the Ultimate Kicktionary in Sole Collector's Issue 34, available now at Foot Locker stores and at SoleCollector.com.