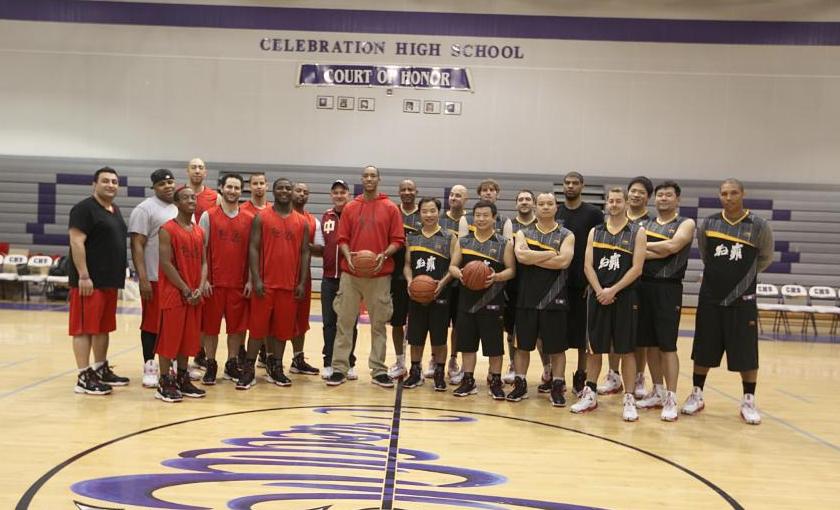 words // Zac Dubasik
This past Sunday at Orlando's Celebration High School, Li-Ning held their second annual Media All-Star Run. Whether or not the participants were media All-Stars -- or simply scribes playing in a basketball game that occurred during NBA All-Star weekend -- is up for debate, but there is no doubt that the battle was much more epic than good vs evil.
It was Team Kuang vs Team Yi.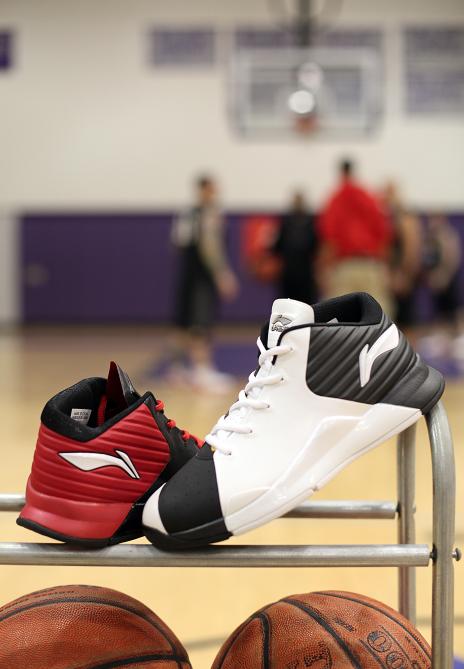 For those of you that don't understand Chinese, Kuang means "wild, unrestrained, fiery power." And Yi means "calm, cool and collected." Based on those definitions, it should come as no surprise that the Sole Collector reps of Nick DePaula and myself played on the Kuang squad. But more on the game later.
The event featured more than just hoops, as ESPN's Stephen A. Smith gave an inspirational talk to students prior to tip-off, and Philadelphia 76ers guard and Li-Ning athlete Evan Turner also made an appearance to check out the action. Even the game itself had star power, with TV's Mike O'Malley serving as MC and providing in-game commentary. In other words – he joked on the less-than-stellar basketball being played for all 48 minutes. And my affinity for not allowing any layups in the paint. Let's just say I got my money's worth on my four fouls.
Once we all laced up our Li-Ning Turning Points and Villains for the game, there was also the hugely varying effort levels to be expected from the players themselves. Late night All-Star parties had clearly taken their toll on at least some of the invited media. Luckily for everyone, there was some pro-level effort courtesy of a three-ref team, who's calls included acute-pivot watching travel violations, moving screen violations unless expertly set, and even a delay-of-game violation… in a media exhibition game.
For the second year in a row though, Jay Corbin, aka DJ Jay Sensei aka 2011 Media Game MVP, rallied and cheered his team to a 55-47 victory. There's no use making any excuses. Our team just never quite got an offense going and couldn't put together enough buckets down the stretch. Shooting 25% from the field and finishing with 18 turnovers as a team is also historically not a great approach. Team Yi was led by Corbin's friend Brandon Smith, who poured in 20 points with a barrage of threes, as well as a balanced attack from the rest of the squad that included ESPN's Jared Zwerling, steady point guard Ren Hseih and hoops OG Chris Sheridan.
Enjoy this one Jay. Team Kuang will be back in Houston.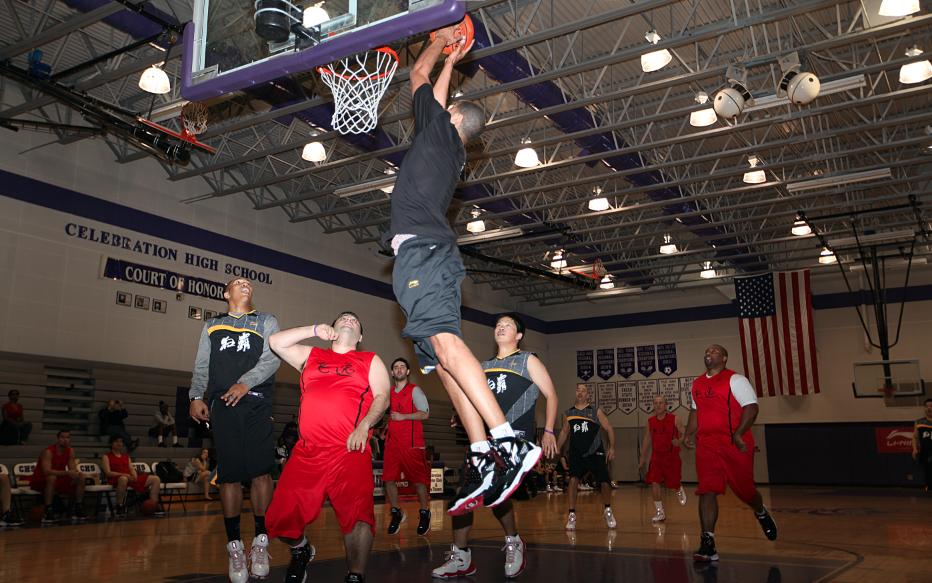 Evan Turner walks a fan through his signature Turning Point model.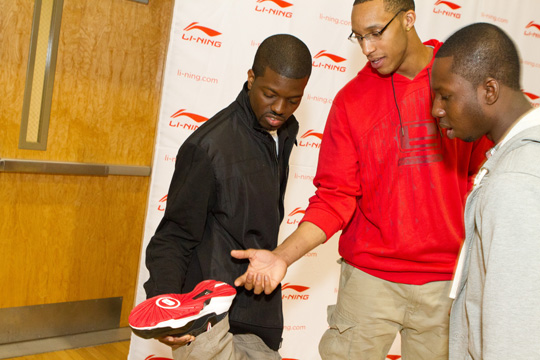 An autographed pair of the "Year of the Dragon" Turning Point was awarded to the game's MVP.