words, interview & images // Nick DePaula
After a steady flow of great collaborative launches over the past three years that was first kicked off by the Poorman Weapon in early 2009, Converse and Undefeated are teaming up once again on the product side. This time, though, they're taking things beyond just Undefeated's flagship brick and mortar shops along the West Coast – expanding past their Los Angeles, Las Vegas and San Francisco locations – and teaming up with Foot Locker to help bring a holistic streetwear collection to a new audience.

In the first of a multi-season offering, the Converse x Undefeated product range will consist of four silhouettes, along with several tees and caps. "This collection brings Undefeated's unique design point-of-view to some of the greatest and original designs in sneaker history, along with apparel staples," says James Bond, co-founder of Undefeated. Those iconic sneakers include the original Pro Leather, which first debuted in 1976 as the signature model of Julius "Dr. J" Erving. Additionally, the Star Player, a model that both Undefeated and Converse have helped to bring back to life, is also included in both high and low variations.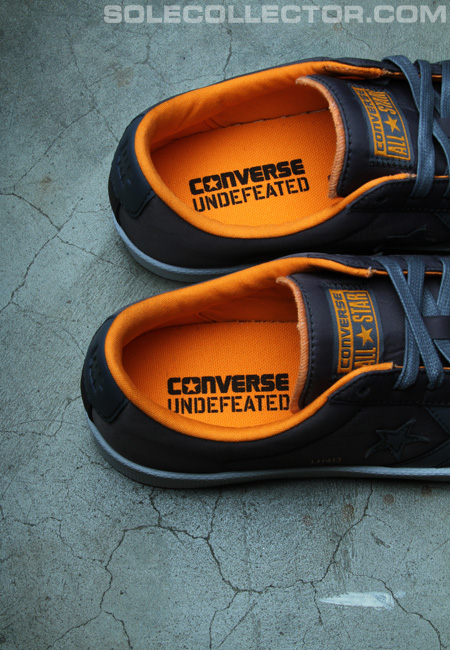 To hear all about the inspiration and design cues seen throughout the Converse x Undefeated Spring Collection, we spoke to Converse designer Matthew Sleep. Responsible for executing all of the brand's First String campaigns and Converse's collaborative efforts that fall under the ever-awesome "Special Projects" category, Sleep worked directly with Undefeated founders James Bond and Eddie Cruz over the past year to help shape and define their widest range of joint products yet.

From the choice materials, including both traditional and ballistic nylons to each model's subtle branding, the assortment continues down the path of modern and mature executions that've made the partnership a huge success over the years. Continue on for a detailed look at the included models and pieces in the Converse x Undefeated Spring Collection, as well as the full story on how the project came to life.

Nick DePaula: It sounds like you've been involved from the very beginning of the partnership. How did that relationship begin, and what's it been like having Undefeated as a partner?

Matthew Sleep: Obviously, we've been involved with a lot of fantastic partners and projects, but especially with Undefeated, going back to the very first flight jacket shoes that we did around the Poorman Weapon in black and orange. It's been about three and a half years now, but that was actually one of the very first projects that I had gotten to work on. The Undefeated project has a special place in my heart because of that.

The relationship actually began through one of my previous bosses several years ago, Nate, who is now Design Director at NSW at Nike. He's from the West Coast and had a really good relationship with some of the guys from Undefeated, going back many years. Full credit would go to him and the Undefeated camp for initially starting the energy programs that we've been doing. He has a really good relationship with Eddie and the guys there. Once I came on board, I worked with Ian Ginoza, our marketing manager, who has a really good knowledge and past in the sneaker world, and we began working with the guys at Undefeated from there. Ian would work on getting the projects off the ground from a marketing perspective and would build the relationship with Eddie and James, and then it all grew from there for us. Obviously, they have a really similar mentality in terms of wanting to have great and really solid product grounded in meaning and product that is very wearable. From that natural joined passion, we all saw the potential in it and kept working on it.

NDP: How far back did this collection with Undefeated begin, and how did those discussions begin?

MS: It was a natural reaction to how our projects had been developing. We're very much of the mentality that for it to be a true collaboration, it needs to be a true partnership. Although there's value in a one-and-done situation, really the mentality that we like to build on was when they became collaborative partners, we wanted to build on the success that we were having with the Poorman Weapons, the Ballistic Pack and the other products that we had done throughout the last year, it was one to the next and to the next. It was great, but obviously it was very specialized and regional energy. We felt that the way to take the partnership to the next level was to be able to offer it to a larger and wider group of people and regions. The beauty of the sneaker market from the late '90s 'til now is that everything is much more accessible with the Internet. It's great to keep things more restricted at times, but it's also nice to make it available to people in some areas where they might not have access to great products like this. They can actually get some access to it now, and find their connection to both brands, which I think is extremely positive.

NDP: Yeah, and I think there's just a natural trajectory of demand that the projects had been following along all of these years. To me, it makes great sense. As you guys had Foot Locker in mind for the retail space, and you knew you were going to be reaching a wider audience, did that affect at all how you selected the models that ended up being included?

MS: Yes, I guess it did, really. Undefeated is always based in an American sports context with more utilitarian and militaristic reference points. Our Converse All-Star franchise and our Star Chevron-branded product is very much driven towards the exact same ideals. We're driven to heritage sport and really celebrate that because we have a fantastic history with it. That naturally shaped how the collection developed and the silhouette choice. They have such good grounding in sport that it made sense to go back to some of our old school basketball silhouettes, whether it's the Star Player or the Pro Leather. Some of these models were the first modern basketball silhouettes that were played in. Having such a great knowledge of the history of sport and sneakers, Undefeated understood the relevance and the meaning of these shoes at their various moments in time and really wanted to create another moment for them in a more contemporary context.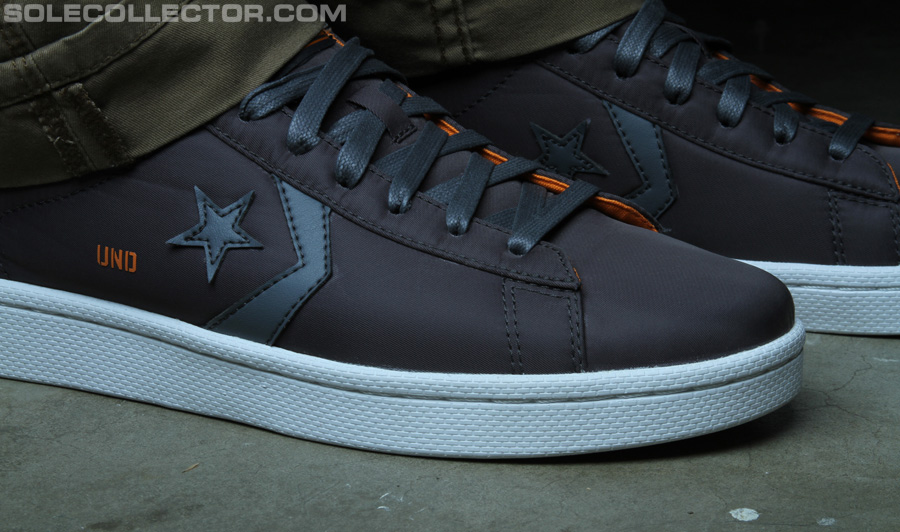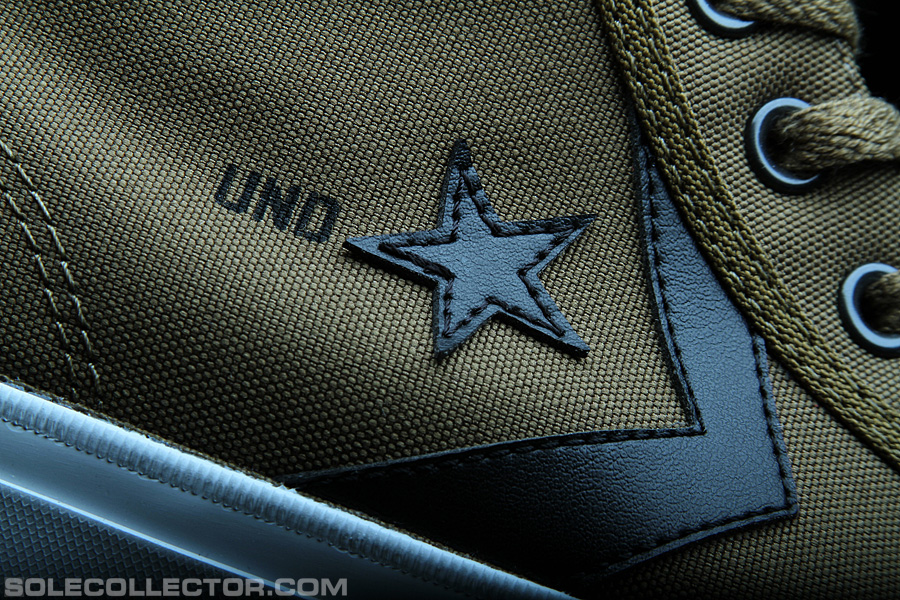 NDP: As you guys began to work on the collection, did you toy around with other materials, or was it an easy process to dial each shoe in along the way?

MS: Initially, we were pretty directive from both sides and we both agreed that the best introduction – now that we were expanding the field and our horizons by offering the collection to more people – we felt we really wanted to keep the Converse and Undefeated design language from our previous projects and continue those elements of materialization and execution that we've built up over the last three years. Whether it's the satin nylon or flight jacket inspiration, or the ballistic style of grey nylon inspired by utility gear, all of those things speak to the idea of being sporty and utilitarian. We looked at doing that on these silhouettes to really get that understanding out there for this first season. As we go forward with seasons, we'll continue to develop that further.

NDP: Can you talk just about how the partnership went between the two of you? How often did you both meet with each other throughout the process and how much interaction was there?

MS: It's actually quite a lot, especially considering we're both on separate coasts. [laughs] We take the opportunity whenever we can if we're traveling to the West Coast to see them, or if we're on the way to Asia for factory time, we'd route through L.A. to meet with them first. We are regularly always speaking and communicating every couple of days really. When they're on the East Coast they come to our office, and likewise we go to theirs as often as we can. We try and keep up a natural conversation like you'd have with a friend, as opposed to just a business contact.

NDP: One of the things that I really have loved about the First String collection, and the Straight Shooter in particular, is the much softer foam footbed that you guys built into the tooling. Can you talk about that shift in comfort, which is now incorporated into the Star Player in this collection?

MS: That was a silhouette that I designed, and with Converse being a brand that is known and celebrated for its heritage and for a very specifically defined aesthetic, that aesthetic is very much grounded in that rubber vulcanized look. The idea with the Straight Shooter was that we wanted to keep that same aesthetic, and we didn't really want to deviate from who we are as a brand, but we needed to contemporize certain things. We can always be looking to make a better product, a lighter product and a more comfortable product. At the same time, we know that this is a lifestyle product as opposed to a performance product, so how do we encapsulate that all into one thing? What we did was we built this cupsole-like solid unit of very, very light-whipped EVA. EVA being of course the foam compound that you see in the old school '70s and '80s running shoes. We developed a lighter version of that, and something that is very akin to a Lunar foam. We encapsulated that into that rubber-wrapped vulcanized look, even though it's not actually vulcanized. They have the same style, so you have a lighter and more comfortable shoe that still plays into the language that Converse has had and will continue to have.

NDP: That's great, and it's a subtle difference that's very appreciated from a comfort perspective.

MS: Definitely, definitely.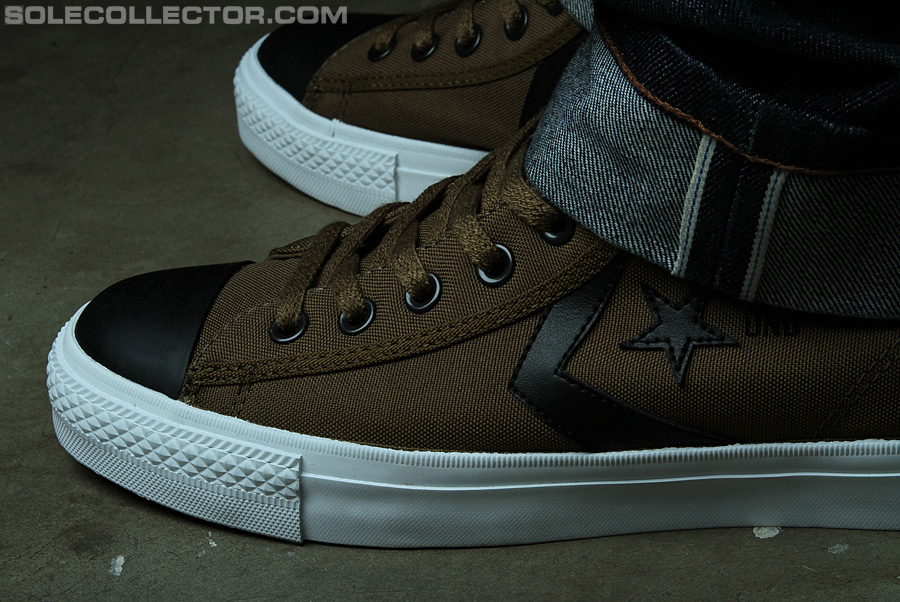 NDP: Another nice twist of this collection is that apparel is also included. Can you talk about the specific pieces and details included?

MS: It's obviously a great opportunity to build up a holistic offering. As much as Converse is a brand that's rooted in footwear, we're much more than that and we have a great apparel and accessories line, too. The idea here was to get some of those core basics into the collection, which would really resonate with the sneaker community. Within the sports mindset, it was really important to get those standard crew neck sweaters in there. That's the all-time basic of sportswear or streetwear fashion. The caps were also a no-brainer, and it was also a fantastic opportunity to really showcase both of our logos and branding. Having all of the colors hook up, altogether I thought was incredibly important and it should be well received.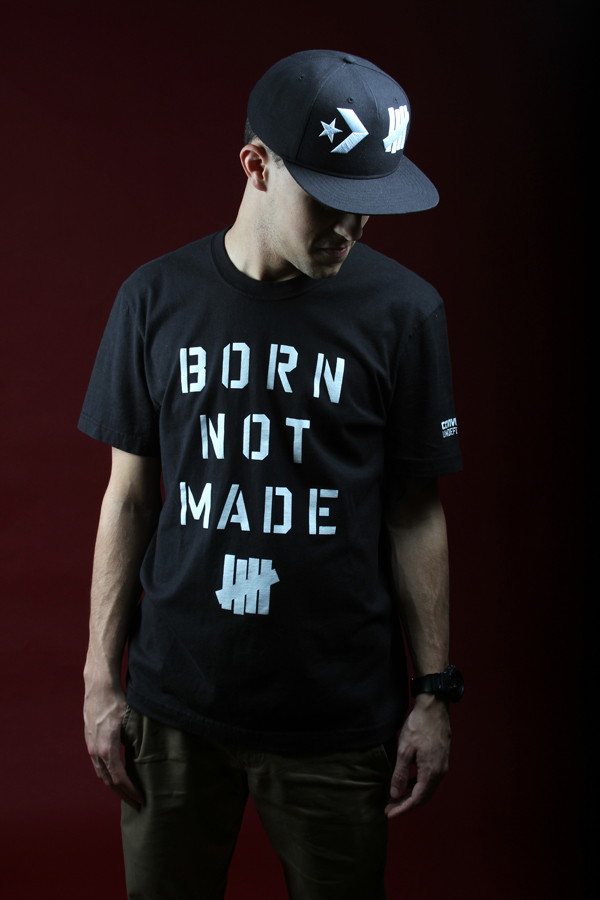 NDP: Was the idea all along to have the dual branding be pretty prominent?

MS: It definitely, definitely was. In a larger view, it was something that was driven by the streetwear consumer, but it isn't too in-your-face or that would probably not have been as appreciated. [laughs] It's good to really have confidence in the beauty of the brands and the beauty of the logos, and that's something that we've had a lot of requests for. It's something that's worked well for Undefeated separately, with very prominent and well-placed branding. They have their iconic logo, as do we, and it was really a natural fit.

NDP: That's good to hear, and luckily the days of all-over print are a bit behind us.

[everyone laughs]

NDP: Between the four shoes, is there one in particular that sticks out as your favorite?

MS: I would definitely say the Pro Leather Hi is my favorite of this initial collection. Really, that's based on two reasons: One, it harks back to the original Poorman Weapon that we did with them, which has a special place in a lot of people's hearts, and especially mine being that it was one of my first projects here. It's always going to resonate with people. That iconic black and orange colorway, we've now seen it on quite a few products. Not to say that we were the very, very first people to do that colorway, but I think we were one of the first times that it was as iconically seen on a sneaker. Secondly, the Pro Leather itself is just so connected with history. Despite being English, I've always been a big fan of basketball and would always watch as much as was being shown while I was growing up in London. Obviously, the legend of Julius Erving, "Dr. J," really brought the legacy of that shoe forward. It's an unbelievable shoe, and Mr. Michael Jordan even played in it while he was in college. I don't know how many more things can make it a better basketball shoe. All of those things make it a very special shoe to me. I have a really soft spot for the Straight Shooter, but even that comes a very close second to the Pro Leather.

NDP: You mentioned Dr. J for a second there, and I meant to ask – the Pro Leather had the iconic "Dr. J" branding on the side of the quarter. Did that play into why there's only three letters for the Undefeated branding?

MS: Absolutely. That is a very iconic branding for the time and for all of the core basketball kids; they really recognize that. Nobody would say, "Hey, that's the Pro Leather," back in the day. They'd say, "Hey, that's the Dr. J." Even though it was never called that, that placement became very iconic, and I thought that was something that might make perfect sense. Undefeated is very savvy when it comes to their design and having subtle hits for logos. That's probably what the streetwear community is based upon – subtle references to different points of culture and different things that can really bolster and make a product better. If you know, you know, and it's something that the sneaker community grew up on. This is something that a few people might know about, and if you don't, you can do the research and find out that Dr. J used to have that branding and begin to understand why it has that placement. It was a very natural choice and a great touch.

NDP: The partnership with Undefeated has already been a multi-year venture. As the relationship continues, are you guys looking to do additional collections at Foot Locker in the future?

MS: Indeed, yes. We will be continuing it for the foreseeable future, and we'll be developing the collection seasonally. You'll see a fall collection and something in the holiday season as well. We're working on further designs even after that, and there's more good stuff coming down the pipeline.

NDP: That's really cool, and you mentioned at the very beginning how those one-off moments can be good at times, but it's always nicer to have a cadence of launches that are consistent, especially when you're reaching someone new. You don't want to just reach them and be gone.

MS: Very much so. Don't get me wrong, I think there's a great need and many benefits to having those limited and really hard-to-find, great releases. Those are great to have, but we also want to balance the playing field and both we and Undefeated understand that there's a huge amount of consumers who love both Converse and Undefeated and just maybe don't have access to it. This really helps us launch that.
The Converse x UNDFTD Spring Collection will be available at Foot Locker locations on March 29th, including the following models:
Converse x UNDFTD Pro Leather Mid (Black/Orange) -- $85 // Converse x UNDFTD Pro Leather Ox (Grey/Orange) -- $75

Converse x UNDFTD Star Player EV Hi (Fir Green/Black) -- $80 // Converse x UNDFTD Star Player Ox (Majolica Blue/White) -- $70
Be sure to check back this week for a detailed look at each model.