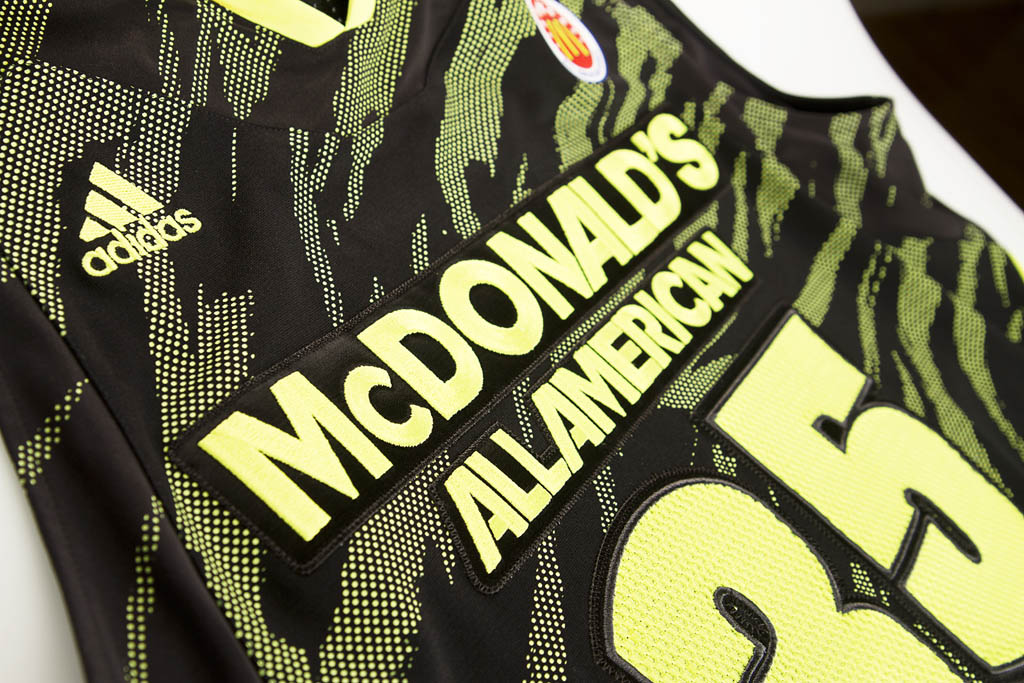 words // Brandon Richard
via Press Release
Following the splash they made with their NCAA Tournament adiZero Basketball Uniforms, adidas has officially unveiled the game day attire for the 35th Anniversary McDonald's All-American Game. The uniforms have been designed to reduce weight and add breathability to keep players lighter, faster and give them a competitive advantage on court.
"We're excited to light up the courts with our leading head‐to‐toe adidas basketball innovations built specifically for the best high school players in the country," said Lawrence Norman, adidas Vice President of Global Basketball. "Our goal is to help every athlete be lighter and faster on court whether they play in the NBA or high school and our adizero products will help McDonald's All Americans elevate their play on high school basketball's biggest stage."
Inspired by the technology used in the adidas Revolution 30 uniforms worn in the NBA and adiZero collegiate uniforms, the McDonald's All-American adiZero jerseys feature ClimaCool zones that move heat and moisture away from the body to prevent weight increases during intense play. Unlined shorts shed weight from the uniform and provide a more comfortable, closer fit with compression base layers, while the Formotion technology works with the body's natural movement to increase mobility during quick lateral movements and sprints.
Additionally, players will lace up the adidas adiZero Shadow, featuring a lightweight support system that secures the foot during cuts and drives for added agility and speed. The new adidas Team Speed basketball sock features a compression system throughout the entire sock for added stability and CLIMALITE moisture wicking technology to reduce weight added by sweating - keeping the foot cool, dry and light.
Electrified colors used on the uniform were selected as a nod to the quality and style of play from the nation's top high school basketball athletes. The uniform print is a pixellated, camouflage design inspired by the importance of teamwork and collaboration on court.
Look for these special adidas adiZero uniforms when the McDonald's All-American Game tips off on Wednesday, March 28. The 11th Annual Girls Game will begin at 5:00 p.m. EST and will be broadcast live on ESPNU, followed by the 35th Anniversary Boys Game at 7:30 p.m. EST which will air live on ESPN.