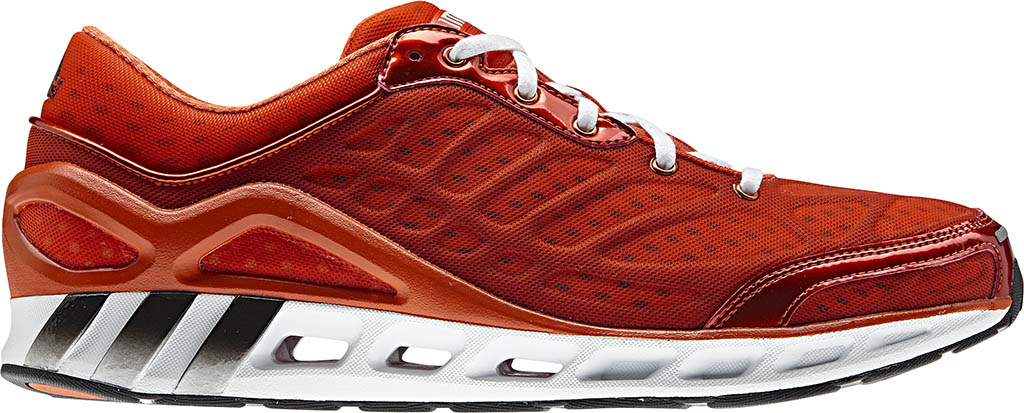 words // Brandon Richard
Today, adidas launched the ClimaCool Seduction, a new 360-degree ventilated running shoe that helps you stay cool and sweat nothing. Ventilation channels reminiscent of wind tunnels across the shoe's outsole and midsole evaporate sweat and provide maximum ventilation from all sides. The minimal upper construction – a design inspired by nature – traces air circulation lines around the foot, resulting in organic shapes that look as if they have been created by the wind. ClimaCool design helps reduce foot temperature up to 20% and in shoe moisture by 50% for maximum comfort during warm workouts.
"This next generation of ClimaCool blends a dramatic new design with tons of breathability to give you a carefree ride for every run this summer," said Mikal Peveto, director of running for adidas America. "Seventy-five percent of the body's energy is used to keep from overheating, so the ClimaCool Seduction is designed to keep your feet cool by providing as much ventilation as possible."
To help introduce the shoe to the public, adidas has released a new 60-second TV spot featuring brand icons such as Derrick Rose, Lionel Messi, David Beckham and Katy Perry. You can view the clip here.
The ClimaCool Seduction is available now for $100 in 10 colorways on adidas.com and at retailers nationwide in early April including Foot Locker, Finish Line and Champs.
For more info, visit Facebook.com/adidasrunning or join the conversation on Twitter @adidasUS or #SweatNothing.