words & Images // Nick DePaula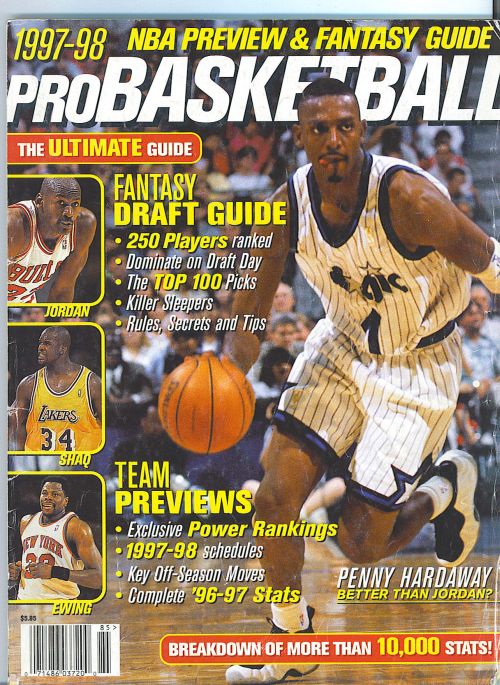 "Penny called me and said, 'Hey, I need a favor,'" laughs NSW Design Lead Marc Dolce. "He said he was going to be participating in All-Star Weekend at the Celebrity game and needed some shoes."

That phone call took place less than a month ago.

As happens often right before All-Star Weekend, factory scrambling and rush orders are the norm, and Dolce knew right away he had a quick turn on his hands: One shot at the promo factory for a size 14 order of Hardaway's most iconic model.

"He wanted a Foamposite that he could either play in or wear throughout the weekend that would tie back into when he played with the Magic and his time there." Dolce explains. "His request was that he wanted it to be white and have stars on it."

Immediately after their phone call, a star graphic was worked up off of Penny's insights and Marc was off to click away at color swatches. He spun a new colorblock of the shoe that vaguely resembled one of Penny's rarest of rare original Foamposite player exclusives, which featured a white base and black upper for home games in 1997.
"Having the black as a border really accentuates the blue and helps to frame it all up," Dolce details. "The way the Swoosh is positioned on the toe also worked to have stars trailing off of it. It gave it an interesting dynamic. It's cool to be able to have Penny reach out and give a request like that and then see him wear them a month later."

You can look for this all-new Foamposite One -- this is the exact pair -- on Penny's feet tonight in the All-Star Celebrity game. Along with the star graphic through the eyestay, the print can also be seen underneath the icy outsole, and Penny's favorite phrase "Ballin Is What I Was Born To Do" holds down the left insole. To bring the shoe full circle and back to the weekend's host city some fifteen years after the Foamposite was first debuted, Dolce even worked up a Magic-themed "Penny" graphic for the right insole.

"The cool thing about it is that once we get it on his foot, people will definitely see them and we'll get some feedback on what they think," says Dolce. "Who knows, maybe it's something we'd actually bring out in the future."