words // Brennan Hiro Williams
The topic of intellectual property and footwear rears its head again this week, as basketball legend Michael Jordan has filed suit in China against Qiaodan (pronounced cheow-DEN) Sports, for what Jordan describes as an illegal use of his name in Qiaodan products and marketing materials.
From the Wall Street Journal:
Qiaodan Sports, based in the coastal province of Fujian, sells athlete-branded basketball shoes and jerseys in its 5,715 retail outlets in China and is preparing to raise 1.1 billion yuan ($175 million) in a public listing in Shanghai. The company posted profit of 341.5 million yuan on 1.7 billion yuan in revenue for last year's first half.
Qiaodan Sports said it has the exclusive right to the Qiaodan trademark and is operating "in accordance with Chinese laws." A Qiaodan Sports spokesman declined further comment Thursday.
"I feel the need to protect my name, my identity, and the Chinese consumers," Mr. Jordan said in a video on a website devoted to his claims. "It's about principle—protecting my identity and my name," he said. Any damage award would be invested in promoting basketball in China, he said.
The picture below shows a Qiaodan Sports retail front (the Qiaodan logo located on the right). What are your thoughts on the the issue?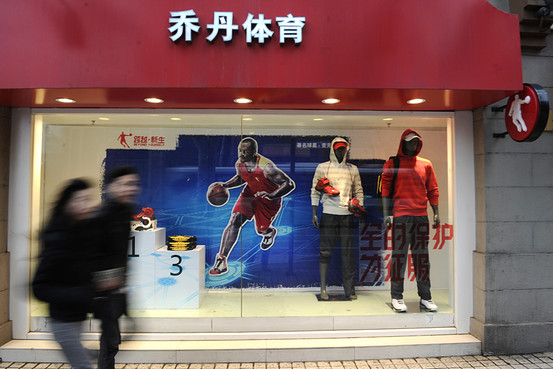 H/T Laurie Burkitt, The Wall Street Journal