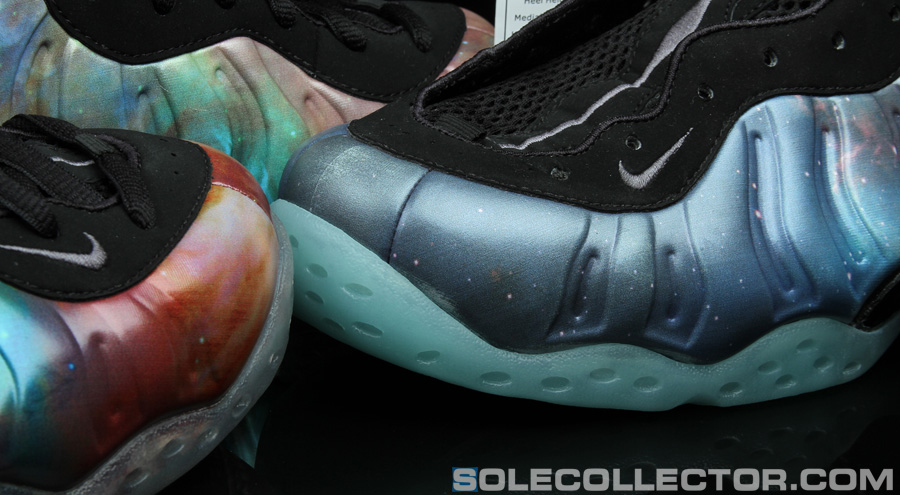 words, interview & images // Nick DePaula
As published in the February iPad Issue of Sole Collector Magazine, available Friday, February 24th in the iPad Newsstand App Store.

The Foamposite has of course been released in a slew of colors in recent years, yet none have sparked the nationwide frenzy we're currently seeing quite like the "Galaxy" themed pair releasing this All-Star Weekend.

More than just a vibrant color, the "Galaxy" Foamposite ushers in a new era of printed graphics along the iconic molded base of the shoe, and in this case, a space travel themed image of stars and hues can be seen whisking through the body's contours and grooves.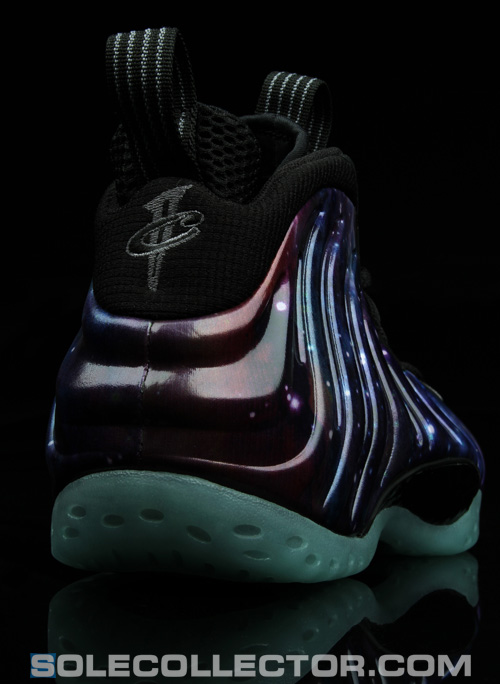 While the team at Nike Sportswear has become quite familiar with the model as it relates to color skins and new finishes like matte, metallic or anodized glosses, the world of printing was a new undertaking. To get the full story on the inspiration, development and execution of the "Galaxy" Foamposite, we talked to Marc Dolce, Nike Sportswear Design & Apparel Lead, Morgan Barnes, Nike Sportswear Basketball Color Designer and Nike Sportswear Developer George Chiou, who all worked on the project throughout the last year.

Check out the many details incorporated into the shoe and the shifts the foam body undertook during the process in this exclusive interview.

Nick DePaula: How did this whole concept come about?
Marc Dolce: Penny and I actually talked about the All-Star game in Miami last March, and he said that he was going to host some events and play in the celebrity game, so he needed some special kicks. That's when you and I talked about bringing back the Flight One for it. But as a brand, we wanted to rally around our "Amplify Basketball" strategy and come together as groups with Nike Basketball, so I talked to Leo [Chang, Nike Basketball Design Director] and we gave them an opportunity to work on some our models, which has never happened before and is really cool. People don't really think of Nike Basketball and Nike Sportswear as being separate divisions. They just think of it as Nike. Bringing the performance group and NSW teams together for this pack hadn't been done before this year.

NDP: Once you guys met with Nike Basketball and discussed working together on a pack, how long was the timeline and what was the overview?

Marc Dolce: We traditionally work on 15-18 month timelines for all in-line shoes. This wasn't that long. [laughs] The performance team gave us an outline of the concept in March, and we knew that it was going to be in Orlando. From there, we started talking about what models to use. We ideated throughout the summer, but didn't get samples until September. From there, we put the models on lockdown and tried to keep the project a secret inside and out of campus here.

Morgan Barnes: We all met with Erick Goto and Eugene Rogers from the Performance Basketball team and discussed a direction around space, space travel and an astronaut theme, and what that might entail from a color perspective. They had already identified the shoes that they had in their collection, and then they came to me and said they'd love if there was a Foamposite included.

NDP: Did you have any different themes in mind on your own outside of the Galaxy version at any point?

MD: We were going to use All-Star Weekend to just launch the original white / black / blue color of the Flight One and then do a different Foamposite. We had some preliminary ideas around what that could be before we landed on the Galaxy concept.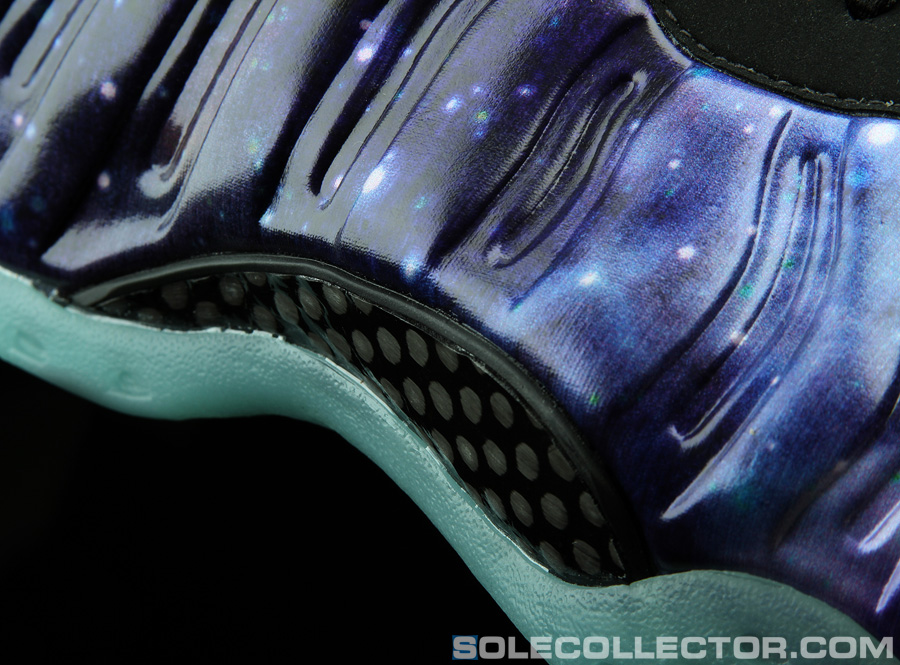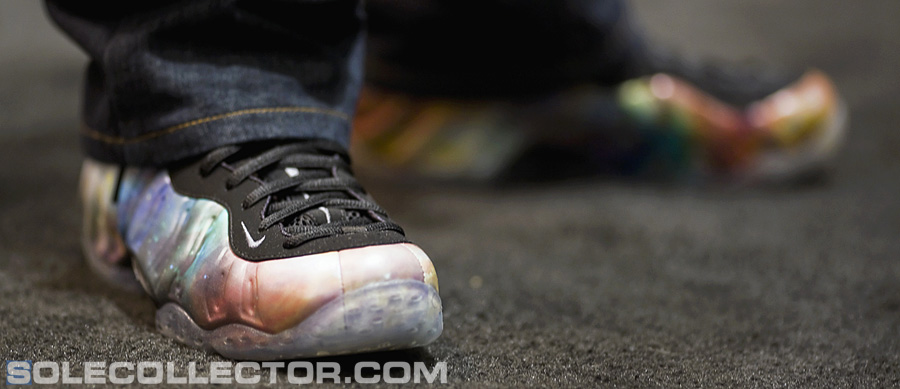 NDP: Once you guys got started on the Galaxy Foamposite, what were some of the things you looked into first?

MD: I asked Morgan to start looking at images of space for inspiration and she picked the image that ended up being the shoe that Gentry [Humphrey] wore [at the Nike x Sole Collector "Penny Signature Pack" event in Las Vegas last October.] With the game being close to Cape Canaveral and NASA, the concept of "Galaxy" was a cool theme and space missions have always been about utilizing the best technology in the world. There's a cool story there that ties into the products we create that also include the best technology in the world.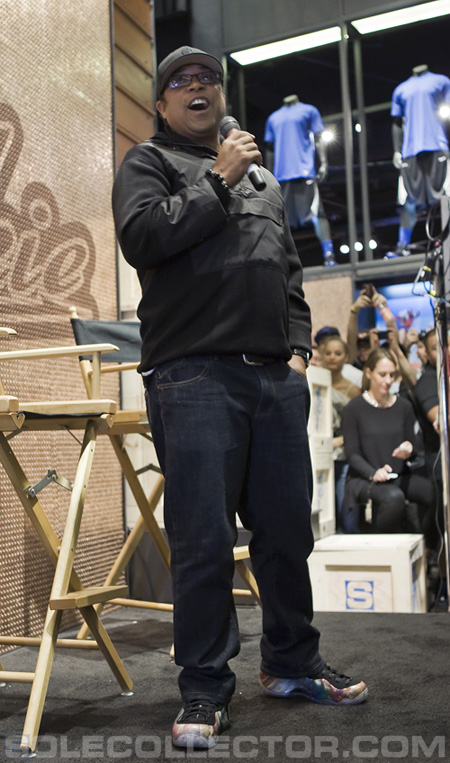 NDP: There's of course a bit of a different development process involved with the shoe. Was there anything development-wise that you guys were thinking might be a bigger challenge?

MB: At that point I had worked on the Foamposite for a year already, and I knew most of the capabilities. I was never told what to do with it, and they just gave me a general creative direction for All-Star, asked for that model, and then let me go from there. The first thing I said was, "Well, have we printed on it?" We had been doing some preliminary trials on printing around that time, and I knew from a development standpoint that it was tricky, but not impossible. I worked with George and we just started sending out pattern trials with different methods of printing to see which one looked best to make sure it would come out the way that we wanted. I wanted to make sure that the printing looked really good and really crisp. Luckily, I was working closely with a pretty experienced developer, and it took us a couple trials to figure out what worked.

George Chiou: The concept was never used in a Foamposite application before, but it was certainly worth giving it a go. What was the worst thing that could happen? [laughs] After Morgan created the first round graphics to generate some samples to validate the concept, several weeks later when the sample arrived, everything went bananas after people here saw the shoe.

NDP: Marc mentioned the version that Gentry wore at the event, but did you guys go down the path of creating a few other different versions before landing on the right one?

MB: I created two different versions of the image. One was the very first trial that we got back and it was the original one that everyone saw a bit early when Gentry wore them. [laughs] I wasn't super happy with it because it didn't look as dramatic as I wanted it to look. I wanted it to be a lot more dimensional so I went back and re-worked it to make the colors a bit more intense. I started to overlay blue and red together and that gave it a nice purple shade. It's All-Star Weekend and I wanted to play up the blues and reds a bit more to reference East vs West. On that shoe, I prefer to keep the rest of the blocking really simple on the laces, eyestay and tongue. It needs to be basic so that the Foam can shine. In this case, I wanted the print to shine.

GC : During the process, our partners in Asia really did a fantastic job of supporting the project by trying additional techniques to apply the graphic and testing each out. We worked through rounds and rounds of samples refining the colors, registration, resolution, the graphic itself, and the rest of the shoe outside of the graphic element at each stage until finally the product was perfected to what you see today.
NDP: Another cool aspect of this shoe is that it's one of the first times that the gap has been bridged between Sportswear and Nike Basketball on one pack like this. Is that something that you guys are looking to do more in the future?

MB: Definitely. We're definitely coming together a lot more and collaborating on more packs. Maybe they'll set up the direction and concept for one, and then we'll take the lead other times. Sharing models and working together for Basketball as a whole is really smart too, to think of it as one entity from Nike, instead of it being so segmented always. It's the power of the brand and as categories we all work together to link the past and the present. No other company could do something like this. It's really been fun to work with them too, because their team is super talented and with all of our forces combined, I think we can come up with some really cool stuff.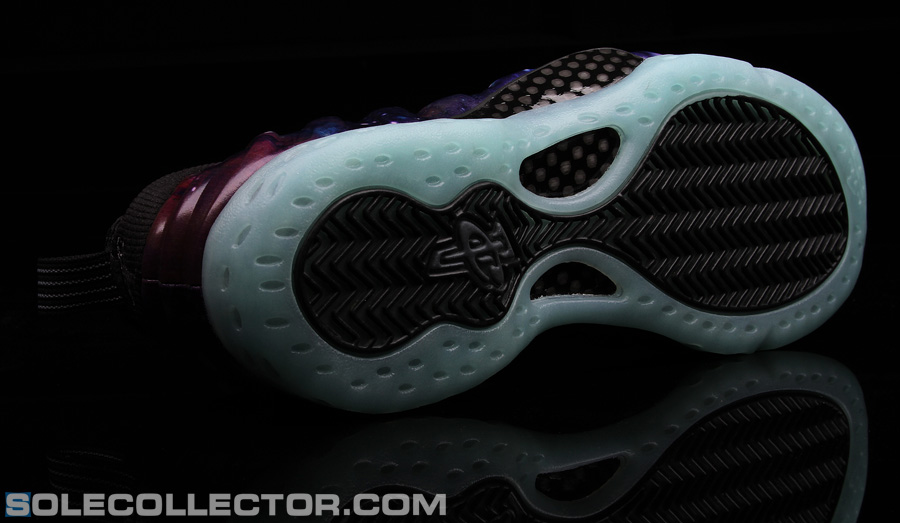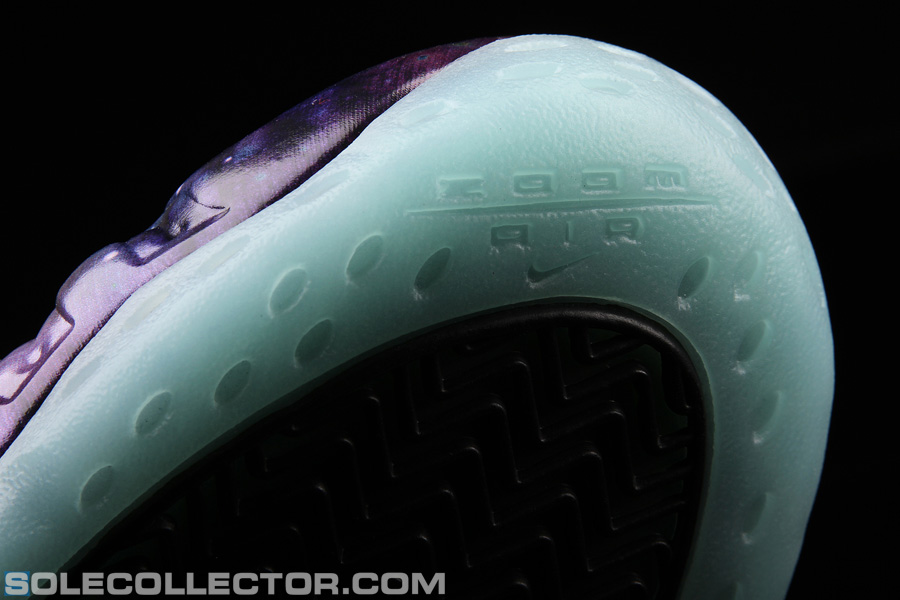 NDP: From your experience working with graphics and printing on this Foamposite, it sounds like it wasn't as hard as you were expecting. Is that something that you guys will be looking at more in the future?

MB: It wasn't as difficult as we first expected, but it definitely requires extra work as compared to just putting color on the Foamposite. It's cool that it opened up a new twist on a model that is already amazing and pretty eye-catching. To take it up a notch is really promising.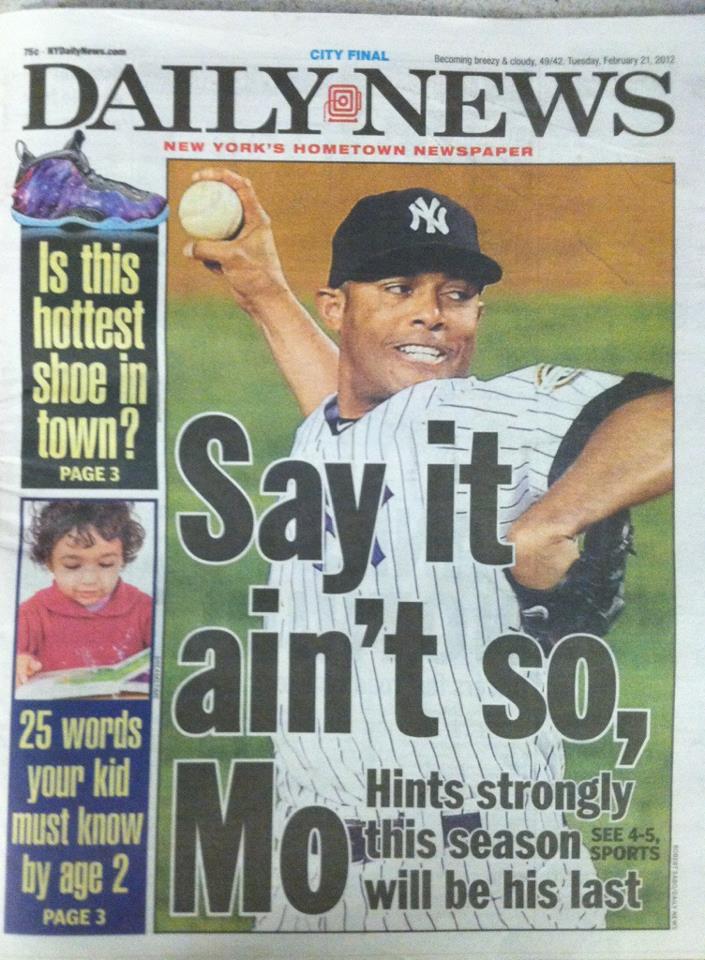 MD: It's probably the first of many things that we could do, besides just changing the color of the shoe. The shoe that Gentry wore was a first round sample, and then there were tweaks and things that we wanted to refine for the final one. We wanted to really keep the theme of it a surprise for the last minute, which we did a pretty good job about. It's kind of like Apple and the way they treat their secrecy, and that was a cool one to not have anyone know about for awhile.
NDP: Here it is just a week before the launch and the shoe is already close to releasing. There's already guys lined up for them around the country. What's it like for you guys just seeing the reaction that the shoe has gotten?

MB: It's crazy! I cannot believe the response and it's been crazy. When I was working on it, I was having a really fun time on it because it was more of a side project at the time. I was having so much fun, and I had a little bit of creative freedom, but I had no idea at that point that there would be such a buzz around it. I guess I should've known. [laughs] All-Star is always a huge event for us and the creative direction was so strong that I should've known. All the buzz has just been really cool and fun to watch. Even around the office, people have been really excited about it and it's a pretty eye-catching shoe. It's great when something you worked hard on is a success.

GC: What started out as an exploratory concept evolved into something we all obsessed over and the final product certainly demonstrates the amount of care and passion we all put into it. To me, there is no reward greater than to hear about the reception the shoe has received.

MD: I feel the same exact way as George, and I want to go meet the first kids that went and lined up and actually give them a pair or something special. I was just talking to Gentry about that, how great it is and how much we appreciate that. We work really hard and it's great to see someone appreciate the work that we do. It's an honor. I was just watching a video of the campout in New York, and it's crazy how cold it is out there. It's not like they're chilling out in Miami where it's nice and warm. If I was going to camp out, I'd probably do it in a warm climate. [laughs] I also was really excited to see that they were on the front page of the Daily News, which is my hometown paper. It's been incredible to see the response.

NDP: When Penny saw them, what was his reaction?

MD: Well, the first time he saw them was actually when Gentry was wearing them. [laughs] He just looked at me and said, "What are those! Those are stupid!" [laughs] So then of course he says, "Well, when am I getting a pair?" That was up on stage, and here I am trying to whisper in his ear the whole concept behind them. Normally we'll go and meet with him and present him all of the ideas and stories behind each color and he'll have input and feedback right away, but this one was different because it was at the event and the shoe was on a shorter timeline. I think this whole pack pays a special tribute to Penny though, with him starting his career in Orlando and now coming back for All-Star Weekend with the Flight Ones and Galaxy Foams launching. It's perfect for our "ready for takeoff" approach.