words & interview // Nick DePaula
As published in the January iPad Issue of Sole Collector Magazine, available now in the Apple Newsstand.
Mike Parker may be new to Under Armour, but he's certainly not new to the footwear industry. A near-twenty year vet who has leadership roles under his belt in both product and marketing at Nike, Converse and Reebok, Parker is looking to inject a new outlook into the trajectory of Under Armour Basketball just as the category becomes established in footwear.

During a candid conversation with Sole Collector at the brand's company headquarters in Baltimore, the Director 
of Basketball Brand Marketing touches on a wide variety of subjects, including where Under Armour has been up until now, the steps they still need to make on the footwear side and what an ideal snapshot of Under Armour Basketball might look like three to five years from now.

Nick DePaula: What were some of the things that excited you the most as you looked to join the Under Armour team?

Mike Parker: I would say just the energy around this brand. Standing 
from afar and seeing what was going on, there's always been a lot of enthusiasm around what's going on at Under Armour. I felt like they clearly connect from a performance standpoint and they have a really great innovation side, which is critical. From a basketball perspective, they're a ripe brand and we're definitely that next company. There's been a sea of brands that have been in basketball, but a lot of those brands have a lot of luggage from a brand perception 
standpoint. Under Armour doesn't have that luggage, and is very fresh and very new, and the opportunity is there. There's people here that love the sport and are passionate, and that want to get it done. That's the environment around here. It's entrepreneurial, yet big, and there's a lot of support 
and brand equity. Now, it's about how we can tell that story in basketball.

NDP: What are some of the responsibilities that fall under your role?

MP: My main responsibility is to try and help to craft the voice of basketball. I don't do that alone though, there's great people in sports marketing, our footwear and apparel teams, and PR that really all act as hubs as we articulate who we are and what we're about in the game of basketball. I'm trying to be a compass to make sure that we're on track. We're also working as a collective group to really figure out in that plan what that message will look like three to five years from now.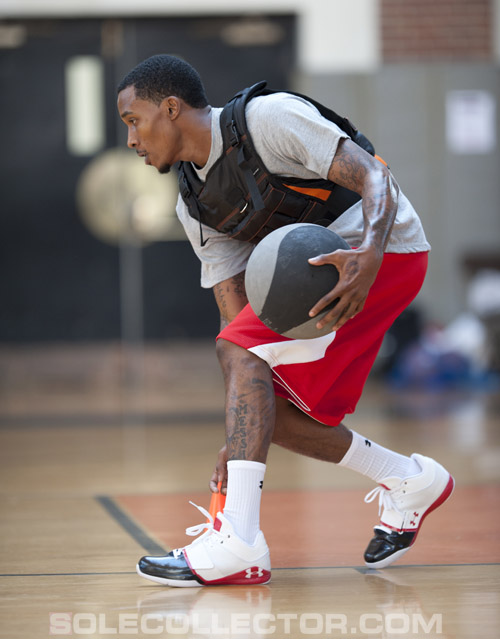 NDP: I wasn't aware of this before, but you were involved with Brandon three years ago in Italy right when he signed on with the brand. You've seen him grow, and you've also added some great guys like Kemba and Derrick Williams. Can you talk about how you're increasing the stable of 
athletes, and how those guys will help you mix things up?

MP: With Brandon, he's the first. He's the genesis. And 
he really reflects everything about this brand. We could've gone a predicted route, but he went a different route, and that's reflective of his personality. That's who we are. Brandon 
will forever be known as the original, and then Kris [Stone, Director of Basketball Sports Marketing] did a phenomenal job of adding Kemba Walker and Derrick Williams, the #9 and #2 picks in the draft. That sent a very strong message about our commitment to basketball, and also the type 
of players that we want to bring on board. Kemba was a national champion, but he was still always a guy that's been semi-overlooked and doubted. But he had that hustle, grit and grind and would always surprise people when they didn't expect him to be that guy. That's also who we are as a brand. Derrick Williams kind of came from nowhere in the tournament, and then was the #2 draft pick. That says a lot about him, and he was a guy who wasn't all that highly recruited coming out of high school. He was really a baseball player, but he worked hard to become an amazing basketball athlete. He's humble, but hard working and committed. We feel really good about the guys that we're bringing on board, and we're going to continue to look at guys that we could add. Every guy we add going forward, we're looking at them as potential All-Stars. We're going young and incubating, and there's always other opportunities to look at guys that are a little more established when it makes sense, but we're really looking at young, youthful, gritty and the "next."

NDP: That's what I was going to ask. For awhile there it seemed like the approach was fast point guards and smaller 
guys, and the D-Will signing was a departure from that.

MP: I think the guard aspect is still important to us, and everyone knows that guards nine times out of ten will sell more shoes than a big guy, but with D-Will, he's an exciting 
player and he's athletic. He's not your typical big post man with his back to the basket. He can take shots from the 
outside, take you inside or go over you. That athletic type 
of player that's going to bring some excitement is something we'll look at.

NDP: You talked about Brandon being the genesis of the brand still. Can you talk about his "Under The Armour" show and how that came about? That's been great to watch and I think showed a real good side of him.

MP: To be honest, I'm fortunate to have walked into that situation. That all began prior to me being here, but when you talk about being organic, it actually all started when Brandon met a young man on an airplane. The kid knew who Brandon was, and was just a big fan of his. They started chatting and talking like young guys do, and he said, "Listen, I like what you're doing. Would you mind if I followed you around and documented your lifestyle?" Brandon is the kind of guy where he's very cautious of who he interacts with, but there was a connection with this kid and he went with it. It all started with one guy, Asur, who's 28 and also from LA, and he just said he could create a show for him if he could just follow Brandon around. All Brandon is really providing is his time and access. The series that we're getting out of it, and the quality, we couldn't ask for anything better. We're real excited about it, and the response has been very positive. We've been getting more than 200,000 views on some of the webisodes, and we're real excited to see it continue next summer.
NDP: It seems like the high school and college level sponsorships are really ramping up as well.

MP: Yeah, and right now we have twenty colleges, and we're looking to expand that even more. In all fairness, a lot of the schools have been driven by their football programs, but as we get deeper into basketball, we're going to really be looking 
at basketball specific programs that will allow us to highlight 
the collegiate athlete and the tournament. From an AAU standpoint, we have sixteen programs right now, and actually, 
the #1 17 & Under program in the country, the Houston Defenders. All of that is very critical. We'll look more at high schools, but we have a really good stable right now. It's not about mass and just getting a gazillion programs, but getting the right programs and being effective and efficient.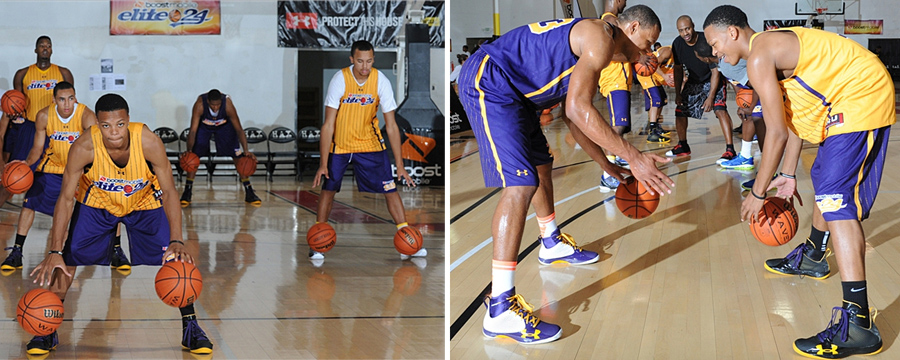 NDP: Sponsoring the teams is one thing, but can you talk about the Elite 24 Tournament, Brandon's Invitational and the Grind Session events that you guys have been doing?

MP: We had our first Grind Session event this past September, and it really was birthed out of what we've been doing in football from a combine standpoint, and now applying that to basketball. We wanted to really leverage our relationship with the IMG facility that does all of the great testing for the combine. We partnered with them, and talked about pulling basketball applicable tests and basically merging it with that football combine feel. We did the first one in Chicago and we had a really good group of the top fifty high school kids. The response was phenomenal. We had Derrick Williams on site working with the kids, and the takeaway was extremely positive. When you're talking about the top fifty kids, you have guys who are Nike guys and guys who are going to adidas programs, and when they walked away from the Grind Session, their experience with our brand was very unique and different. They didn't know what they were going to get into, and they came out of it with a great experience. We're looking to build off of that platform, and you'll be seeing some other Grind Sessions coming in the spring. It worked really well, and we'll look to replicate and do them again across the country.

At Elite 24, that's a great property that we've been associated with for the past six years. We sponsored the uniforms even before we were making footwear. We've seen a great positive impact from how the players from year one have responded to where we're at now. We were still a bit unknown in basketball then, and now, the players are all responding great. A key thing is that they're not required to wear our shoes in the game.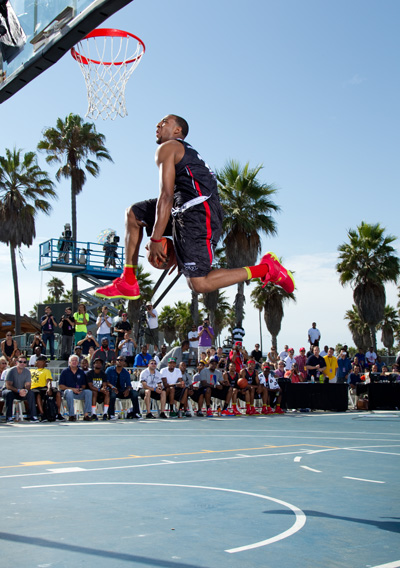 NDP: Obviously during the scrimmage session beforehand and practices, they're all in Under Armour branded gear, but during the game, there's a few guys wearing competitor shoes. It's still open season for the game, and that won't be changing?

MP: Exactly. It is, and we're still, on paper, the apparel sponsor of the game. The good thing though, is even though they're not required to wear anything specific, we still had seven or eight kids on each squad of twelve wearing Under Armour Basketball footwear. Of course, the first three years were all donuts, because we didn't have basketball shoes then, but it's been positive getting feedback through the years. It's also a great game because it's open to the best players of all classes. It's outside and on Venice Beach, and it's not your typical all-star game like what else is out there. We're able to separate ourselves.

NDP: What kind of feedback were you able to get from all of those players during that weekend? Obviously, they do have access to other footwear brands and are playing in multiple products.

MP: We definitely did a few consumer insights sessions with the players, and the real snapshot that we got and the main feedback was them saying, "Hey, the shoes are real great to play in. Under Armour is a brand that I would wear on-court. I might not wear it off-court yet though." I think there's a fashion element to get after, and we still have a perception of being a brand that will definitely work on-court and is going to be reliable. But in basketball culture, there's a huge crossover between on-court and off-court, and we're not there yet. And that's ok. You want to authenticate yourself on-court first before you're taken off-court. It was really positive, and all of the players realized that we're about hard work, sacrifice, and they liked what we are about. The feedback we've been getting has been really great, and there's more to do on the product side, but players are becoming increasingly receptive and we're definitely going in the right direction.

NDP: We've been talking mostly about the US market with the high school and college programs that you guys have, but of course the market in China is really exploding. Are you guys looking to grow there already, or is the plan to be patient and become more established stateside first?

MP: I would say that it's important, but it's not an immediate focus. We have to really focus on making sure that we get the US right first and get traction here. But there's 300 million basketball players in China, and we can't ignore that. We have to be there in the European market too. Basketball is still very strong and relevant all around the globe, and we have plans to attack that, but that's still down the line. We're really focused first on having success here.
NDP: You talked about building out what the brand looks like in three to five years. If we're just now in the growth stage, where do you see this brand headed and how would you define that success a few years from now?

MP: In three to five years, we'll have a really good stable of NBA athletes. We'll have around fifteen guys that are young and established. Right now, we're a brand that works on-court from an equipment standpoint, but I think you'll start to see an application of our shoes in a lifestyle use too. It won't be contrived or forced. I think you'll also see a larger family of models. We're pretty focused and tight with our models now and we're focusing around Brandon as the premiere footwear driver of our guys. We're going to really look to extend our breadth of footwear, equipment and apparel to tell a bigger story about Under Armour Basketball being a serious performance brand that is going to compete against everyone else. We're still crafting that as we speak, but you're going to see Under Armour Basketball be meaningful, have a point of view and have a strong voice.