words // Zac Dubasik
interview // Brian Edbury
images // James Boughton
As published in the February iPad Issue of Sole Collector Magazine, available Friday, February 24th in the iPad Newsstand App Store.

If you've been paying attention to the sneaker world for long, you're probably already familiar with Dave White. Inspired by his love of kicks, this UK artist has been creating sneaker-related art for years. Thanks to his artwork and his work with Nike, including projects like his Size? Air Stab collaboration, he's become a favorite amongst sneakerheads.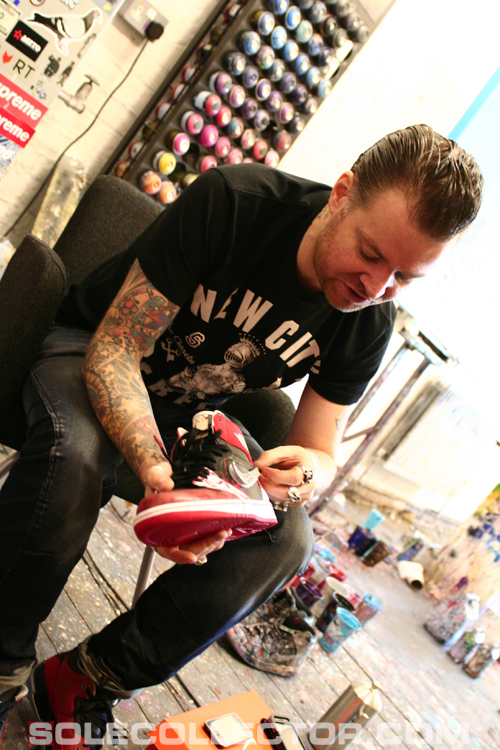 After years of painting pictures of shoes, he's teamed up with Jordan Brand for a very special project where he's gotten the opportunity to paint on them. The project started last All-Star Weekend, when 23 pairs of Air Jordan Is were auctioned off on SoleCollector.com, with all proceeds going to Jordan Brand's WINGS For The Future charity initiative. This year, a different version is hitting retail. We caught up with Dave at his Liverpool studio to get his take on how the project came to be, and what it's like to work on something he's so passionate about.
Brian Edbury: What other Nike projects have you worked on in the past?
My very first Nike collab was a very small run of Air Max tees back in 2003, and more clothing for Digital Gravel. I also did the "Neon Pack" in 2005 (with the Stab finally releasing end of last year), the Be True To Your School event in Malaysia and most recently the Nike x Size? 10 year anniversary. I'm just very grateful for all these opportunities.

We haven't seen any new shoe paintings for a while, have you stopped painting sneakers now?
The sneaker paintings went on for a few years and after painting the Jordan IV and V, I knew I couldn't top them. I did work with Air Force 1s on a project called "The Courts A Battlefield," but felt that I didn't want to keep churning out sneaker paintings. I wanted to keep it fresh, evolve and take risks.

How did you become involved in this project with Jordan, and how far back did it begin?
Dave Frank, the Jordan Brand Art Director, phoned me out of the blue way back in 2008 to tell me he loved my work and wanted to work together on a collaboration. Since then it's been a logical development of a relationship. It's a crazy honor and a mad delight to be working with Nike and Jordan Brand. I never, ever had a game plan to get here; it's just how it panned out. Working with Jordan has been such an amazing experience and a dream collaboration. Back in 2002 when I started painting sneakers, I never dreamed I would be doing this, and especially on such a bespoke project.

Why was the Air Jordan I chosen? Did the brand have that in mind because it was the model that debuted the "Wings" Logo? Or is it a personal favorite of yours?
From our early discussions, it was clear that Jordan Brand wanted me to do something with the Air Jordan I – during the planning stages the Jordan I anniversary was coming up. Plus, I'm really pleased we went with this shoe because it's a great blank canvas with a lot of space to work with.
Tell us more about the journey to end up with the final product.
What I wanted to do was create something that was not going to veer off from the beaten track too much. I'm very much a purist when it comes to Jordans and colorways. I wanted to keep it very much black, white, red and grey. What I came up with was the whole instinctual paint splat thing that I'm known for and instantaneously have a nod to what I do show on the shoe. I wanted to create something that looked animated, but without being played in or moved in, and I was very passionate about putting that in there.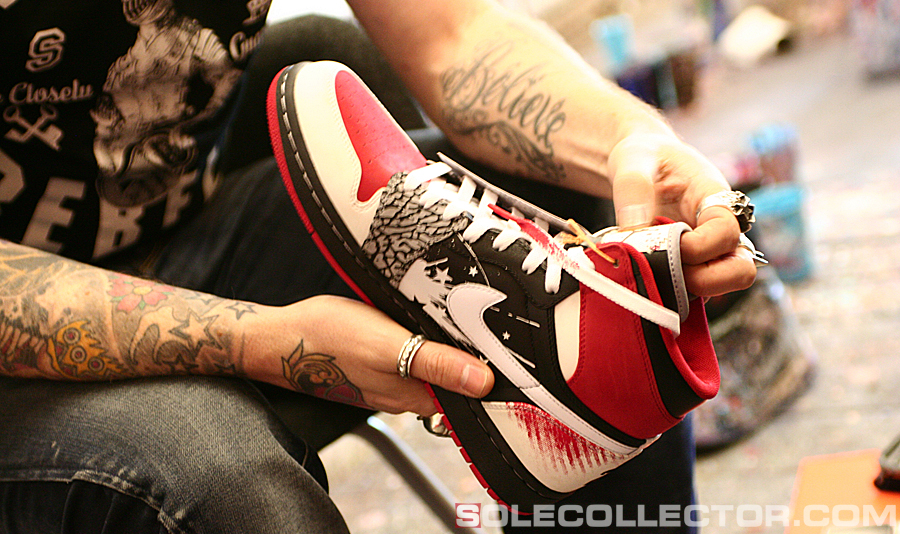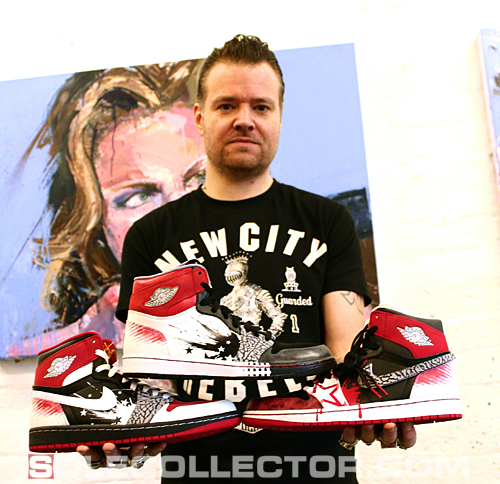 Can you walk us through the early samples and talk about the inspiration and back story behind your designs?
I submitted four designs overall. Some things I wanted to do didn't make the cut, but a lot got signed off. The first-run samples don't show the true colors – these were Varsity Red, but ended up being a much more vibrant Fire Red. I was very passionate about putting that Cement print in there. Regardless of how much it's been used by Nike and Jordan, it's still such a special material to me that I had to include it. We went with hits of high-grade canvas on the tongue, on the inner sole and sockliner, which obviously harks back to the material I work on.

We were pushing ideas as hard as we could, and as technology evolves, more things become a reality, such as matching the print on the upper to the print on the midsole, which just wasn't available a few years back. The print on the side is very tonal, but also makes it look animated. The stars connect back to me, as I've always used them in my work since the very beginning.
How did you decide on the graphics and colorblock?
I wanted to create something that looked completely natural at first look, then starts to unveil itself. At first glance you don't even notice what's going on. Jordan Brand actually allowed me to remove the Swoosh, which is just crazy! In fact the way the paint is there, it leads you in. [The Swoosh is] almost there, but then you notice it's not! For me the whole no Swoosh thing is the pinnacle of where we could go with these.
To make the stars 'pop,' 3M material was used on the side panels. It's not immediately obvious at first glance, again something else you discover after looking at the shoe for a while. 3M is such a special material to me – for example the Air Max 95 is one of my top five shoes as it was the first shoe I saw with that material.

The midsole 'spots,' known as Ben-Day Dots in the art world, are shown on the sample but were changed up to a much smoother gradient. It just looked smoother. Ben-Day Dots have appeared in my work as a nod back to Lichtenstein. Cement print was used -- just had to put a little bit of that in!
Are there any other favourite materials or elements that you wanted to use but couldn't?
I guess I'm older and wiser now, so I'm happy that just enough was put into the shoe without going crazy and fucking with the materials.
Was being so far away from the Jordan guys a problem?
The process has been long, but such a pleasant one. Working with D'Wayne [Edwards], Brandis [Russell] and Dave [Frank] has been amazing. The distance is crazy, but we've overcome it with lots and lots of conference calls.
Will you only ever work with Nike on sneaker related projects?
I have been approached by other companies and I'm always grateful for that, but I'm a Nike and Jordan collector and stay true to what I believe in. It would be easy to take money for other projects, but if I'm not passionate or an enthusiast for that product I can't get involved.