words & interview // Nick DePaula
Just this past summer, adidas Originals really ramped up the celebration of its brand with a standout Icons campaign that highlighted some of the footwear industry's most storied models. While glancing back and showcasing the past is great, we'll also begin to really see the heritage category of The Three Stripes look to design for the future.
The first example of that new shift and approach is the H3LIUM, which not only takes on a progressive geometric upper and modern construction, but also happens to be the lightest ever lifestyle product from the category. I spoke with adidas Originals North America Design Director Brian Foresta to learn more about the newly launched casual silhouette and its adiZero-inspired build and construction. Learn all about the design insights ahead, as well as the nitty gritty technical specs and why Foresta loves the polarizing effect the shoe has already caused.
Nick DePaula: Just to back up a little, can you talk about when you guys first started on the project and what the original concept was?
Brian Foresta: Sure, it was about twelve months ago. We started a year ago, which is pretty fast-tracked. The brief was pretty open, and the idea was that between our Icons and our more contemporary models, we felt like we were doing everything up to the present day. We took a step back and said, "Ok, what would it be like to do something that was like five or ten years into the future? Could we do something that was that forward, instead of retrospective?" Everything in streetwear right now is backward facing and historical, so we were more interested in doing something that brought us really far forward. The 8000 is a favorite shoe of mine, and I wanted to use that as the point of departure for the project. That's kind of where I started.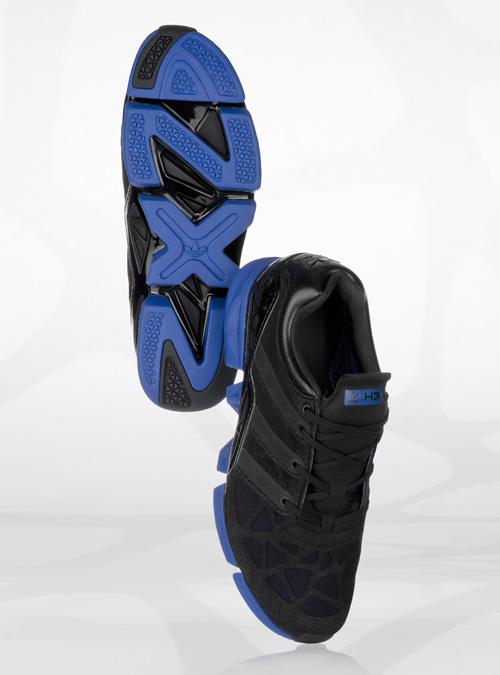 NDP: Was the idea all along to also really have an emphasis on lightweight and minimalism?
BF: Yeah, definitely. For me, the thing that I've always struggled with as a footwear designer, is I have tons and tons of similar lightweight jackets in my wardrobe, and I wanted to think about what it would be like to take that philosophy and turn it into a shoe. Conceptually, I kept circling back to the idea of lightweight protection, and those jackets are really protective from the elements. I also felt like in this industry -- not at adidas -- but within the industry, that lightweight was getting flimsy. I've always thought that adidas product has structure to it and we use molded heel counters while everyone else uses flat sheets through the heel. We construct shoes a little bit differently than everyone else, and they always are kind of substantial and that's an important part of our DNA. The idea was to take lightweight and protection and combine them together.
NDP: That's one thing we've really seen in adiZero this past year. You guys aren't just hitting ounce targets or numbers, and there's still substantial support that you can rely on. Was that cross-category adiZero initiative something that helped to influence making this the lightest shoe from adidas Originals?
BF: Definitely, but not in the sense that it was like a huge committee got together and said, "We're going to go after this lightweight initiative!" [laughs] I just thought that between the Crazy Light and the F50, those shoes are unreal the way they're put together, and it's really impressive. It would be a shame if that kind of stuff only stayed on court or on field and we didn't figure out a way to use those insights in adidas Originals.
NDP: Those adiZero models use an enlarged counter for some great lockdown and also use SPRINTFRAME for the full plate. Can you talk about the chassis that you used here.
BF: We're actually using a similar plate to those shoes, and we're using Pebax, which is a really strong version of TPU. The cool thing about that is you can get really thin and light, but it won't get flimsy. It retains its rigidity. Without giving away any industry secrets [laughs], we were able to get under a millimeter and a half and even a millimeter in some zones and not have any pressure or hot spots when you walk on it. The cool thing, just like in the F50 cleat, is that we removed all of the material underneath the strobel. All of the material underneath the plate has been taken off, there's a little bit of glue and then we stitched it on to make sure that you're not going anywhere.
When you take the sockliner out, it might not be evident at first, but all of that material underneath has been cored out and removed. We also don't have a traditional heel counter here, because like the Crazy Light, the plate actually extends and becomes the heel counter. We were able to take what is normally five or six parts between the midsole strobel, the heel counter and some other parts, and just merged them into one piece
with this chassis.
NDP: That's really cool.
BF: We really just simplified the whole shoe.
NDP: Across the board construction-wise, that frame has been the most impressive part of the F50 and Crazy Light too. I understand you were inspired a bit by architecture on these. Did you guys go on any inspiration trips or were there any particular buildings or locations that inspired you?
BF: As a creative team, just our team in PDX is a small crew. Every season, we kick the season off with a trip. We'll usually try and hit four or five major cities, and if you're in New York, Chicago or LA, it's not hard to get caught up by how much American architecture has taken off again. With all of the design blogs that you might normally check out, you'll see that computer modeling has really changed how buildings are actually put together now. It's changing how lightweight structure actually looks. We looked at that shift and wanted to go to more lightweight materials and really inform a new aesthetic. Obviously, having a frame like we do is the easiest way to remove materials and still keep a strong structure underneath it. I felt like that was all around us in architecture, and it's starting to move its way into footwear. If I was going to try and cover the foot, but still keep it lightweight and protective, the only way I was going to be able to do that was core out and remove materials. There were quite a few buildings I looked at that were a great example of how to do that.
I started out with those inspirations, and this is one of the first shoes I've done in a long time where I didn't do a ton of drawing or conceptual work through renderings. I spent more time in the model shop, laying tape down and building it. I was trying to see where I could remove material and where I could add it. We had to change a few things midway through, but in the beginning, the whole shoe was only three pieces. Now it's five, and my idea was to keep trying to get down to the really basic items that I'd need to keep it substantial and simple. Everybody can say "simplicity," but if you look at most shoes, there's backers, support pieces and tons of stuff still glued in behind the seams. The stuff we wear and that we love on an everyday basis off the field, it's mad simple. It doesn't have a ton of stuff on it. For some reason in footwear, we end up building so much into our stuff. Your favorite t-shirts are always simple. They're never over the top.
NDP: Well I'm a pocket tee guy, so I definitely can agree with that.
[everyone laughs]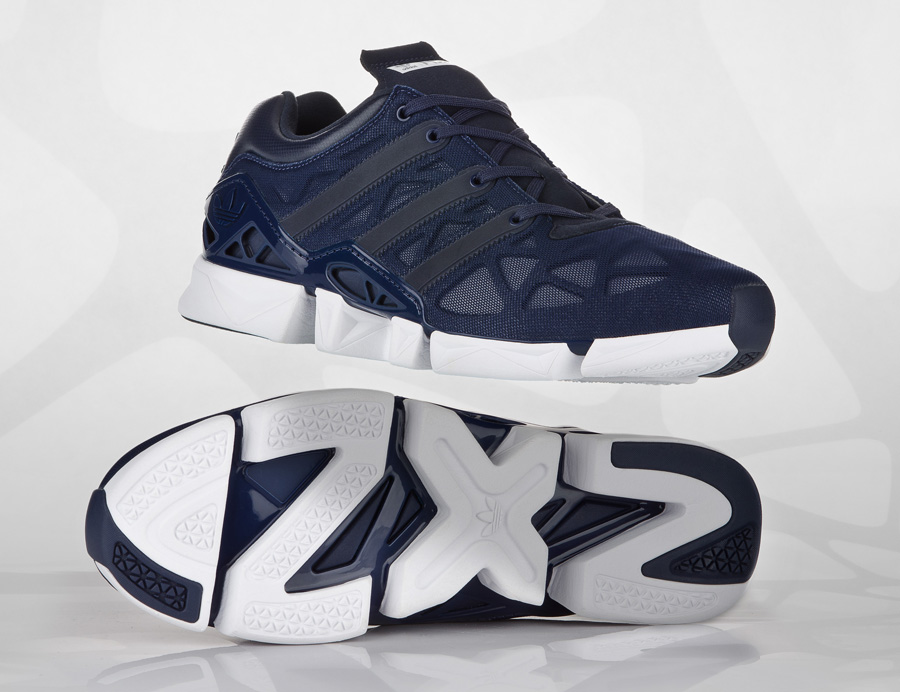 NDP: Along the outsole, there's a pretty literal way that you designed it by incorporating the shoe's letters. Was that the idea all along?
BF: The outsole configuration was started by Nic Galway, and he oversees all of the footwear for Y-3. It was an idea that he had been working on for awhile inspired by a snow print idea, where you would see the pattern in your tracks. We thought it could also help to create a really interesting sidewall aesthetic. We had started to push the upper so far that we had to do something that would nod some homage back to the original version of the shoe. We've done tons of versions of 8000 and 9000 toolings, and we found that what people always talk about from that time period and that era was the ZXZ models. If you don't point it out to people, most people won't get it right away. It's interesting, and I grew up in Brooklyn and spent a lot of time tagging the sides of walls. [laughs] Lettering to me is the best and most natural thing that you can see right away, but if you don't come from an art background, it might not be the first thing that you see. You can point it out and then people would say, "Oh yeah, it says ZXZ." I was surprised that when we showed it around, a lot of people didn't pick up on the lettering.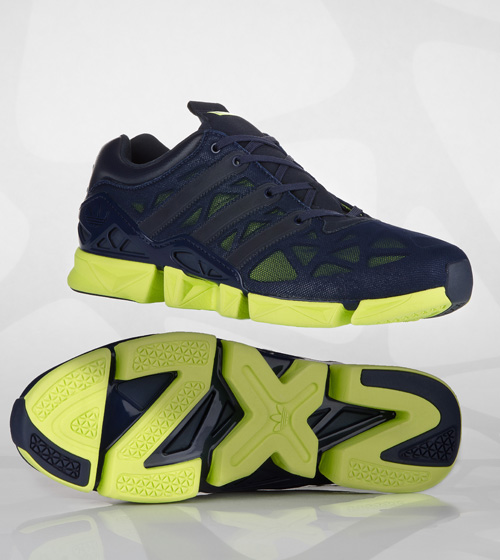 NDP: Did the letters lend itself pretty easily to having all the right natural motion grooves and flex points, or did you have to tinker around with the placement?
BF: We had to move things around a little bit in some areas, but for the most part, it worked great. We also have the luxury that we're never trying to do something that is strictly performance and more about athlete enhancing. We're just trying to take some of the great innovations that our brand is doing and give somebody something that they can wear throughout the whole day. We always talk about it in terms of what shoe you would want to still have on at the end of the night. We don't want you coming home late and saying, "God damn, I'm so glad I got this shoe off." [laughs] They should be super comfortable. We're hyper-critical of comfort on our shoes, and this is a great place to really tell that story about wanting a shoe that's lightweight, comfortable, flexible and protective. But you don't need marathon type of performance in it, because I'm never going to do that in these. People drive around in sports cars and sit in traffic for most of the time.
[everyone laughs]
BF: We might as well take a Dodge Challenger approach, where it's got that feeling to it, but it's more about stance, it's plush and comfortable and it's not unreliable.
NDP: That's really interesting and it sounds like practicality was a big insight too. What are the midsole compounds that you were discussing there.
BF: We're sitting about 10-15 cc lower than what we use in most of our heritage products. It's definitely a softer compound. What most people don't really pick up on right away, is that when you core out the heel and use a U-shape, you're actually using the plate a little bit like a trampoline. The plate also has two triangles that are cut out in the center of the midfoot, and the actual plate is also flexing at the same time as the shoe, particularly on your heel strike. If you're running around town just for the day, you're really using your heel strike more than anything else. You want it to be super comfortable on that initial strike.
NDP: What are some of the colorways that we can expect. Is the early direction to have mostly more subtle black or anthracite uppers with colors through the midsole?
BF: With color, we really wanted to go after this element of darkening out the upper, and if you see the shoe from fifteen feet away, what would be the first read? We wanted it to really have the bottom trace back to the heritage of the line with the letters, but then when you get up close, the whole upper is transparent and you can see the EVA cage. We used base colors underneath all of the mesh that are usually the same colors as the tooling. The color comes up into the upper and gives you a full 360 approach. From fifteen feet away, you can see the tooling first, but when you get closer you'll begin to see the windows. It takes a second for people to realize that those are actually holes in the plate, and they might think it's a texture change, but the footbed is really poking through. At those distances, for the closer you get, we wanted there to be more to discover. We carried that over for the colors of the first two launches. It's pretty sophisticated. We'll start turning up the color a little bit more after that.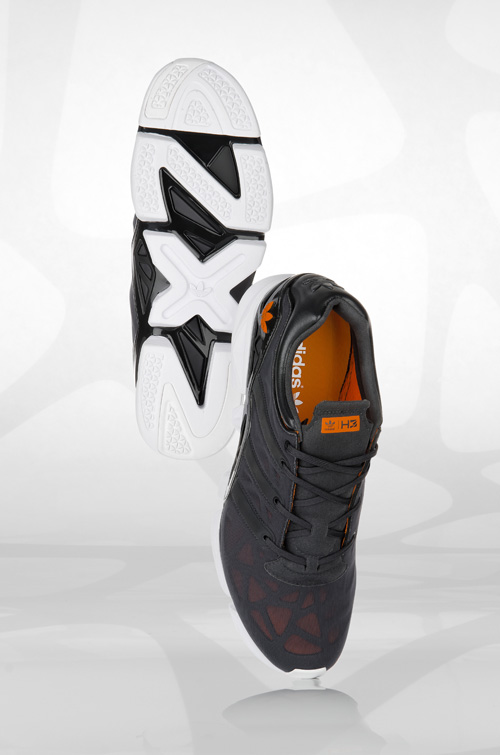 NDP: Are there any collaboration pairs or really limited high energy versions that you're excited about?
BF: At this point, we're going to keep it pretty locked in to the mall and at Champs. We're going to reverse that model a little bit and keep it exclusive in the mall. We've got some stuff brewing in the background for later, but I'm pretty sure you'll be one of the first people that finds out about it. [laughs]
NDP: Hopefully so. [laughs]
BF: Unlike some of the things we did with Leaders and with Frank The Butcher on the Forum High, we have the ability of course to do that kind of stuff, but we also felt like this tech lifestyle sneaker was somebody else's game, and we wanted to go after it with a real strong shoe out of the gate and not be too predictable in just partnering with someone to launch it.
NDP: Can you just talk about the feedback that you've been able to get now that the shoe launched and the campaign is out there?
BF: We're getting a real positive response, and I'm definitely getting ribbed on from a lot of good friends in the industry over the video that we put out about the shoe. [laughs] Like, "Damn! 15 pounds heavier and out of shape for your video debut?" Just harsh stuff like that. [laughs] But the feedback was really good, and there's always some chatter against it, and that's great too. One of the things that we wanted to do here was we wanted the shoe to be polarizing. Personally, I think we're one of the more polite and on point brands around. We wanted to do something here that actually was polarizing though and would force people to consider where streetwear is going. Are we going to keep on doing the same things we've done for the last four or five years, or are we going to try something different?
Whenever you do something like that, you'll get some responses from people caught off guard or not into it, and they'll stick to their old school favorites instead, and that's fine. We anticipated that and the fact that people feel strongly one way or the other to want to comment on them is great. I actually like that. It means it caught them enough to want to say something. Overall, it's been really positive, and I don't think anyone expected this to be coming out of Originals.
NDP: In terms of direction, we've seen models recently that have more substantial toolings and visible technology stories like MegaCell. With this being the lightest weight shoe from adidas Originals, are we going to be seeing a shift towards more simple models from you guys, or will we still be seeing a mix of that?
BF: I think you'll always see a well rounded assortment of stuff, in the sense that we cover off on everything and we are the Icons brand. There's no way around that. We'll never walk away from our history, and for us, we realized that we had been doing Icons like the Superstar and Campus, and some contemporary streetwear models really well like the AdiRise and Roundhouse. Once we had all of that up and running, we realized that there was still another side to it all, and if we're going to be a full 360 brand, there might be an opportunity that we're missing on. So you'll see more lightweight lifestyle stuff from us that people will really want to just simply wear around. That will only help to round us out as a brand.