words // Nick DePaula
images // Ryan Unruh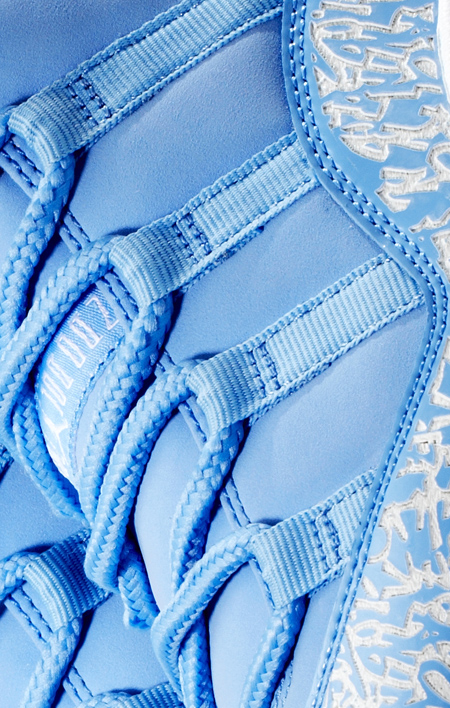 With a leaked sample of the "For The Love Of The Game" themed Air Jordan XI making the rounds this week, what better time than now to look back on one of the brand's most iconic models in one of its rarest colorways?
Originally created by Mark Smith and included in the full Jordan I through 2010 collection celebrating Michael's heritage in the sport, his Carolina roots and naturally, his "love of the game," the collection was first unveiled at the World Basketball Festival in New York in 2010.
Enjoy an exclusive look at the final version of the Pantone 284 splashed Air Jordan XI, featuring a graphic-laden overlay, nubuck eyestay & collar and icy blue outsole. A few words from Michael himself explaining his love of the game never hurts either.
Michael Jordan:
"Every time I see a shoe with that Jumpman logo on it, it brings back a lot of great memories working with the team from when I first got there in 1984 up until now. It's a sense of pride, it's a way of approaching a certain love for something.

Obviously when you see kids today wearing the shoes, they have a certain understanding for the history of what the brand represents. What it represents to me is where I began. I'm from North Carolina. My passion for the game of basketball started in North Carolina. I went to the University of North Carolina. It's always a good connection back home.
If you don't have a passion or love of the game, it's going to be hard to be at your best. If you go out and you do something it's truly because you love something and if you feel like it's a burden or you're doing it for the wrong reasons, then you're not going to get the best results. If you have a love for the game or a love for something, you're going to go that extra mile to make it worthwhile.

The game has changed my life, because it's taught me how to set goals, strive to achieve those goals, and never get complacent.

Keep moving that ladder up until you get to the point where you can't move it up anymore. Until you win and win and win and win, until you can't win no more.

That's what the game did for me."