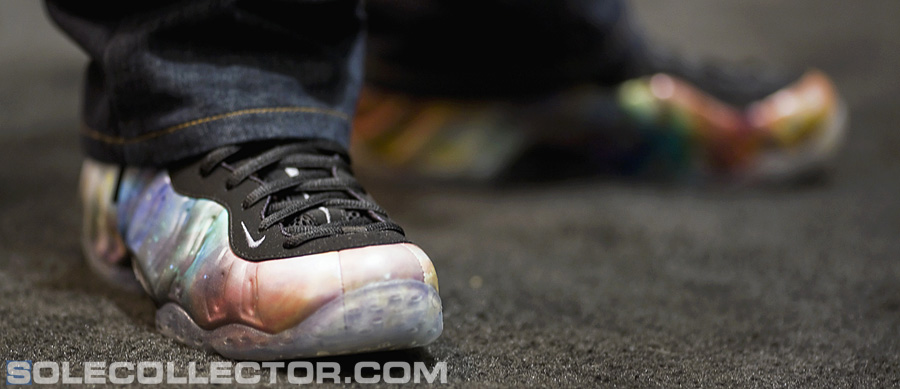 words & images // Nick DePaula
As seen in the February iPad Issue of Sole Collector Magazine, available Friday, February 24th in the iPad Newsstand App Store.
As we've learned through the years in the footwear industry, not every sample makes it for one reason or another. And unlike most early round samples that require just a tweak or two for production, this trial version of the "Galaxy" Foamposite holds a little extra weight with a printed graphic that's drastically different from the released version.
Morgan Barnes, Nike Sportswear Basketball Color Designer, explains the early round "Galaxy" Foamposite sample seen below and how she landed on what would become the final version:
"I created two different versions of the image. One was the very first trial that we got back and it was the original one that everyone saw a bit early when Gentry wore them. I wasn't super happy with it because it didn't look as dramatic as I wanted it to look. I wanted it to be a lot more dimensional so I went back and re-worked it to make the colors a bit more intense.
"I started to overlay blue and red together and that gave it a nice purple shade. It's All-Star Weekend and I wanted to play up the blues and reds a bit more to reference East vs West. On that shoe, I prefer to keep the rest of the blocking really simple on the laces, eyestay and tongue. It needs to be basic so that the Foam can shine. In this case, I wanted the print to shine."
For more on the inspiration and color design of the "Galaxy" Foamposite, be sure to check out our exclusive interview with Marc Dolce, Morgan Barnes and developer George Chiou:

Interview // Nike Sportswear Team Details "Galaxy" Foamposite