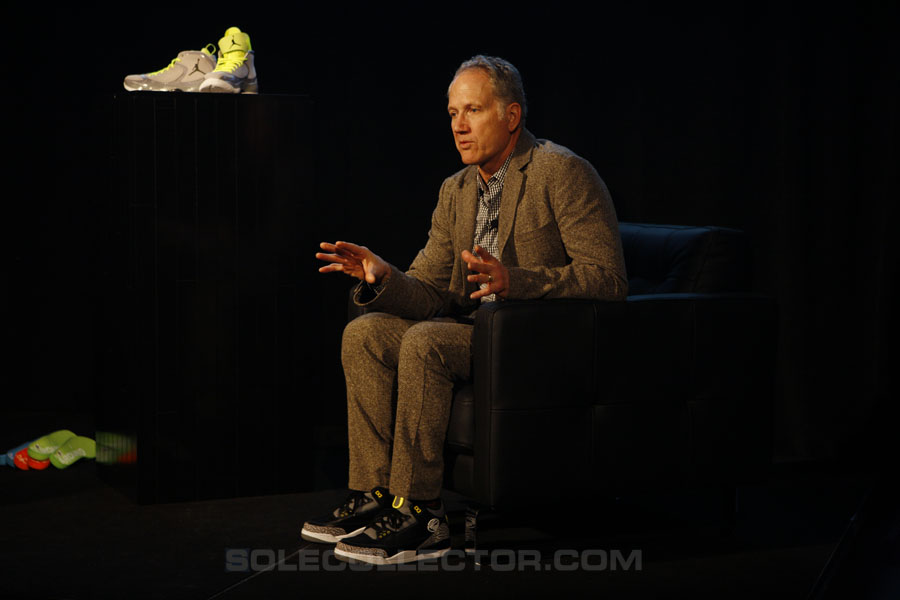 words // Zac Dubasik
images // Zac Dubasik & Angel Navedo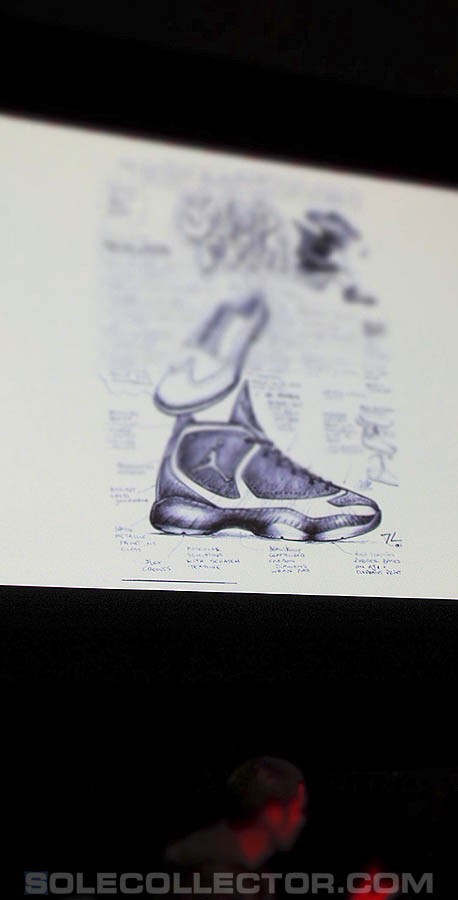 When you think of New York/New Jersey airports, JFK, Newark and LaGuardia all come to mind. It was Teterboro Airport, however, where the Air Jordan 2012 passports were valid. The location wasn't revealed until the last minute, but as we pulled up to the New York City area's oldest operating airport, it only made sense that a hanger would be the perfect location.
Once inside, members of the media were treated to a special presentation and discussion on the shoe with the legendary Tinker Hatfield, along with Jordan Brand's Tom Luedecke. Tinker explained that after all this time, one thing is always at the forefront of his designs. "We always start with performance. We always start with trying to make a better basketball shoe. We are always trying to improve performance for the best basketball players in the world, knowing that if we can achieve that, then of course people at all levels in the world of basketball will get a better shoe."
And on the performance front, the Air Jordan 2012 takes off right where the AJ2011 left off with modularity. Luedecke explained that they asked, "How can we broaden that, and how can we get even more choice, so that you truly have something very custom to you and your style of play?" The result of that question is the six different cushioning and support setups, compared to just the two cushioning options of the 2011 edition.
And while performance comes first, Tinker is also responsible for "the art or romantic side of our product process." He explained that the Air Jordan 2012's design was inspired by an urban planning project he was working on at the time. "I was working with the city of Portland on rejuvenating an old entertainment district that was sometimes referred to as Jump Town. Quite frankly, it was the place you would go in the 1920s, '30s, '40s and up almost into the '60s. It's where you would go to listen to jazz music in Portland, and where you could go out on the night." Pulling aesthetic influence from zoot suits, wing tips and saddle shoes helped shape the style of the AJ2012, which Tinker originally sketched via iPad. "I pretty much work exclusively on an iPad now, which is so bizarre, because I really never have liked computers. But I can sketch on an iPad now almost like it was a piece of paper."
Following the presentation, we had a chance to check out all of the options that will be available on NIKEiD. "When you color this shoe up, it really changes character a lot," explained Tinker.
Finally, it was time for weartesting. A full basketball court had been assembled in the hanger where we would get our first chance to try the shoe out. I opted for the Fly Over cushioning setup (forefoot Zoom/heel Air), along with the lower-cut inner sleeve. I'll have a full review soon, once I've had a chance to test out all the options, but my initial impressions were very positive.
Be on the lookout soon for much more exclusive coverage on the Air Jordan 2012.