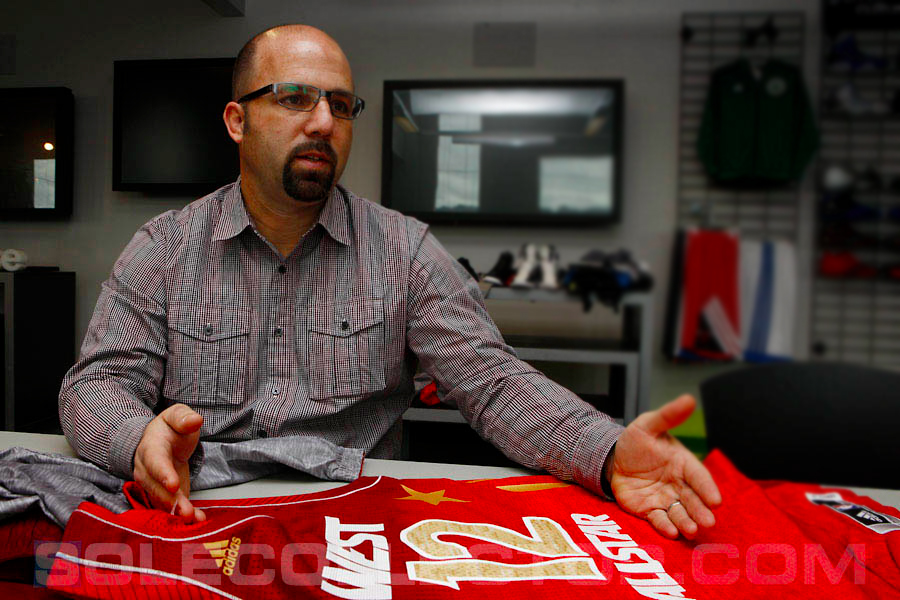 words & images // Zac Dubasik
As the official uniform provider of the NBA, adidas is faced with the challenge each year of creating a unique All Star uniform. Today, they are launching the 2012 editions, which will be worn Feb. 25th in Orlando. While an All Star Game presents some unique opportunities that aren't always present in the regular season, one thing does stay the same. "You know our story. It's all about light and fast, and athletes first. And in that, it's a head to toe experience," explains Travis Blasingame, Head of Global Basketball Apparel at adidas. "When we come around to All-Star Weekend, that's our concept car, so to speak, for future innovations, and it really feeds into what we do overall."
Last season's REV30 jerseys kicke'd off a new era in uniform design for adidas, and they've aimed to push even further with this season's All Star editions. "REV30 was 30% lighter, and dried twice as fast," Blasingame says. "But how do we build off that and get lighter and faster?" While performance is still the priority, plenty of emphasis was placed on style as well.
Here're five facts on how adidas Basketball took the 2012 All Star Uniforms from the beach to the court. Be sure to check out the February iPad issue of Sole Collector for a more in-depth look.
From the Court to the Street:
At last season's All Star Game in LA, adidas introduced the concept of "From the Court to the Street," which gave the warm-ups an off-court feel.
The beach serves as this year's inspiration:
"Guys are dressing differently. They are no longer big and baggy in the locker room; they're tailored, they're tight. They are spending a lot of money on their clothes. … We are really starting to blend and blur the lines between what they are walking into the arena with, and what they are wearing on court." -- Travis Blasingame
Warm up pants feature four-way stretch denim, and the lightweight windbreaker-style jackets feature fashion-friendly details like elbow patches, as well as performance elements like a CLIMACOOL mesh liner.
"East" and "West" Fonts:
If the fonts on the 2012 jerseys look a bit familiar, a look back 20 years will explain why:
"The wordmark and numbering system pay homage back to the 1992 All Star Game, the last time it was in Orlando. It was a big year, especially for west coast people, with Magic getting MVP in his return." -- Travis Blasingame
adidas' Lightest Shorts Yet:
The beach settings of Florida provide inspiration yet again on the game shorts:
"You'll see woven shorts on-court for the first time for All-Star Weekend. They are a lot lighter than we've ever been. It's kind of a blending of board shorts and basketball shorts." -- Travis Blasingame
Hardwood Heather:
The jersey numbers not only provide breathability, but feature a unique graphic treatment that ties directly to the game of basketball. At first glance, you may just see a traditional interwoven yarn appearance. But look a little bit closer.
"We are pulling out the traditional heather effect, but playing around with the hardwood flooring." -- Travis Blasingame
Count the Stars:
Want to know how many times any member of the East and West squads have made the All Star Team? Just count the stars on the back collars of any player's shooting shirt.
Replica NBA All-Star jerseys are available at retail with a full range of NBA All-Star apparel from adidas, including men's and women's tee shirts, track jackets and headwear. Available at the NBA Store at Jam Session, Orlando Magic Team Shop at Amway Center, the adidas Factory Outlet at Orlando Crossing and NBAStore.com.