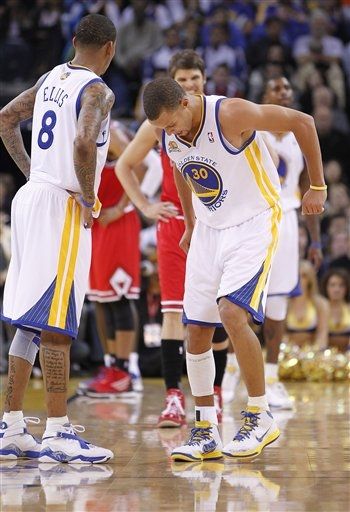 words // Brandon Richard
There's no doubt that Golden State Warriors guard Stephen Curry has the talent to be a long-time star in the NBA. Now in his third season, Curry has averaged 18 points, 6 assists and 4 rebounds per game. The one thing seemingly poised to hold Curry back from ascending up the ranks are nagging injury issues with his right ankle.
Last season, Curry sprained the ankle on four separate occasions, causing him to miss eight games. In May, he had surgery to repair two torn ligaments. Unfortunately for Curry, the injury bug carried over to this lockout-shortened season.
He re-injured the ankle on December 20th in a preaseason game against the Sacramento Kings and again on December 26th against the Chicago Bulls. In search of answers, Curry used the Warriors' off day last Thursday to fly to Beaverton and get insight from the experts at Nike's laboratory.
According to a report from SFGate, Curry had his foot and shoes analyzed for fit and figured out that his ankle naturally rolls to the outside, causing the recurring sprain. While waiting for full results from the analysis, Curry switched out the Nike Lunar Hypergamer and Hyperdunk 2011s he had been wearing for the Zoom Brave V.
The Brave V, an Asia exclusive model, features a slightly lower cut and lower stance, Flywire support system, Zoom Air cushioning and a lateral outrigger to help with his ankle issues. Curry says the shoe fits lower to the ground and wider on his foot.
In his two games back, Curry has worn a Black / Red colorway while waiting on a new box of "SC30" PEs with reinforced ankle support.