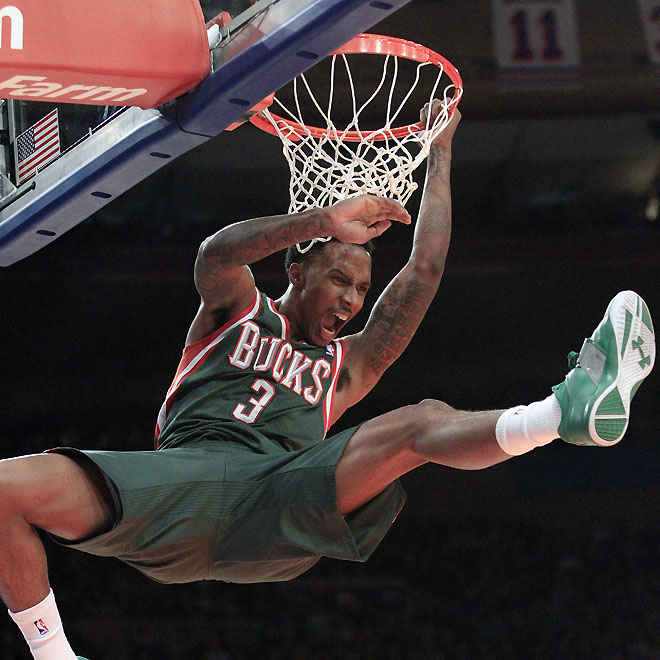 words & images // Nick DePaula
For Brandon Jennings, his path to the NBA almost nearly included New York City and the nightly home stage of Madison Square Garden. Of course, the Knicks expertly drafted big man Jordan Hill with the 8th pick of the 2010 Draft instead, and Jennings has made sure to put on a show every time he's back at the Garden. "I love the city, just in general. It is the Mecca of basketball," he says about New York. "I am always here in the summer playing basketball in the streets. It's not just the Garden, it's the city. I love the vibe."
In perhaps his best game since the "Double Nickel" he dropped on Golden State at the start of his rookie year, Jennings torched the 'Bockers for 36 on Friday night, coming up with key steals, draining threes over bigger defenders and driving to the lane at will. The outing topped the 35 points he scored on his last visit to New York.
While New York may have been a missed landing on his basketball journey, Jennings was wearing a themed version of his signature Under Armour Bloodlines that highlights where his love for the game began: Rowley Park in Gardena, California.
It was at Rowley Park near his grandma's house where he first began to hone his speedy skills as a youngster, and last February, he returned home to donate a brand new outdoor basketball court to the park.
The green court serves as the inspiration for his all green based "Rowley Park" Bloodlines, and you'll notice a street map of Gardena along the midfoot strap to round out the story.
Check out a closer look at the "Rowley Park" Bloodline below, as well as video of Brandon's buckets from Friday night. You can catch the Bucks' next outing this afternoon on NBA League Pass as they take on the Miami Heat.