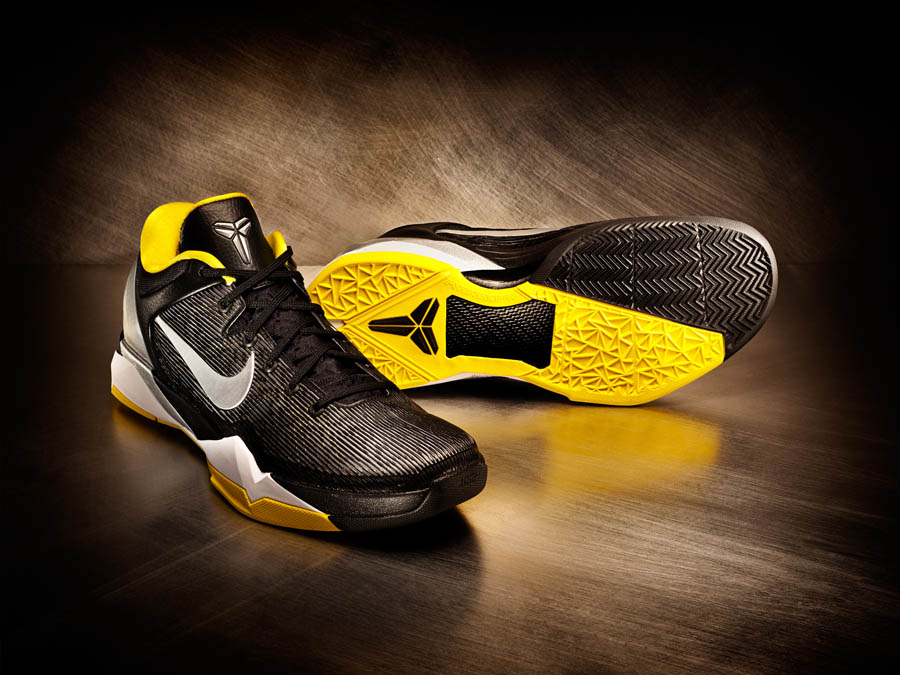 words // Brandon Richard
via Press Release
On December 22nd, Nike and Kobe Bryant will officially launch the Nike Kobe VII System Supreme, a customizable shoe that allows players to switch ankle support and midfoot cushioning. The Nike Kobe VII System Supreme includes two interchangeable insert options that give players the opportunity to match their style of play.

For players with a speed-based game, there's the Attack Fast insert. Attack Fast features a Phylon midsole with Zoom units in the forefoot and heel for lightweight responsiveness. It also has a low-cut, power-stretch cuff that hugs the foot for added support. The sock-like fit eliminates the need for a traditional tongue and innersleeve, which also reduces weight.

Those who play a more physical game will prefer the Attack Strong insert, which offers a full-length Cushlon midsole and an ankle cuff for a comfortable ride with great support. Sensory cuffs are made of an engineered power-stretch material that is padded and perforated for comfort and ventilation.
The Nike Kobe VII System Supreme offers a similar performance fit and feel as the Kobe V and Kobe VI, but offers a different look and includes additional performance customization. In addition to the different inserts, next-generation Flywire technology was used to provide lock-down support, a 3D heel clip also enhances support and a glass reinforced composite shank in the midsole gives responsive midfoot support.

Inspired by Kobe's on-court instincts, a predator pattern was used throughout the shoe's upper. The pattern comes to life in the cast polyurethane outer shell as a "skin" simulating the look of three predator patterns mixed together - the Leopard, Great white Shark and Black Mamba. The raised skin pattern lives on each shoe. Separately graphic patterns also live under the "skin" on some colorways. These color graphics are available for four different predators - the Leopard, Great White Shark, Poison Dart Frog and Grey Wolf.

In addition to the Nike Zoom Kobe VII Supreme System, the Kobe VII is also sold in the Attack Fast version featuring the low-cut cuff and Nike Zoom air, without the Attack Strong insert.

NIKEiD will make the Kobe VII System fully customizable this year, featuring multiple ways to build the system. Options will include choices for fit, cushioning and colors. A sneak preview of the Kobe VII System iD will debut on December 12th on the NIKEiD Facebook Page. Full customization will begin on December 22nd at NIKEiD.com.

Nike has also partnered with the videogame NBA2K12 to integrate the Nike Kobe VII System starting December 22nd. Additional colorways will launch in the game at key moments throughout the year.

Read on for a detailed look at the Kobe VII System Supreme, Attack Fast, Attack Strong and Tech Sheets for both.