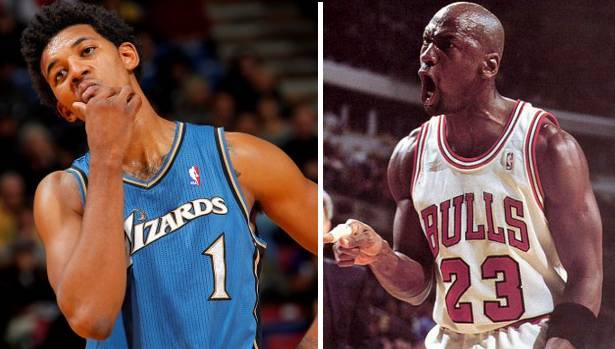 words // Brandon Richard
He fought, and he fought valiantly. However, in the end, Nick Young was no match against Air Jordan temptation. After boldly taking a stand against Michael Jordan and the Jordan Brand last month, Young conceded defeat last week, telling the Washington Post that his protest was indeed over.
It all started when Young expressed disappointment over Jordan's position as one of the hard-line owners during the NBA's labor negotiations. On November 7th, Nick jumped on his Twitter account and famously tweeted, "im not wearin jordans no more cant believe what i just seen and heard from MJ #ElvisDoneLeftTheBuilding." Young, who typically plays in custom colorways from the Nike Kobe Bryant line, said that Jordans were his favorite shoes growing up and singled out the Air Jordan IX.
Things started to change when Young participated in Josh Howard's Dallas charity game last month. Howard, a Jordan-sponsored athlete, outfitted the game's participants in Jordan Brand gear. About the uniforms, Young said, "Josh was playing with me about it. I didn't really take it to heart. It's whatever."
Then, when things were grim and the outlook seemed bleak, Young found his way back to the Jumpman. What eventually won Nick back over? The recent "Concord" Air Jordan 11 release, of course. Sounding like a man full of regret, Young told the Post's Michael Lee, "Those were some of my favorites. I might have to give Jordan a call and apologize. I didn't know those came out. Those were my favorites."
Young also added, "Protest is over. I'm sorry Michael." Apparently Elvis has returned to the building, switching out his iconic blue suede shoes for a pair of "Concords."
While Nick is moving forward with his truce, those 47 agonizing days will stay with us forever. How did the Nick Young Air Jordan Boycott impact your life? What were some of the most memorable moments of the month and a half that Nick didn't buy Jordans? Feel free to share your boycott experience with us below.