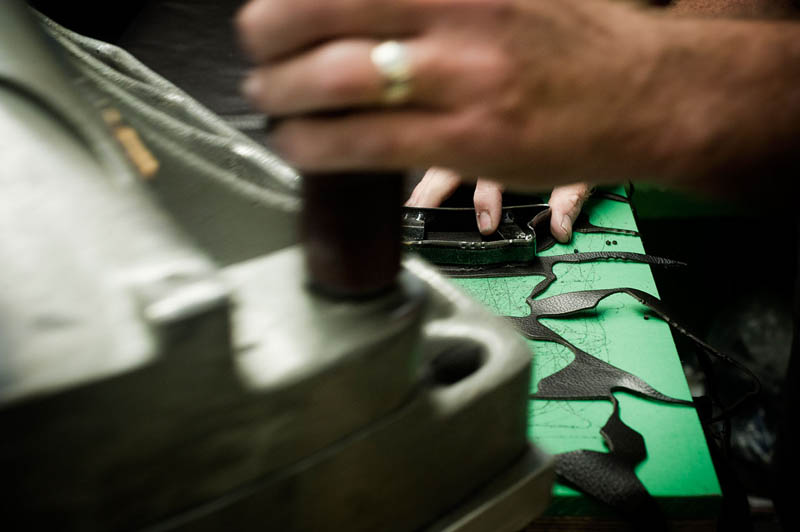 words // Brandon Richard
Approaching their 30th Anniversary of manufacturing in Britain, New Balance has launched a brand new website that celebrates the small town of Flimby, Cumbria, home to its UK-based factory. The site also acknowledges the craftsmen and women of the New Balance manufacturing team.
The craftsmanship, imagination and originality incorporated into New Balance's "Made in the UK" shoes is reflected on the site in the form of a tourist destination guide, which features the story of the brand's commitment to domestic manufacturing. Also chronicled are the associates who contribute to the Flimby Factory's workforce, with documentary-style interviews giving viewers a look at the working lives of members of the New Balance team, as well as their passions outside of work. Special features include pieces with team leader and pigeon racing aficionado Wayne Mcluckie, as well as production team member and rock musician Mark Heron.
Additionally, renowned editorial/documentary photographer Percy Dean provides a look at the picturesque town, encapsulating the character and spirit of New Balance and Flimby through imagery. The site also details New Balance's support of the local area by promoting places of interest, accomodation and activities for potential visitors.
"Next year marks 30 years of UK manufacturing for New Balance, and it's fitting that we're marking this landmark anniversary by celebrating not only our factory in Flimby, but also our hard-working associates and the charm of the local area itself," said Jonathan Ram, New Balance Managing Director EMEA Region. "The site is our way of highlighting the New Balance 'footprint' on the town and demonstrate our commitment to local jobs and British business".
New Balance's Flimby Factory Manager Andy Okolowicz adds, "At New Balance the dedication and passion of our manufacturing team are an inspiration to us all and the site enables our loyal consumers to have an insight into life at Flimby."
Learn more by checking out www.visitflimby.com.