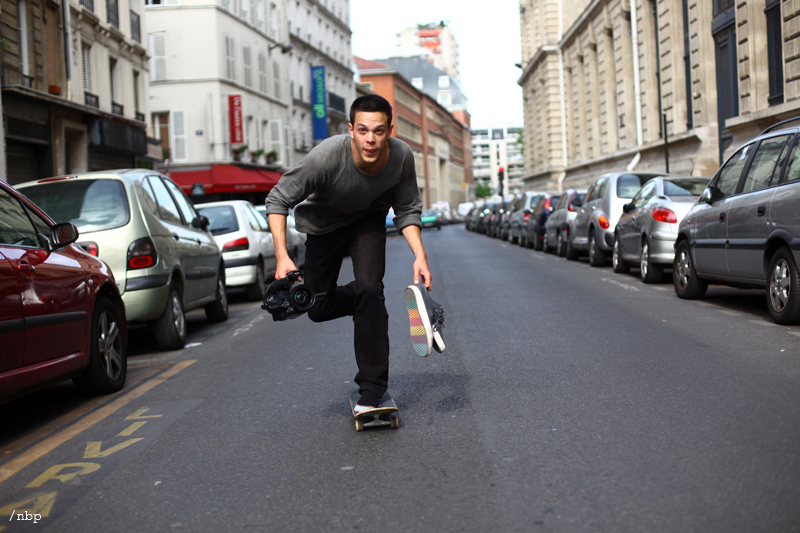 words // Luis Sanchez
Two years ago Levi Maestro made a name for himself in the world of sneakers when he bravely hooped and skated in the original Air Yeezy. Since then, he's been traveling all over the globe bringing to life his Maestro Knows video series documenting life through his eyes and all things pop culture.
Living another dream, Levi Maestro recently joined forces with Vans Vault on a collaborative release of the classic Old Skool '77 silhouette. With his national tour and a release on the horizon, we recently caught up with Maestro to hear all about the collaboration with Vans Vault.
Enjoy an exclusive Q+A with the man himself, detailing everything from the creative process to his goal behind the release and how it all came about.
//
Luis Sanchez: Give us a little background on your relationship with Vans, where did it all start and how did the collaboration come about?
Levi Maestro: We originally connected to see about me producing some content for them. I was knocking out a lot of videos at the time and wanted to work with someone who would allow me to further my other interests as well. They fully got behind the idea and I got do my own shoe.
LS: Why the Old Skool 77? Is this a favorite model of yours?
LM: Yes definitely it's one of the best silhouettes of all time.
LS: What's it like to finally have your first sneaker collaboration come to life?
LM: It's unreal, literally. I mean I've had samples in my size for about 6 months now but until they go up on the shelf and other people buy em….I don't think it will really click.
LS: Was Vans a company you saw yourself working with on your first shoe?
LM: Absolutely, I have skateboarded since 1997. Now 15 years later I have my own shoe with the world's best skate footwear brand, I love that.
LS: Can you give us a little insight on your inspiration for the colorway and choice of materials?
LM: Grey is my favorite color so I pretty much knew that's what I was doing, it goes with everything. The shoe is part of the Vault tier which uses premium materials only so I got to pick from some of the nicest. The feel really was to showcase that so many designer brands out there steal Vans shape and now that you see my shoe completely deconstructed version of their own model you realize that anyone can recreate but not always duplicate.
LS: What's it like working with Vans? Did they give you the freedom you needed to be able to create what you had envisioned?
LM: Yep, I worked with Jon Warren (Senior Designer) on the shoe and at every turn he pushed me to make my own decisions and it worked out well. It's an amazing sneaker.
LS: What can we expect from Levi Maestro and Vans Vault in the future?
LM: I can't predict too far ahead but the main release event will be held at UNDFTD LA on January 7th 7-9pm.
LS: Any other footwear companies you'd like to work with in the future?
LM: I love great opportunity, it's one of my favorite things in life. If it makes sense for everyone, that's the best way to get down.
LS: What are your final thoughts on the Maestro Knows x Vans Vault Old Skool? Are they everything you had imagined?
LM: To be honest they exceeded my expectations, it's an honor and a privilege. Thank you for the interview as well, I appreciate you.
The Levi Maestro x Vans Vault Old Skool '77 is set to release January 7th at select Vans Vault retailers nationwide.