words // Nick DePaula
Well, the triumphant return of Spalding footwear to the NBA hardwood is off to a bumpy start.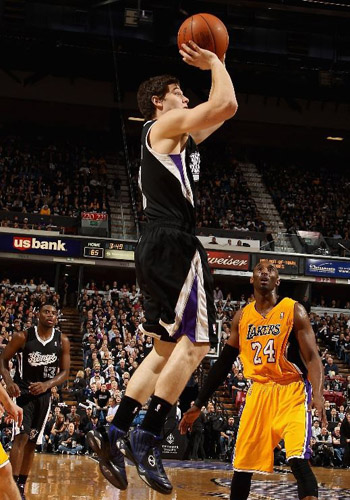 After we first spotted then-locked-out Sacramento Kings rookie Jimmer Fredette sporting a new model from Spalding back in November at the "Goon Squad Classic" charity game, it appears that after just three games in an official Association jersey, he's already switched out.
He played in Spalding for two preseason games against the Golden State Warriors and in the season opening victory against the Lakers (seen at right), but Fredette was spotted in Nike Zoom Hyperfuse 2011s last night as the Kings blew a first half lead in Portland.
While no terms of his endorsement deal were ever reported, our good friends at Dime Magazine did have the scoop that Spalding planned to outfit three NBA players in Spalding footwear this season. The shoes were scheduled to be available at retail during the Spring 2012 season. For the brand first established in 1876 and recognized as the original manufacturer of a basketball, those athletes included Fredette, Miami Heat point guard Mario Chalmers, and little-known forward Chris Singleton of the Washington Wizards.
Unfortunately for the league's official game ball provider since 1983, Chalmers almost immediately stopped wearing their shoes after the team's media day, opting instead for either his teammate's LeBron 8 PS or the Hyperfuse 2011. In DC, Chris Singleton wore the adidas adiZero Ghost during the preseason, and switched into the adidas MisterFly for the team's season opener on Monday night.
We'll be keeping an eye on The Jimmer and whether or not he throws back on his purple accented player exclusives, but perhaps the brand's efforts to get back into the footwear endorsement world for the first time since Hakeem Olajuwon's glory days nearly fifteen years ago will be a short-lived footnote to this year's shortered NBA season.