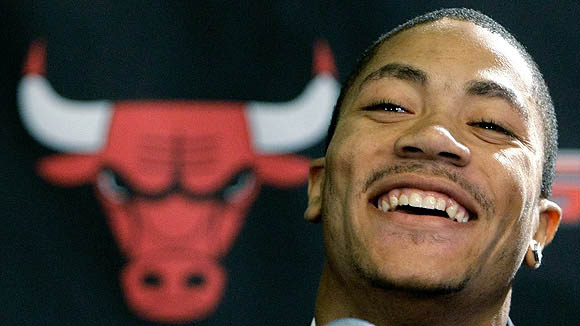 words // Brandon Richard
How does the league's reigning MVP follow up his recently-signed five-year, $95 million contract extension with the Chicago Bulls? According to ESPN's Marc Stein, possibly by signing a 'lifetime' sneaker endorsement deal that will net him nine figures. In his latest Weekend Dime, Stein says an industry source told him that Derrick Rose's new deal with adidas "will easily crack nine figures and could legitimately approach the $250 million range." An average of $25 million annually over a 10-year span for a player that Stein also hears is already out-selling LeBron James in China.
While that is an interesting piece of news and Rose's camp is set to negotiate a 'lifetime' deal with the brand, the dollar amounts are just being rumored at the moment. However, the reality is that Rose will command top dollar as an impending sneaker free agent and adidas will almost certainly pay what it takes to ensure that they don't lose their footing in the basketball footwear landscape. With Rose, they have a legitimate marketable superstar in a major basketball city with a footwear and apparel line that grows in popularity each year.
The question is, if that $250 million dollar price tag is somehow accurate, do you think it's a good investment for adidas? You have to figure that if they aren't willing to pay Rose, there will be long list of suitors in line with an open checkbook.
Let us know what you think about Rose's potential blockbuster sneaker deal below.