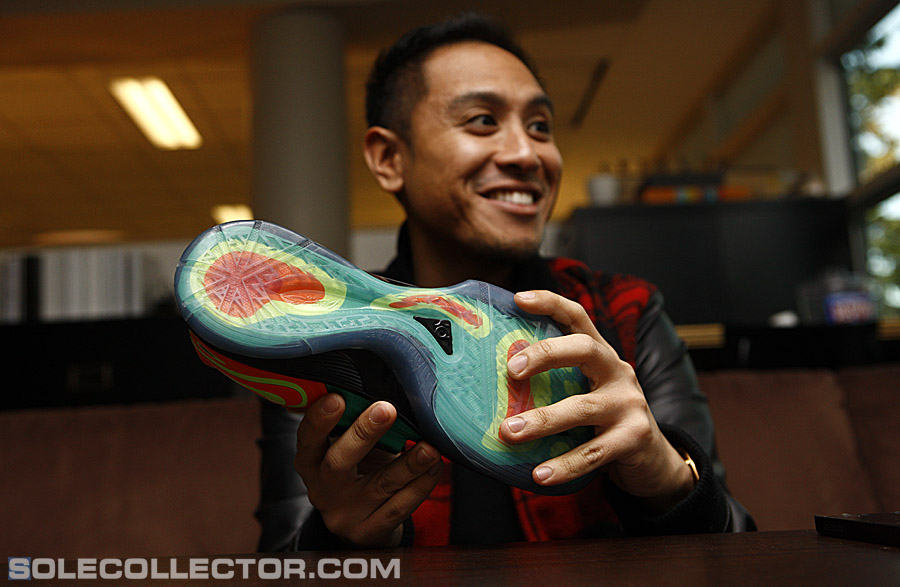 words & interview // Nick DePaula
portraits // Zac Dubasik
Usually around this time, House Of Hoops stores and limited accounts are offering us standard fare team colorways when it comes to player exclusives, but as we've seen with BRI jockeying all summer long and a legendary blocked trade this week that has turned the league upside down, nothing when it comes to hoops can really be expected these days.
With all of the uncertainty surrounding the league and its marquee athletes through the summer and into the fall, Nike Basketball mapped out a different course of action to highlight three of their key players and models this month, by taking a look at what jobs guys saw themselves doing in the event that there was no season. The theme approach not only helps to show a different side of Blake Griffin, Andre Iguodala and Kevin Durant, but it also allows for some fun away from their more traditional (and in the case of the Clippers and Sixers -- boring) team colorways.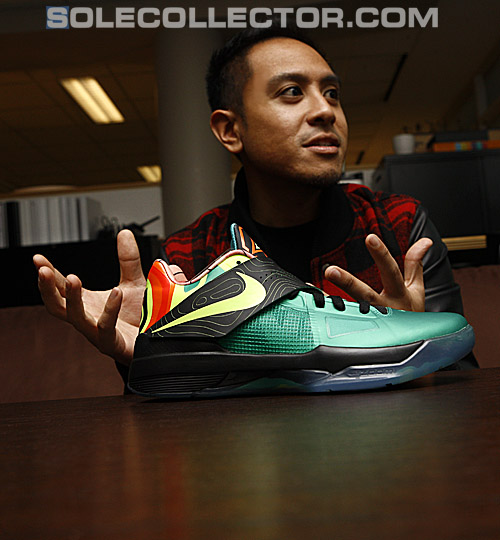 We caught up with Nike Basketball Graphic Designer Erick Goto to hear all about the details that went into Dre's Hyperfuse 2011, Blake's Hyperdunk 2011 and the much anticipated Zoom KD IV that make up Nike's "Lockout Pack." Enjoy a look below at the inspiration behind each pair, which are now available at House Of Hoops locations nationwide.
Nick DePaula: When did you guys first start talking about doing this "Lockout Pack?"

Erick Goto: It was over the summer. The lockout was already happening, and people were saying it was going to happen of course, but we wanted to just play around with what guys might be doing if there wasn't a season. We worked with our Sports Marketing team to get some feedback from Andre Iguodala and Blake to see what they would've wanted to do. I think the easiest one was Blake, because he was already doing his internship with College Humor, and of course, there was "The Blake Show" that he did at the Nike Vault in LA, so that was a gimme. Plus, he's actually a really funny guy, so it made sense.

Andre Iguodala had gone back and forth, and at first he said he wanted to be an artist and something more designery, but then he told us that he would love to be on Wall Street as a stockbroker. He's really into trading stocks, and that definitely flipped the creative spectrum that we went down.

The Weatherman concept really came from something that KD had actually mentioned to Leo [Chang, Nike Basketball Design Director] before awhile back. He told him a story about how he had always wanted to be a weatherman, so we just looked back on that and said, "Ok, fine that's perfect."

NDP: Did you guys talk about including any other players?

EG: These were always the three that we had in mind all along, even though there was definitely some cool potential with some other ones. We were also thinking about maybe doing something with Kobe and LeBron here, but there are other plans for their lines and their shoes. We don't want to do too many shoes of course for them.

NDP: I don't know, it seems like you guys can never do too many Kobes the past two years.

[everyone laughs]

NDP: Once you started working on the Iguodala pair, what drove the colorway?

EG: At the end of the day, we wanted these to be super wearable, and the first thing you probably think about when you see these is money with green. We looked at Wall Street, and also the actual buildings there and the gold guilded lettering that's often used. On the sockliner, there's a stockticker graphic and there's also a splatter midsole to represent the street. We wanted to give the upper a cool anodized finish that's Posite-esque, because Andre really likes to wear Foamposites.



Above: Andre Iguodala's Wall Street inspired "Stockbroker" Hyperfuse 2011 and Black Griffin's "Blake Show" Hyperdunk 2011.
NDP: And for Blake's Hyperdunk?

EG: With Blake, the main inspiration there was using the microphone logo along the foxing as inspiration for the grey. We also decided to go with the Supreme version of the Hyperdunk because it's got that mesh coming through the abrasion piece, and that kind of looks like a microphone. We wanted to keep it a nice clean grey upper with some color hits. With the Blake and Iguodala shoes, we wanted them to be super wearable and have some nice storytelling.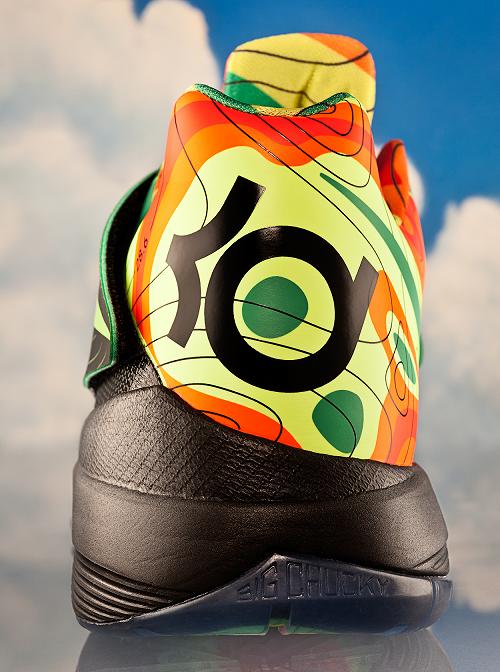 NDP: Whereas the Weathermans are a bit more over the top?

EG: When it came to the Weatherman, it made more sense to do something crazy. [laughs] I started out looking at weather maps and forecasts, and a lot of those will just have charts for projected temperatures and all of that stuff. I just remember saying, "Ugh, that's kind of boring and uninspiring." [laughs] Then I went and looked at actual pictures of weathermen, and you have these dudes just standing in front of a green screen with the image projector on the side that will actually be what's behind them on TV. That's really where the green came from for the upper, with the details all behind it. We definitely wanted to do something that was out of his traditional palette too. This sample was the first version of it, and the green is brighter and more sharp on the final version.

There's the Doppler Radar reading along the foxing and throughout the heel, and it took a few iterations to really dial it in. On the outsole, we have KD's actual foot mapping, but interpreted as a Doppler reading. It's pretty cool that we have a lot of these different hits to play with for different details, and we also played with lasered skins for the strap. On the final version, we got to integrate things like his point totals. He actually scored 66 points at Rucker basically right as I was working on my final revision, so you'll find a 66 somewhere in there too.

NDP: And his scoring title points average is on there too?

EG: Yeah, and also his number "35" of course and other little hits that are really all about him and telling the "Weatherman" story.

NDP: What was your reaction when you saw the shoe actually get mentioned on the Weather Channel?

EG: [laughs] That was awesome! I had been pushing our marketing guys to actually get KD to do the weather on TV and wear the shoes. That would've been the perfect situation, but the Weather Channel was still really cool. Who knows, he might be just one step away from actually being on the News and doing it. [laughs]

NDP: Have you heard any feedback from KD about what he thought about them?

EG: Yeah, I actually heard that he liked the Weathermans more than the NERFs, which I think are both pretty crazy interpretations of his silhouette. We've progressively started to ramp up his energy shoes, and I think with the IV, this is where you'll really start to see him come into his own in the footwear game with more distinct releases.