words & images // Nick DePaula
While the Zoom KD IV has seemingly stolen the signature spotlight from the rest of Nike Basketball's marquee athletes this fall, most of that attention can be directly attributed to the "Nerf" themed version launching today.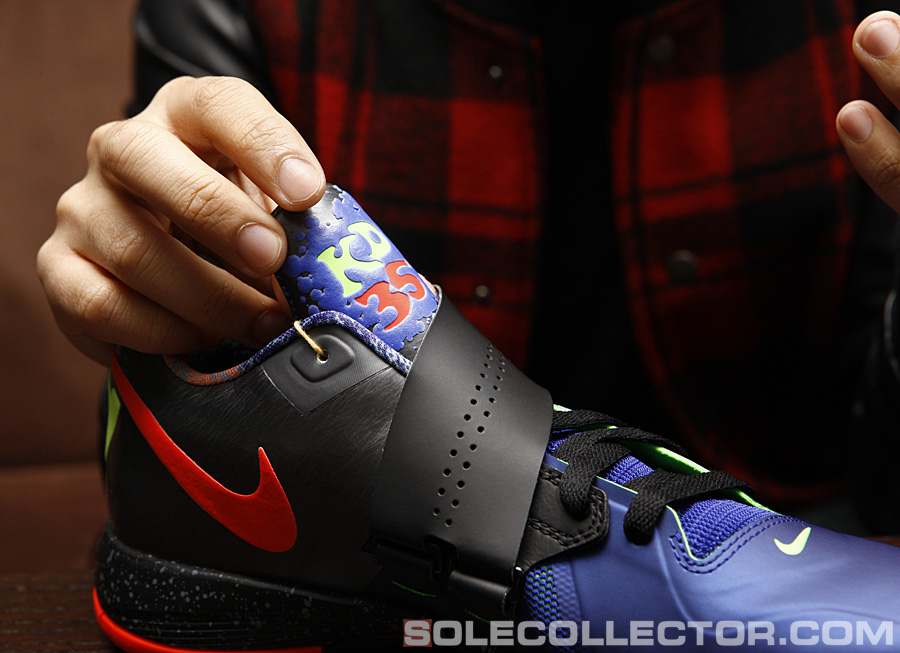 As we saw all summer long on the charity and exhibition game circuit, it was hard to find a locked out NBA player showing more passion for the game of basketball than Kevin Durant, and Nike Basketball is showcasing KD's youthful love of the sport in what is easily the most hyped colorway in his signature line's young history. Just a few weeks ago, they were even voted the most anticipated model of the entire season. With an aggressive concord purple and bright crimson base, the story most certainly also goes well beyond just the sneaker, as one of the brand's most evolved boxes makes its way to retail. The damn thing turns into a Nerf hoop itself.
Check out a detailed look at just how the "Nerf" Zoom KD IV theme and concept came about ahead, straight from Nike Basketball Graphic Designer Erick Goto, who worked in conjuction with Color Designer Eugene Rogers and Materials Designer Golnaz Armin to bring the story to life. And yes, Erick is holding a sample version with an all black strap, one stage before the team decided to add the fading splatter graphic.

Nick DePaula: How far back did you guys first start throwing around the idea of doing a Nerf version of the KD s?

Erick Goto: It was a longer process, and we worked with Hasbro on the GI Joe and Transformers pack that we did two years ago, and Kyle [Yamaguchi, Promo Product Line Manager] has a really good relationship with them. Somehow, he ended up having a bunch of Nerf guns sent to him, and he had all of these different Nerf things lying around. We ended up getting some hoops sent out to us and started checking out the different materials. At the end of the day, we always try and do something that's related to basketball, so that was something we started to just talk about among ourselves as potentially a theme we could do.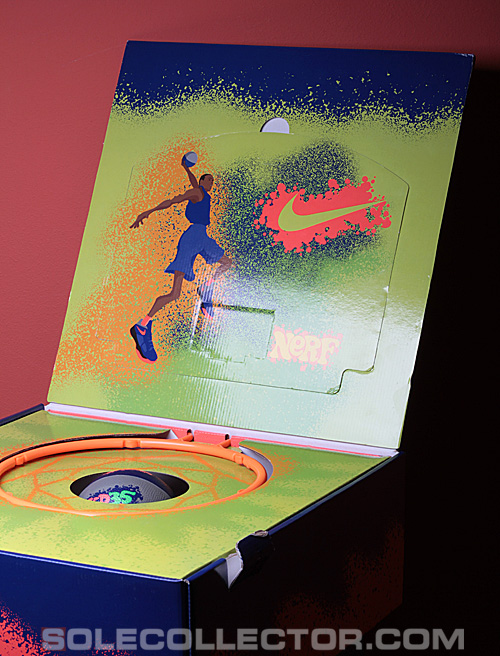 NDP: So you identified that you'd want to do something with the hoop, but what was it like working with Hasbro from there?

EG: We started the whole process, and Hasbro was a dream to work with. They didn't want to do anything typical or dictate the process. They just said, "Go crazy!" They sent over a package of all of their visual graphics, and we decided to go with a vintage look and one of their first Nerf hoops. The hoop and the ball are definitely one of the first things that people think of when you talk about Nerf.
KD was the guy we had in mind for it, and he was definitely on board. We started to play with colors, and a lot of the guns have similar colors to this purplish blue and this orangey color, and the bright cactus seemed like a really nice accent to throw in there. On a lot of their packaging and on all of the graphics that they do, there's a really wild interpretation of fades and splatters, so that was something that we definitely wanted to integrate.

NDP: It definitely seems like the theme and inspirations lended itself well to transferring to the shoe.

EG: Definitely.

NDP: Tell me a bit about the bubble lettering.

EG: The shoes actually have a foam textured puff print, and it has a nice texture to it. We wanted to do all of the logo elements in puffy paint, so that you could really feel that there is some texture to it. It turned out to be a pretty sweet expression. This is one of those shoes where you have to be one of those guys that likes to wear aggressive looking shoes.

NDP: I've been playing in my pair for three weeks now. Which I'll probably regret. [laughs]

EG: Yeah, I've been seeing your pictures of them. [laughs] It's such a comfortable shoe, and I imagine a great playing shoe, so in addition to that, you have this really cool story, and the box is my favorite thing. We were all freaking out with how the box turned out.

NDP: Did it take you guys awhile to figure out how to sort out the dimensions of the box, or did Hasbro help you with that?

EG: We worked with the packaging company that we usually do stuff through, and they have some really good pattern engineers that put it together. We had three different options to choose from, and this one was actually the third one that they were a little more apprehensive about because it was a bit more crazy. But, they put it out as an option for us and we took it. The cool thing is, the backboard even integrates to the bottom of the lid, so there's some sweet discovery details.
NDP: And the box itself turns into a hoop, which is the coolest part.
EG: Exactly, and we feel like this whole set just really celebrates the sport and we're excited with how everything turned out.