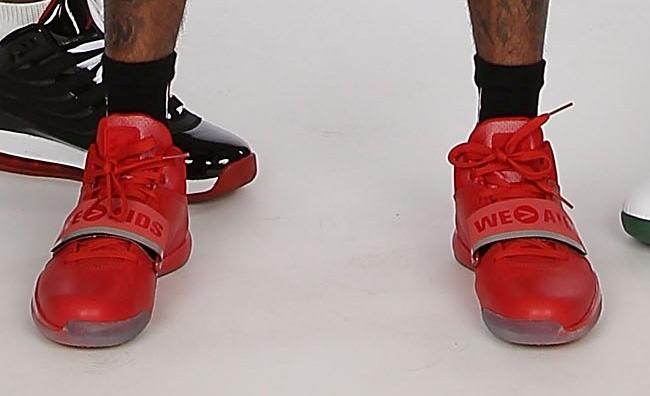 words // Nick DePaula
Recently at Milwaukee Bucks Media Day, the team's starting point guard Brandon Jennings debuted yet another all red version of his signature Under Armour Bloodline. This time around, the message went beyond his Compton roots, as he made use of the convenient real estate across the shoe's strap for a show of support for AIDS health awareness. With the lockout delaying some precious on-court footwear visibility, we had to wait a few weeks for a glimpse at the player exclusives made to recognize "World AIDS Day," which took place on December 1st.
In between talking about his team's newest acquisitions and his season goals, Jennings posed for the camera in the all red leather based Bloodline featuring bold "WE > AIDS" lettering in tonal 3M. While just a player exclusive in size 11.5 for now, with no release date planned, you can expect to see Brandon showing off his personality, beliefs and tastes through several custom Bloodlines all season long.