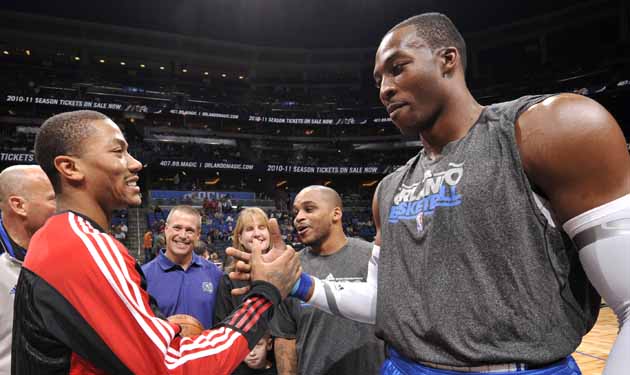 words // Brandon Richard
The writing appears to be on the wall in the Magic Kingdom - Dwight Howard wants out and he wants out now. Howard is currently playing out the final year of his contract, but has made it clear to Orlando Magic GM Otis Smith and the front office that he'd like to be traded before the season concludes. Teams named on Dwight's short list are rumored to include the New Jersey (soon to be Brooklyn) Nets, Dallas Mavericks and Los Angeles Lakers. What's interesting about that list are the teams you don't see, namely the Chicago Bulls. An opportunity to spend the next decade playing next to Derrick Rose in one of the league's larger markets has to peak Dwight's interest, but Yahoo's Adrian Wojnarowski has a theory on why he hasn't been linked to the "Windy City."
With Derrick Rose firmly entrenched as the face of Chicago basketball, Wojnarowski believes that Rose and Howard's status as adidas brandmates is playing a part in Dwight's decision -- and with good reason. Adidas is currently working on a contract renewal for Howard next season, all while putting together the framework for a "lifetime" deal for Rose as well. It's believed that the brand does not want its two biggest (and only superstar) basketball endorsers playing in the same market. With Rose's current grasp on the city, Dwight's marketability would take a hit, especially when New York and Los Angeles are realistic destinations for the five-time NBA All-Star.
A high-ranking sneaker executive told Yahoo, "Adidas simply cannot have its two signature players on the same team in the same market. Derrick is the face of that market, owns that market and Adidas can't possibly have maximum bang for its buck with Dwight there. It serves Adidas no purpose. They need them as rivals in competing markets."
Howard has stated that the biggest factor in his trade request is the ability to contend for championships, but his preferred destinations do seem to indicate that marketability is playing a factor in his future. The Los Angeles Lakers are a great, proven franchise, but Kobe's body is starting to break down and Mike Brown isn't exactly the Zen Master. If the New Jersey Nets do trade for Dwight Howard, they'll be out of assets and will require at least a two-year building period to be a serious threat to the Miami Heat out East. Mark Cuban is a fun owner to play for, but his Dallas Mavericks look and are old.
Adidas Vice President of Global Basketball Lawrence Norman issued this statement on the matter: "As a partner, we're completely supportive of Dwight with whatever decision he makes. He's an outstanding partner with broad appeal to fans across the world."
Should Dwight take his adidas deal out of the equation and try to form the league's best duo with Rose in Chicago? Share your thoughts in the comment section below.