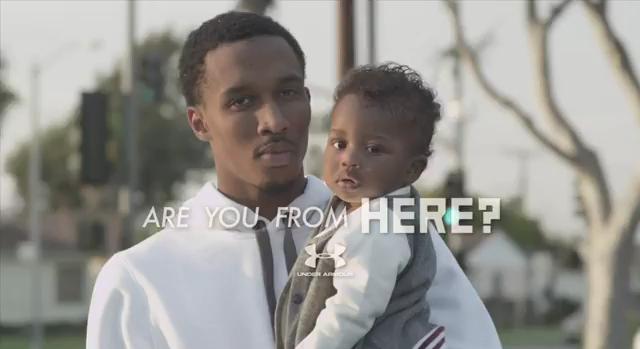 words // Nick DePaula
While he's been to Virginia, Rome, Milwaukee, Baltimore and everywhere in between since, "HERE" is still Compton for Brandon Jennings.
"I'm from a place where the streets are filled with chance and choice," he narrates. "And you're always one wrong move from losing it all."
Under Armour's latest branch of their "Are You From HERE?" campaign officially debuted just a few minutes ago on ESPN's SportsCenter, and here we have an exclusive look at the exact two minute spot that ran.
Following Brandon from his childhood stomping grounds in Compton and Gardena to the courts he grew up playing on at Rowley Park, to of course, his favorite restaurant Roscoe's, you'll get a glimpse into the path that Jennings took to make it out of the city. He's joined by his son Legend, who helped to inspire his newest signature sneaker, the Under Armour Micro G Bloodline.