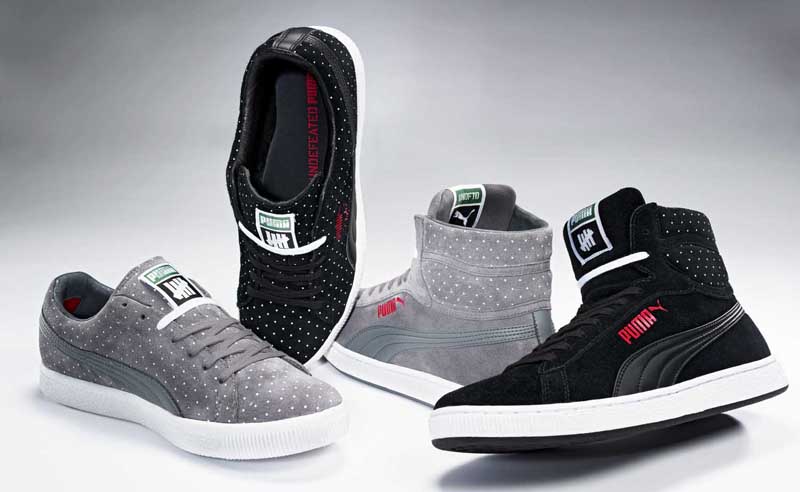 words // Brandon Richard
After coming together to put unique spins on the iconic Clyde in recent months, Undefeated and PUMA have introduced a new silhouette to their ongoing collaboration. The brand new Microdot Collection includes both the Clyde and 80s basketball-inspired RS, each featuring subtle polka-dot patterns on high-quality suede that you'd typically find on ready-to-wear apparel.

Each model will be available in limited quantities in black and grey colorways. Select retailers like Footaction will be carrying the collection starting Thursday, November 10th. Head over to Puma.com/Clyde for more information and to find retail locations near you.
Read on for a Q&A with Undefeated's Eddie Cruz about the latest drop provided by Puma.
Q. Can you tell us about the inspiration behind the Microdots
A. Inspiration came from early 90's fashion dress shirts. Besides, it's time to start showing a little bit of whimsicalness with kicks going forward.
Q. This is the first time within this collection that you have included a style other than the Clyde, why did you choose the RS and how was it to work with another shoe?
A. The RS's are a classic looking very timely kick. It's what people want to wear - High Tops. We took a little piece of the Microdot Clyde and applied it to them. I think people will dig them.

Q. Do you plan to explore other styles in future drops? Or stick with the classic?
A. As of now, we plan to stick with the Clyde, although we have some experimental stuff coming up in 2012 with the Clyde. You'll see.
Q. What design challenges did you run into with the Microdots?
A. None. PUMA got them right on the first go around.
Q. Can you tell us about the name Microdot? Does this have any sort of significance? Or Military inspiration like some of the previous names in the collection?
A. No, not at all. The name Microdot is also an exact description of what we did with this particular drop. I think they look quite sophisticated.
Q. How do you feel this shoe fits into trends our there in the market place right now?
A. You'll start to see other brands adding fun elements to their kicks. The whole basic thing is almost over. You need a twist on it.
Q. This is the first time you have incorporated a pattern or print in the designs, is this something we will see more of?
A. Yes.
Q. How do you feel this drop fits in with the past drops in the collection?
A. Well, it's a Clyde with the same high quality tooling as the previous. Only difference is the pattern on the shoe. It's important for us to stay consistent, but also flex a little bit of flavor to keep things new and fresh.