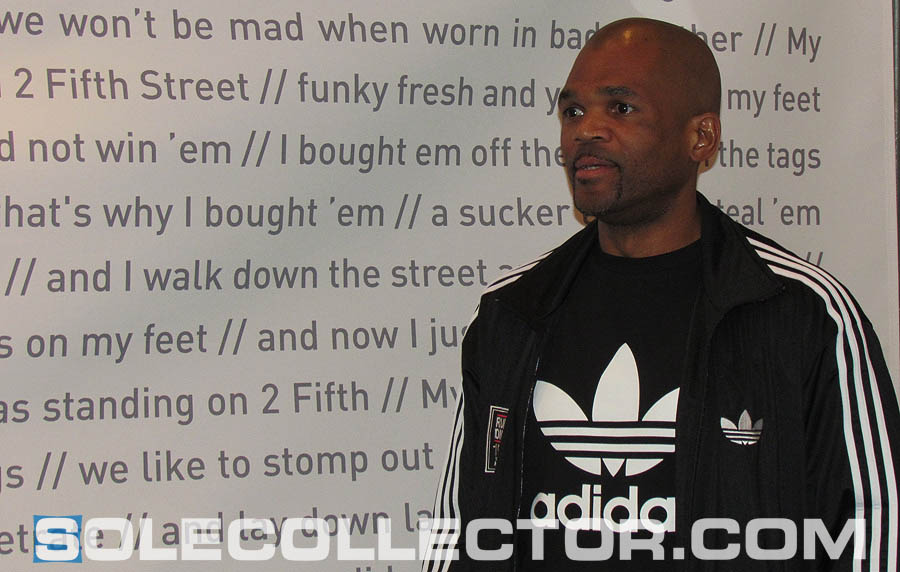 words & images // Angel Navedo
It was probably a little too cold for adidas track suits and plain white t-shirts, but that wasn't stopping Run DMC fans from showing their support outside SoHo's adidas Originals store on Friday night.
The sun set and the November chill rustled in as fans waited patiently for DMC to make his way downtown for a picture and autograph session in the Wooster Street location.
The crowd was a unique and diverse blend of young hip-hop fans, sneaker enthusiasts, and original hip-hop heads who experienced Run DMC's industry dominance firsthand, as it occurred. But the groupings didn't look unnatural or odd. Run DMC was the first rap group to go platinum, cross genres, and leap over boundaries — and they did it in their shell toes, with no laces — completely unrestricted.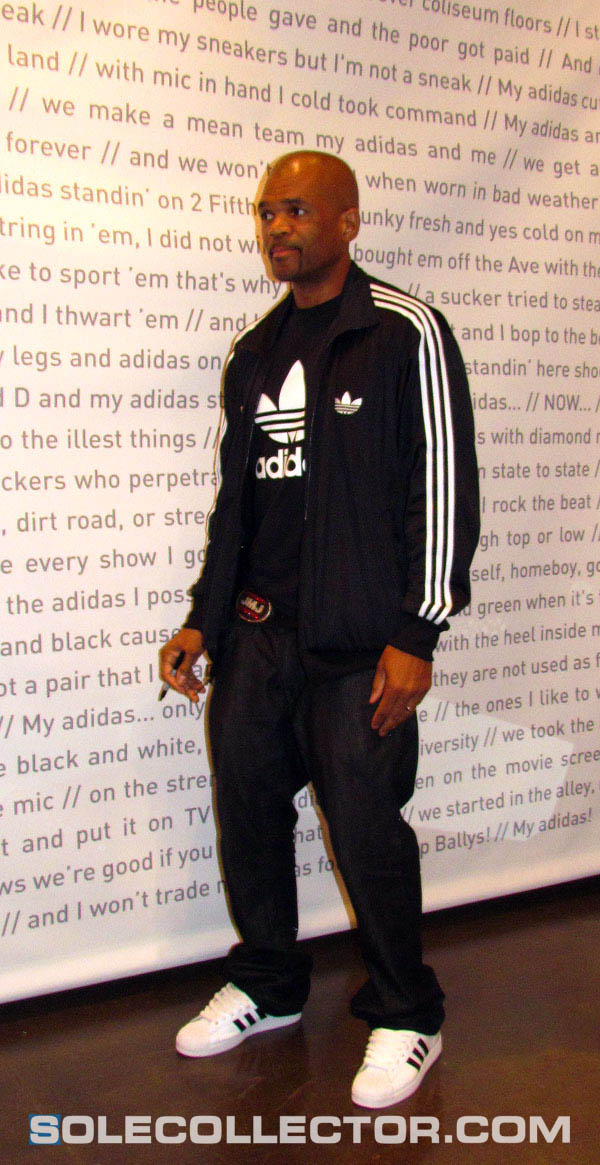 DMC's arrival was delayed for a bit, but it's tricky to navigate New York City traffic at rush hour, especially on a Friday night. While they waited, fans vibed to classic Run DMC tracks, courtesy of DJ Mick Boogie, and secured their adidas apparel to honor the Kings.
Inside the store, adidas arranged everything accordingly to celebrate 25 years of Run DMC's ode to the shell toe. "My Adidas" was patched onto black track suits, printed on white tees, and commemorated with a special- and limited-edition Superstar for Run DMC. Only 1,986 pairs were made as a nod to the year the song was released.
The limited stock isn't the only thing that matters, though. The shoes received an added pop with 3M on the stripes and heel, 1986 stitched on the back, a 25th Anniversary tag on the tongue, Run DMC's logo inside the shoe, and "JMJ" bolded on the back for the late, great Jam Master Jay.
Fans filed in once the time came to have all their merchandise signed. With the lyrics to "My Adidas" serving as a backdrop, DMC autographed sneakers, t-shirts, and one man's arm while taking pictures and locking everyone into a conversation.
Never one to shy away from a question, DMC spoke with Sole Collector as the celebration started, sharing his thoughts about the evolution of the sneaker culture in hip-hop and in life.
Angel Navedo: Crazy to think we've reached 25 years since "My Adidas." How do you feel about how integrated sneakers are with Hip-Hop culture?
DMC: It always went together. We didn't really start the thing. I remember there was times when we were coming up, before making records, me and Run used to just go look in the windows of stores and go, "Man, I wish I had those adidas."
But it all goes together. People need to understand that Hip-Hop isn't just about the rapper and the DJ. It's about the style and the fashion, the graffiti, the breakdancing, the literature, and spoken word. So, everything we were able to do because of this adidas song was inevitable.
AN: How do you feel about rappers getting shoe deals these days?
DMC: It's really cool. It's great. But when we did it, we didn't care about the deals. It was never about that. I just hate the fact that a lot of artists will put out bulshit music just to get the deal. This is a privilege.
When we did the "My Adidas" record, we didn't make something talking about how many sneakers we had. We talked about where these sneakers have been. These "adidas stepped on stage at Live Aid," so it wasn't about us.
AN: I heard an interview where you talked about changing society's perception through sneakers, to end the notion that the shoes were for felons.
DMC: That's why we wrote the record, because of people stereotyping. You know, people look at you and say, "Oh, look at the way he's dressed," and try to say you're the reason the community is in the condition it is. So we wrote the record because we didn't want people to judge a book by its cover, you know?
AN: I know exactly what you mean.
DMC: Inside these sneakers, even though I like, "Raaah!" there's a lot of good. That was the importance of the adidas record. They used to look at these guys with the fresh kicks and the gold and the hat, and they thought they were drug dealers and gang bangers, and it's not true.
AN: Now the sneaker culture transcends a lot of those stereotypes.
DMC: Yeah, we're young brothers and sisters on a street corner, but, yo, I went to St. John's University. You know, the first thing a criminal does when he gets some money is buy some fresh clothes. That's the same thing college kids do.
AN: The good thing is that some places are more tolerant to outfits with sneakers. Some clubs and lounges allow them now. Do you feel like "My Adidas" helped make that possible?
DMC: Yes, definitely. Everybody else's sneaker brand is just a brand of sneakers. adidas is a statement. When you see those shell-toe sneakers, you automatically think, "Oh, shit! Hip-Hop!" You think Run DMC, that it's good, it's creative, and it's positive. It means something.