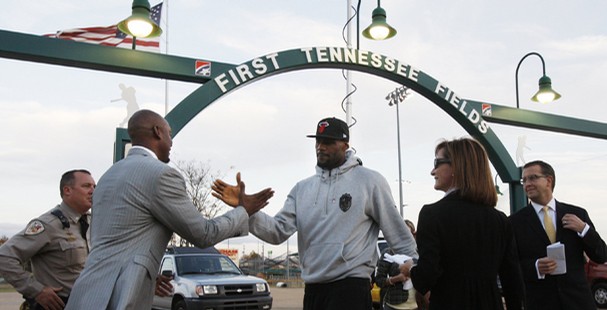 words // Nick DePaula
After a donation of $1 Million to the University of Memphis in 2008 led to the construction of the recently opened Athletic Hall of Fame Center in his name, Penny Hardaway promised even more for his hometown.
Holding true to his word, Hardaway held a surprise announcement yesterday to reveal his plans to build a brand new, seven court basketball complex in Memphis. With support from LeBron James and corporate partners Campbell Clinic, Coke and Sprite, the new facility dubbed "Penny's Fastbreak Courts" hopes to be a safe haven for local kids to practice and play, as well as a future host to the nation's biggest AAU basketball tournaments.
"I feel like being a product of Memphis and having the Boys & Girls Club growing up, that it's so important to try and give back to the community. This facility is going to help kids in so many different ways," said Hardaway. "It's going to get them out of situations that [the Boys & Girls Club] helped me get out of. It was very tough growing up in the neighborhood that I grew up in, and basketball at the Boys Club…gave me an outlet … to leave the hustle and bustle, the danger, the gangs and everything that was going on. That's the same thing that I want to give the kids of this community."
The proposed 100,000 square foot complex will include an on-site sports medicine clinic, and also require around $20 Million of total funding before construction of the site can officially begin. Penny's Fastbreak Courts hopes to be built on Fischer Steel Road, just across the street from Gameday Sports Park, where a popular baseball complex already exists.
As for LeBron, who has said several times that Penny Hardaway was his favorite player growing up, he's happy to be involved in rallying additional sponsors and awareness to help fund the complex. "When I got the call and was asked could I could be apart of something like this, it was a no brainer," James said. "Any time I get an opportunity to be apart of something where kids are benefiting from it … I'm always going to be apart of it."