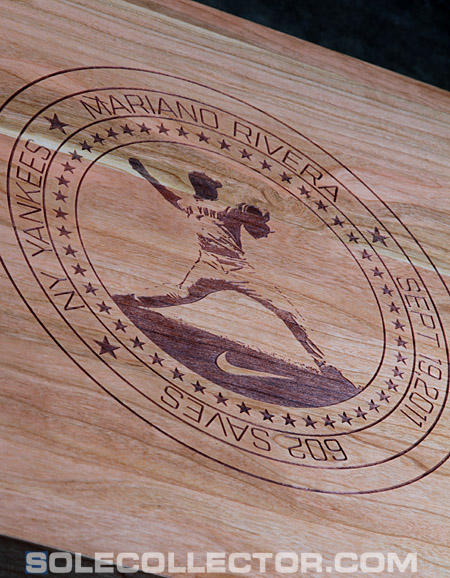 words // Brennan Hiro Williams
images // Nick DePaula
Many men spend a lifetime trying to find their place in the world. Others find themselves right where they should be.
On May 17, 1996, Bone Thugs N Harmony's "Tha Crossroads" sat atop American record charts, and a young pitching prospect from Panama recorded his first career save for the New York Yankees, filling in for regular closer John Wetteland.
12 All-Star games, 5 World Series rings and 602 saves later, Mariano Rivera stands tall as the all-time saves leader and one of the greatest pitchers in Major League Baseball history. After 17 seasons, 15 as the Yankees' closer, Rivera remains one of the most dominant relievers in the game, even as he turns 42 today. The conviction is still unwavering. The cut fastball is still unhittable.
Nike, Rivera's longtime sponsor, celebrated his birthday with a special gift. Arriving on Mariano's doorstep today is a custom, lasered wooden box, complete with two pairs of cleats and a pair of trainers commemorating his accomplishments. "He pursues perfection in everything he does, and he'll literally inspect every single stitch detail and seam to make sure his cleats are perfect," said Brian Mitchell, Nike Men's Athletic Training Product Line Manager. "We wanted to congratulate him on such a great achievement as the sport's all-time saves leader and celebrate his dedication with this special custom pack."
One half of the enclosed pack features two colorways of special edition Nike Cooperstown spikes, a model which Rivera has worn for over 10 seasons. The cleats symbolize both his consistency and his straightforward, no-nonsense approach on the mound. It was Rivera who of course famously once said, "I get the ball, I throw the ball and then I take a shower." The saves record -- 602 on Sept. 19, 2011 -- is embroidered on the tongue, along with PHIL 4:13, Rivera's often used reference to his faith.
The pack also includes a custom pair of the Nike Air Max Trainer 1.3, featuring his jersey number on the heel, saves record detailing on the tongue, Biblical verse on the toe and a custom insole, all in a classic Yankees colorway.
If not for Rivera's competitive spirit and the eye of Yankees scout Herb Raybourn, maybe the Mariano Rivera story ends with unfulfilled dreams in Puerto Caimito. Instead, much to the delight of baseball fans everywhere, Mariano keeps giving us something to look forward to.
For detailed shots of the 602 pack, check out the images below.