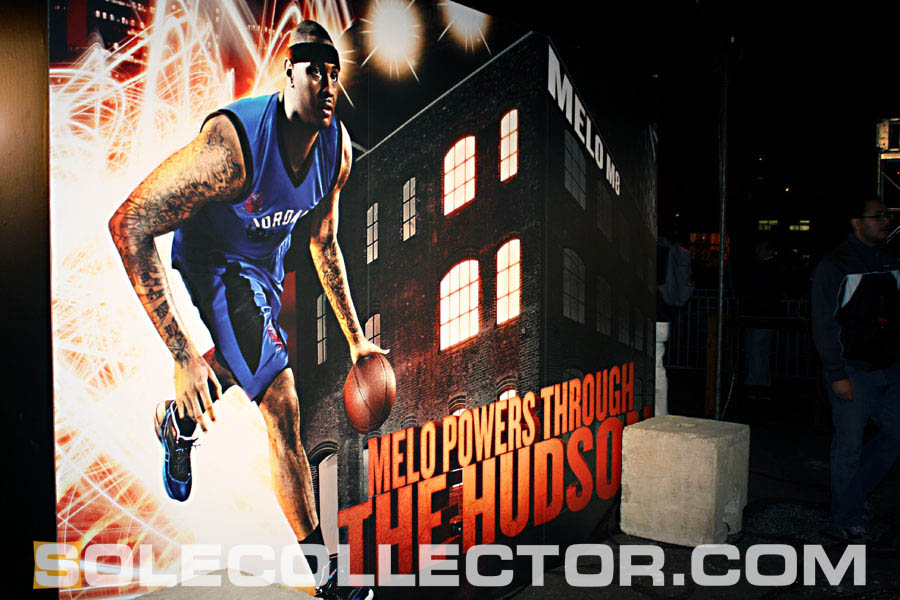 words & images // Angel Navedo
Jordan Brand celebrated the release of the Melo M8 with a unique NYC Flight Event for Carmelo Anthony last night, featuring music, food, and games for a party on the Hudson.
Kids from Brooklyn's Eagle Academy, Knicks fans, and New Yorkers just looking for a night on the town gathered outside Pier 54 as the sun was setting. It finally felt like October with cool winds blowing through the pier. Hot 97's DJ Enuff kept the energy high on the wheels while Angie Martinez held down the hosting duties.
The pier was given a Coney Island-like makeover with food trucks and basketball hoops lining the edges. Thumping speakers were strategically placed to fill the Hudson with music, and an extravagant stage sat at the very end of the pier for a performance from Nas. The Queens-born MC rocked some "Illmatic" classics; new Jordans on his feet made the cipher complete.
But before everything formally began, Jordan Brand kicked up the extravagance a few notches. Since games, prizes, and a concert weren't enough, someone made sure to order a helicopter stunt and a light show on the Hudson.
The chopper circled the pier as water jets erupted to create small walls of spraying water. A stuntman dove into the Hudson, and projectors illuminated the river and a nearby pier with holograms of the Melo M8 silhouette and Jumpman logo. The graphics also made it appear as if the walls on the nearby pier were crumbling to reveal a basketball hoop and Melo's name in lights.
The stunt created the opportunity for Melo's entrance. Anthony welcomed everyone out, but not without sharing his pride for bringing his signature sneaker to New York. Now, if only he could do something about bringing basketball back, too.