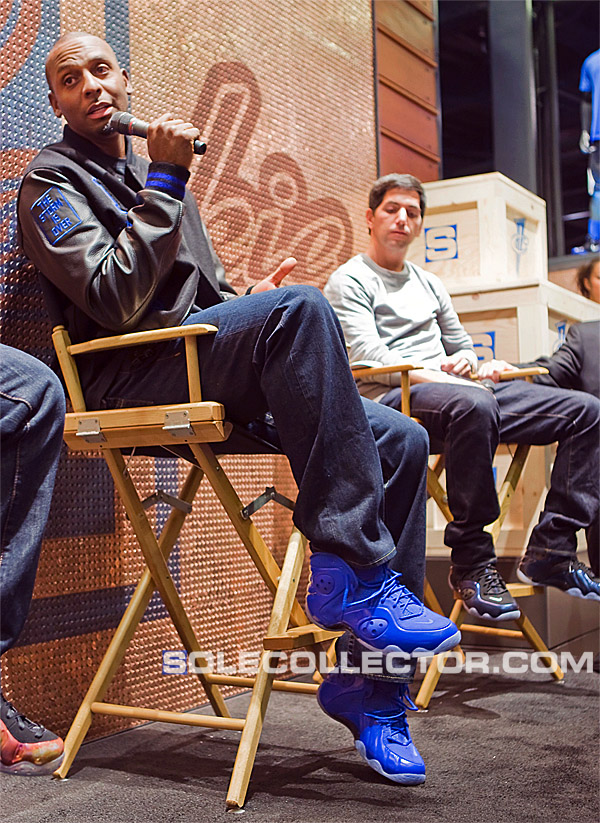 words & studio photography // Nick DePaula
behind the scenes photography // Zac Dubasik
stage portraits // Butch Cordero
With an extremely limiited $1,000 Penny Signature Pack available via raffle and an Orlando Magic inspired Zoom Rookie LWP on hand at last night's RSVP-only Zoom Rookie LWP launch event in Las Vegas, surely there still had to be some heat saved for the man of the night himself.
This summer alone, we've already seen an all red pair of the Zoom Rookie LWP styled up for his "Memphis Express" tourney-winning pro-am team. Of course, just recently Penny was spotted in a custom all white pair of the Air Foamposite One at the University of Memphis' "Midnight Madness" event. For the official launch party of his newest signature model, in Las Vegas at that, you had to be expecting some extra flavor just for Hardaway.
"After I worked on his custom "A.D.H" Nike Destroyer Jacket, I figured Penny needed special shoes for the event that would stand out above everything else," begins NSW Footwear & Apparel Lead Marc Dolce. "He's really liked full color shoes lately, so I did a solid blue Zoom Rookie inspired by his hometown. He loved them when I gave them to him, and we called them the Memphis Blues."
With an upper made of both gleaming Foamposite and blue suede, inspired of course by the King of Memphis, Penny's custom Zoom Rookie LWP tied into his hometown and also hooked up with his personalized jacket.
Below, enjoy an exclusive behind the scenes look at Marc Dolce presenting Penny Hardaway with his custom "Memphis Blues" Zoom Rookie LWPs, as well as detailed studio shots of the exact size 14 pair Penny wore at last night's Nike Las Vegas x Sole Collector Zoom Rookie LWP Launch Event.
What do you think? Should these stay an exclusive just in size 14, or would you want to see the "Memphis Blues" Zoom Rookie LWP released? Sound off in the comments below!