words & images // Nick DePaula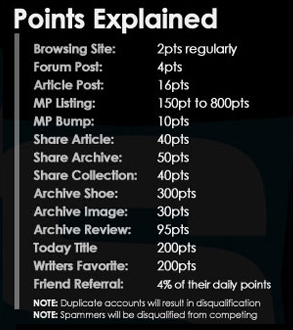 We're back at it with another great SoleID Points Prize for the month of October. If you missed out on the "China" LeBron 9 at the beginning of the month, here's your chance to win a pair in your exact size.
How exactly do you win such a contest? Well, to refresh, you get points for quite a few nifty things throughtout the site. Namely, for posting straightforward comments, and for things like sharing an article on Facebook or Twitter. For a full list of how points can be earned, check out the simple "Points Explained" chart to the right.
That about covers everything. If you're new to the SoleID points systems, feel free to ask a question in the comments section below or in our official SoleID Points thread on the Forum. This month's contest will run until November 14th.
For further discussion, check out our official SoleID Points thread: https://solecollector.com/forums/Official-Points-Thread-7th-Giveaway-China-LeBron-9/11:5:1118914/?flag=2
To keep track of the Top 100 SoleID Points Standings, check out the scoring table: htttp://solecollector.com/soleid/
Congrats to last month's prize winner, aznbirdyflys, who won a pair of the "Grinch" Zoom Kobe VI.
As always, good luck to everyone!