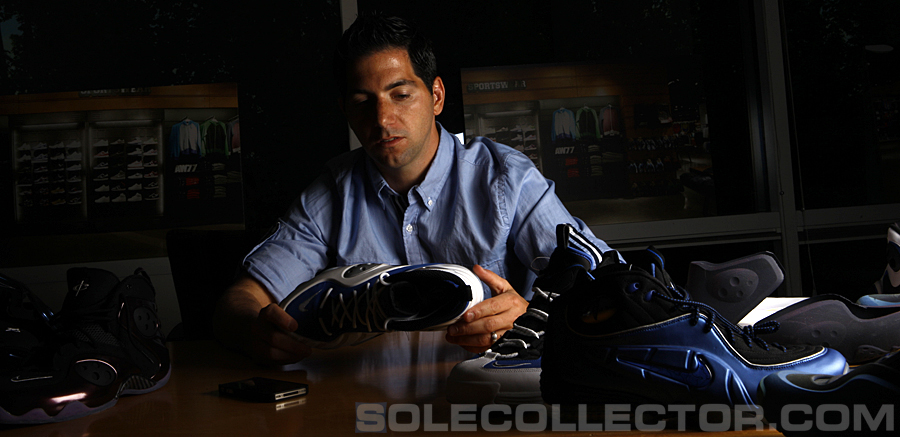 words, interview & images // Nick DePaula
Long regarded as owner of the best Nike Basketball signature series, Penny Hardaway has been enjoying quite a footwear career almost twenty years after being selected in the 1993 NBA Draft. For starters, he's the only basketball athlete without his own brand to have a signature model created after his professional playing days were over. Quite an accomplishment for an Olympic Gold Medalist, First Team All-NBA member and generational point guard who's peak more than a decade ago rivaled the game's greatest players of all time.
Releasing this holiday season through Nike Sportswear, Penny's new Zoom Rookie LWP combines design cues and cult classic gestures from two of Hardaway's most recognizable pre-signature models, the Air Go LWP and Air Flight One. Built with Hardaway's direct insights in mind, the Zoom Rookie LWP makes use of his preferred material -- Foamposite -- and bridges the gap between today's footwear construction and the era of highly sculpted sneakers from when he first burst onto the scene. "NSW is where Performance meets Style and past meets present," outlines current NSW Basketball Footwear & Apparel Design Lead Marc Dolce. "We're constantly pushing innovation and technology, and we use a combination of modern and classic craft to do that."
To hear all about the latest addition to the still-growing Penny Hardaway series, we caught up with Marc Dolce and Product Line Manager Zach Hull to get a break down of every last detail of the upcoming Zoom Rookie LWP, including the many changes it underwent along the way, what colorways we can expect to see and Penny's performance feedback.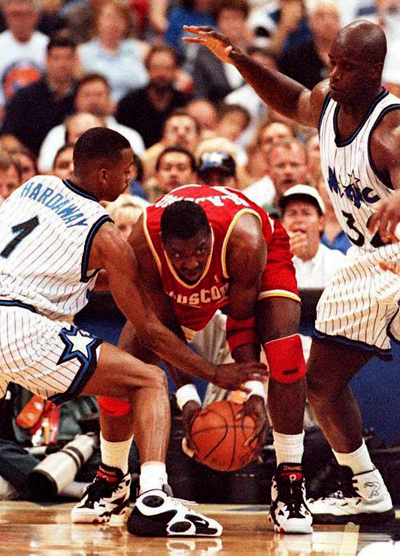 Nick DePaula: Obviously, Penny Hardaway has been a huge part of the Nike Sportswear group over the past few years. His signature models have been real successful, and we also saw the ½ Cent release two years ago. How did the concept of this Rookie LWP first come about?

Zach Hull: Penny is one of our primary athletes and most important assets. He speaks to the history of Nike, and he's one of our favorite players. We watched him growing up, and he's still impactful to kids today. We have been bringing back some of his shoes, but we also wanted to make sure that we introduce something new and fresh too. We want to continue to innovate with Foamposite, and really, we want to make a Foamposite family.

When you look at Foamposite, you've got a couple of tiers. You've got the Foam Ones at the very top, and then Pros. After that, you've got things that come in right below, like the Flightposite I & II. We've also started introducing newer models like the ½ Cent. We can rotate in and out with the Retro models, but the hope is that we can also build and add to the group, with some of those new shoes becoming future classics. We're always looking for opportunities to bring in some new Foamposite models to give us some temporary heat, but also allow us to find the next legendary model. Penny is the perfect inspiration for that, and in the future, you'll see a few other things too.

With Dolce, you let him do his thing. Some of his best work comes from when he has already done something, and he brings it over and says, "Hey, what do you think of this?" There's a few shoes that have been done like that, like the Air Max JR and Max Ultra. The upcoming Huarache BB 2012 and the Rookie was also like that. For most products, as you guys know, we always write a product brief and figure out who will design and who will develop it. That's good, and a lot of great products come from that, but some of the amazing products come from just a designer doing their thing.

NDP: How long ago was the actual starting point for the Rookie LWP, and what was the original season that it was slated for?
Hull: The Rookie LWP was two and a half years in the making. It was a secret project, and we didn't talk a lot about it. Internally, we went to great lengths to limit who saw it and the amount of samples we made. There were a couple of images that leaked, but overall we were able to keep it under wraps for awhile. It was the everlasting project, and we had to make sure that it was perfect.

We developed about six rounds, and with the Foamposite process, each round takes so much longer than a traditional shoe. If we're working on a normal shoe, Dolce can make a change and we'll get a shoe back in a week. With Foamposite, you have to re-make the entire mold, and sometimes it takes as much as two months between rounds. When you're not used to that project timeline, it can really back you up. We got to a point where the shoe was making progress, but there were just a few things that we couldn't get right. We have a great development team, but even they were stumped. Communicating with Asia by email & web conferences isn't always the easiest thing, so it took a long time. We were originally planning on Spring '11, and since we don't usually offer new Foams in the Summer or Fall, we decided to wait until Holiday '11. We took the extra three seasons to make sure we got the shoe right.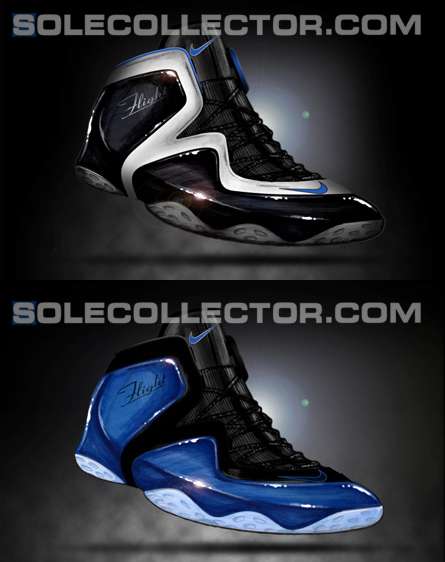 NDP: Zach talked about the original timelines, but can you talk about how the concept around the Rookie LWP started?

Marc Dolce: We wanted to follow up the success of the ½ Cent, and come back strong. When I first started developing the project, I thought about how much of an impact Penny made when he first came into the league. He was really fun to watch. Some of the things that I remember from Penny were all of the great shoes that he wore before his signature collection. I wore all of them growing up, and I thought it was a great opportunity to look back and revisit some of those shoes. They were just as iconic as the Penny I through IV to me.

We learned a lot from the ½ Cent, and my goals for the Rookie were to have better fit and feel, be lower to the ground, add Zoom Air, have more midfoot support, better breathability, better traction and be lighter. I really liked the concept of Lightweight Performance and have always thought that was something really cool. I remember having the Challenge LWP that Agassi wore back in the day, and the concept of having something that was lighter and faster to make you perform better was great.

NDP: So you wanted to add Foamposite then….

[everyone laughs]

Dolce: Well…. [laughs] It was more about, "How do you do a lightweight Foamposite?" If you look closely at how the mold is constructed, it became more about having the Foamposite only where you need it in structural areas. Penny likes the way Foamposite feels, and he wants his shoe to feel protective and to fit like a glove. So when I started designing it, I only wanted to use Posite in the forefoot and heel.
That was actually the biggest challenge in development, to create two different molded parts that aren't connected. The factory actually wanted to bring them together and combine the two. I wouldn't let that happen, and that's why we took the extra time to perfect it. I wanted the shoe and upper to also be flexible, but held together with the carbon fiber shank for midfoot support to keep your arch protected.

Through the body of the shoe, I felt that Foamposite shoes tend to feel stiff. So, I wanted to drop the molding down in the forefoot so you could have better flex. With the Flight One and the LWP, they were just so bold and iconic and both shoes just had a great gesture. It happened to work out really well, by taking inspiration from the spheres of the Flight One and incorporating them into the LWP's shape.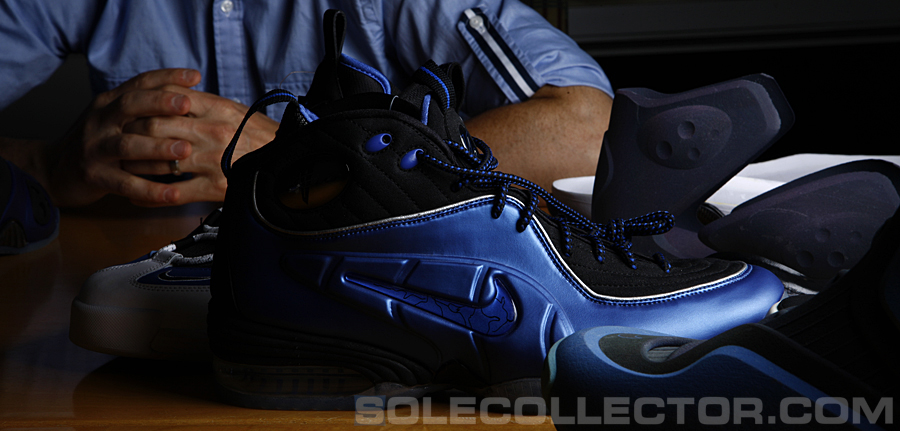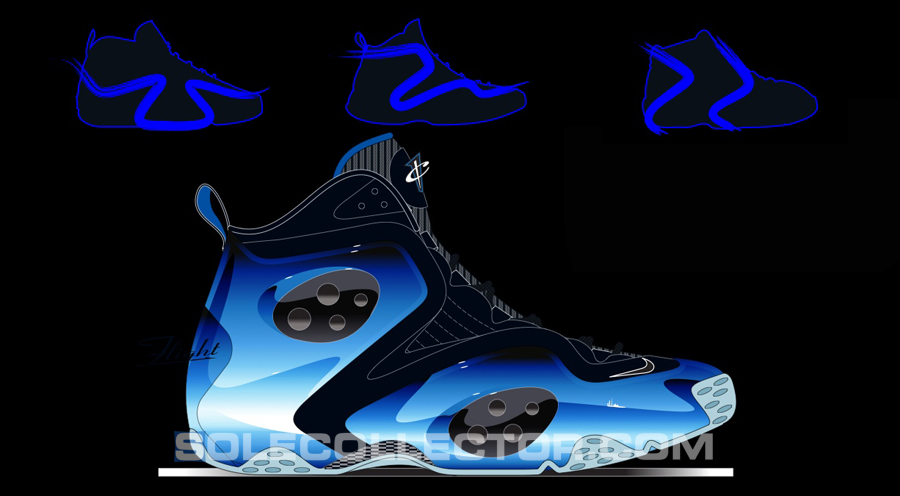 Above: An early stage rendering of the Zoom Rookie LWP, incorporating the gestures and design language of the Air Up, Flight One and Air Go LWP.
NDP: The biggest visual cue on the Flight One is probably those spheres. Can you talk about designing those into where they're sitting and what it was like figuring out the dimples and sizing.
Dolce: The original one had cut-outs and it was a softer foam piece that was stitched from the underside. Here, we wanted to place them in and make them free-standing and a structural element. We went through different variations of textures, and looked at keeping them smooth, but we ended up with what we thought was a nice metallicized finish to help them stand out a bit more.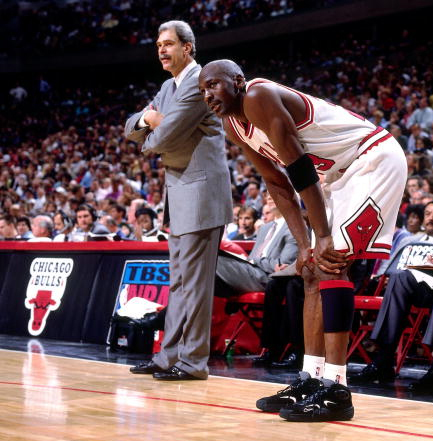 A lot of the inspiration for the Rookie came from those two shoes. When I started doing the sketching, it was more loosely tied to those, and then over time, it began to really link more to the originals of those models. Why mess with a good thing, right? I was really inspired by the beginning of his career. I spent a lot of time watching videos of Penny playing at Memphis, and then once he came to the league, people were calling him "Baby Mike" --

NDP: Well, to be fair, people were calling Harold Miner and Jerry Stackhouse that too.

[everyone laughs]

Dolce: This was different though!

NDP: I know, I know. I wouldn't do that to Penny. [laughs]

Dolce: And Michael gave Penny a lot of respect right from the start in those early years. The Flight One was actually one of the only shoes MJ wore besides his signature collection. When I was in High School during his first two years, I remember Penny being so much fun to watch. At 6'7", he was light and able to play both the guard and forward positions. You didn't have guys that were doing that, and it made watching his games that much more exciting.

Penny is one of my favorite athletes of all time, and I have a couple of autographed jerseys of his from the 90's long before I worked here. Penny & MJ are why I came to Nike, and now I feel honored that I get to continue Penny's legacy. As players retire, it's rare that we continue their signature collection, but like Zach mentioned, there's definitely an appetite for his products and he's one of our most valuable assets.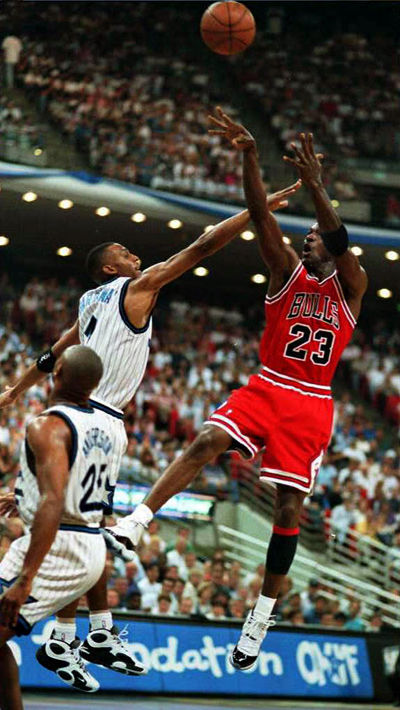 Hull: That's one thing we're trying to focus on, teaching kids today about how great some of these shoes were. As we travel around, we're finding that more and more kids might not know who some of these amazing athletes are, and we love to tell stories and talk about history through products like this.

Dolce: I've always felt that part of my job is to curate the vault and decide when to bring something back, or reinterpet it in a modern way. Sometimes we'll share what we are working on with you guys because I want to make sure that we're being true to the originals. I feel like that's why we have such a good relationship with Sole Collector.

NDP: And I'll call you out when you miss things.

Dolce: Oh, of course. [laughs]

NDP: Did you guys toy at all with still linking this shoe to Lil' Penny, since that was the story with the ½ Cent?

Dolce: No, I tried to separate the two, because Lil' Penny wasn't around until the Penny I. There are a few opportunities with Penny, and I feel like this one is the prequel to his early years. In the future, we could continue with his Penny signature collection. There's such an opportunity with him to talk about different eras and different teams that he's played on. When he played on Orlando, that's of course what people remember most. Phoenix, the Knicks and Miami were probably just stops, but he still had such a strong fan base in each of the cities. His game changed as he got older, but he'll be remembered as the versatile and explosive guy that beat you to the basket and created for everyone on the floor.

NDP: As you guys really started working on developing the shoe, how was that process and was molding certain parts hard to get right?

Dolce: One of the things we were fortunately able to utilize was rapid prototyping. I first did a series of sketches, then developed the lineart in Illustrator and Photoshop. George Zanthos was the 3D coach that helped bring it all to life. He was able to help me take my design from a 2D concept and translate it into 3D. We were able to use that first model to get buy-off from the product management team. Using a 3D software program called Maya allowed us to develop ZCorp parts overnight, and we were able to make quick adjustments.

With the whole 3D process, it's an interesting advantage over other companies. Not everyone has the ability to rapid prototype and create these models from a sketch. Being able to then draw and revise the lines in 3D was really helpful. I was able to sort out how I wanted to sculpt out the arch, and also figure out the toe spring, model the surfaces and work on the overall dimension. The factory really struggled to replicate the original design intent, so we developed six or seven rounds before we actually got to the final sample.
Below: Early round ZCorp 3D models of the Zoom Rookie LWP, allowing for quicker turnaround between design revisions.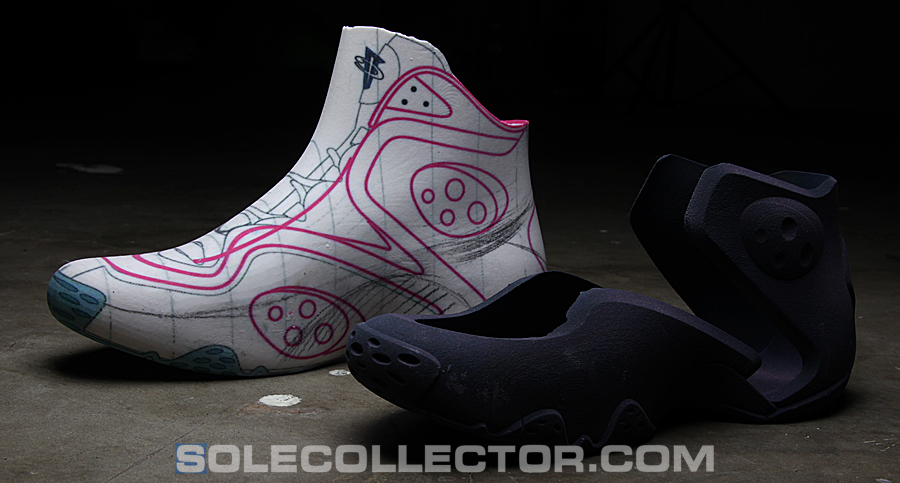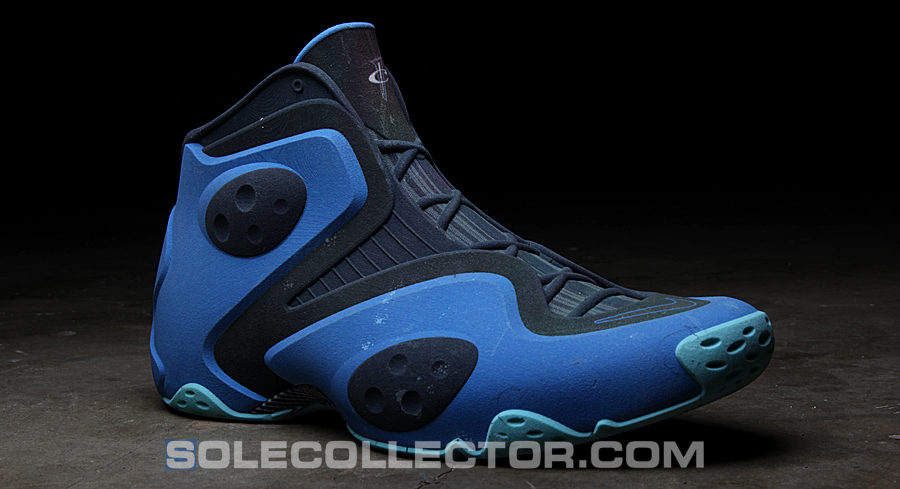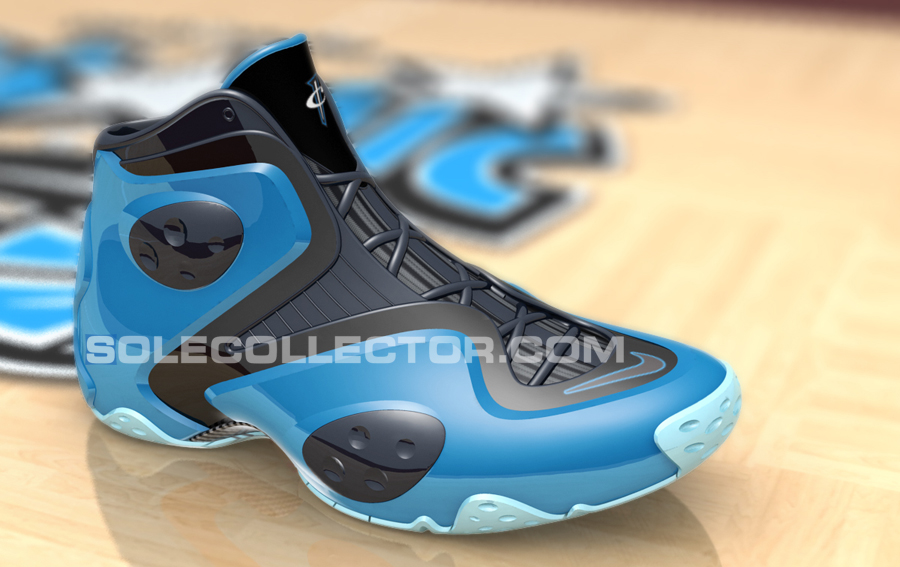 Above: A polished rendering of the Zoom Rookie LWP by Marc Dolce, just as the sample process got underway.
NDP: Along the way, what were some of the things that you had to adjust and get through?

Hull: A lot of it was putting trust in the actual design and development team. They have the hardest jobs, and we luckily had Jason Eubanks and Jason Meeker do the heavy lifting from a development standpoint. They worked with Asia to make sure the shoe was right, and then communicated what they needed from us to make sure we had the right vision.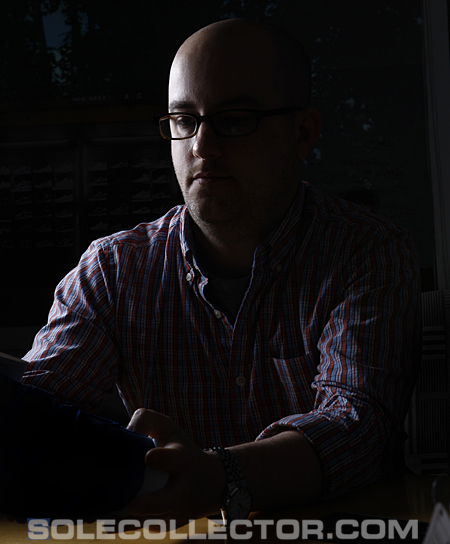 From the marketing side, we really just let design and development do their thing, first and foremost. Step two is about making sure that we can get some energy around this shoe and how we're planning to launch it. Another part of my job is just making sure that we're maintaining margins so that it hits our price targets. I don't think we want to build a $400 Foamposite, which is actually pretty easy to do. [laughs] Another part of it was adding the Retro and Pine Foam Pros to the calendar to make sure that we had something to fill that space as we pushed out the launch and needed to make up the planned business that we were expecting.

NDP: Oh, that's real interesting, and luckily both of those came out real nice. The heel of the shoe evolved throughout the process and went through some changes too. How'd you end up where you did?
Hull: Man, all of those samples just hit me. You've got quite a few variations there.

Dolce: Early on, I was trying to include the Air Up into the inspiration, another shoe Penny wore early on. I just felt like it was confusing and starting to feel forced. Over time, I felt like it was more pure to peel back and focus on the LWP and the Flight One. As we started developing it, the biggest issue with the heel was bringing in the same design language from the original Foamposite. We then brought in the Foamposite grooves along the medial side and also around the heel to balance it all out.

Hull: That was really the point where the shoe finally started to click. At that point, it was really just detail work that we had left.

NDP: There's a real cool blend of eras here, and it looks futuristic enough for today, but also flows well and looks like it could've come out back then. How'd you merge the outsole language of the two shoes into the Rookie?

Dolce: The tooling features details from both shoes, but one of the biggest things was that we also wanted to make sure that we put a real carbon fiber shank in there. Right Zach -- we didn't take that off!? [gives stern look and laughs]

Hull: We discussed that one quite a bit, but it's definitely the real deal in there.

[everyone laughs]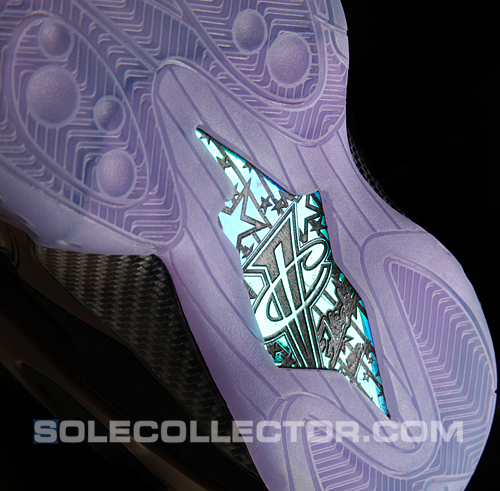 Dolce: Sometimes you have to make compromises, and maybe we did on the shank of the ½ Cent. Part of being a good designer is how well you deal with those situations and are still creative, but I didn't want that to happen here.

NDP: Nice. That cheap stuff isn't cool. Can you talk about the design of the outsole a bit more?

Dolce: With the outsole, I really wanted to bring over the suction cups from the Flight One in the pivot and surround it with herringbone to provide great traction for Penny. From there, I wanted an unexpected color pop. We also played around with bringing in some 90's logos & graphics in the arch, but we eventually moved away from that. If you look at a few of the rounds, we had the carbon fiber visible on the lateral and medial sides and a graphic through the center. We had to create three different molds to do that, so I simplified it. We were trying to create something as iconic as the hologram on the ½ Cent, and we tried a few different foil treatments, but thought the carbon was the cleanest look.

Hull: It looked real cool on a few of the samples too, but the foil wasn't really going to work.

Dolce: We really wanted to simplify it down to what was necessary. I wanted to carry over the striped tongue from the Flight One, but over time, we ended up making it into a full mesh bootie because we needed it to stretch more. We also brought in some of the overlay details from the tongue of the Foamposite One. We went through quite a few lacing concepts too, and we had hidden ghilleys originally, and then went to traditional eyelets.
Below: A look at the final shank of the Zoom Rookie LWP, with real carbon fiber.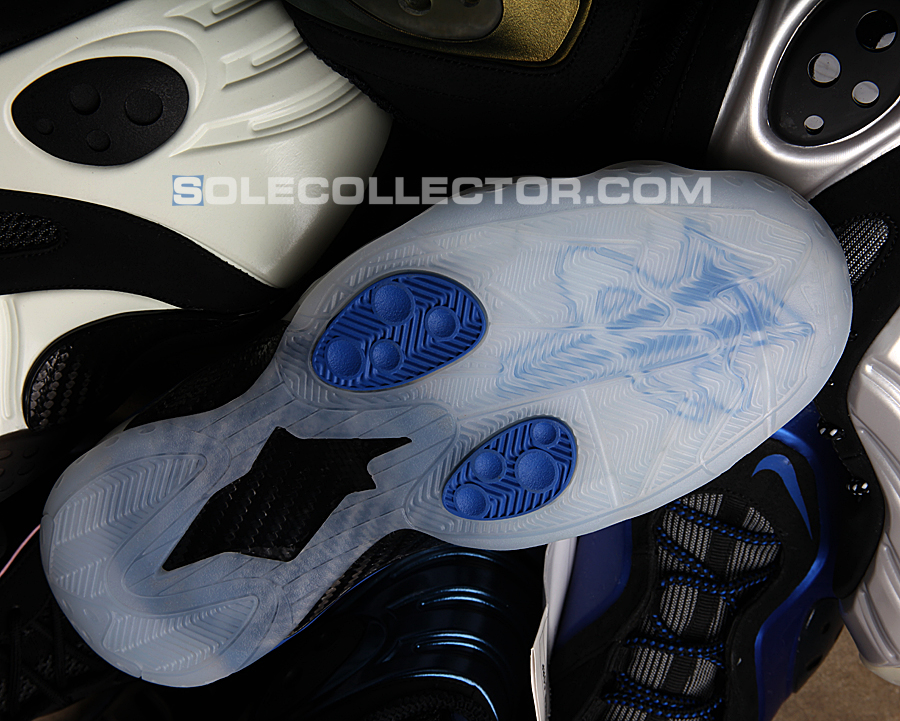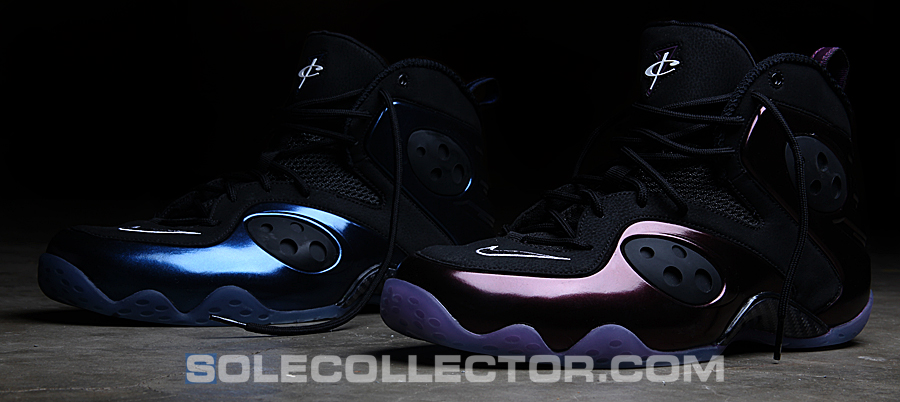 NDP: Can you talk about some of the colorways that you guys are doing as we get into Fall.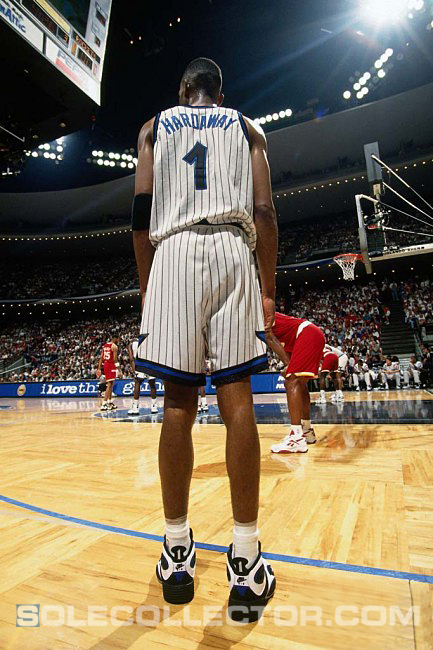 Dolce: We really wanted to have some energy for the first season. Penny's most iconic colors are Black & Royal, so we started developing the armour for the Foamposite with a new color process. I wanted a blue that had more depth, richness, some slight color shift and a pearl finish. We ended up using Binary Blue, which is a shade off from midnight navy. I think it's a nice departure from the traditional dark neon royal and it just makes it feel a little bit more sophisticated and unexpected.
We'll follow that up with a Pearl White/ Black combo. We also wanted to make a statement. After three years in the making, we developed Glow in the Dark armour. The process of getting the material to mold and still have it glow after the heat process was really hard. There will be some other surprises too, and House Of Hoops will be doing a limited color in November.

NDP: What was Penny's reaction like when you walked him through the concept and showed him the shoe?

Dolce: The shoe was 75% complete when we met with Penny in Miami. As soon as we pulled it out of the bag, his eyes lit up. He knew about the project already, but seeing it in person is different. His biggest comment was just about how much he loved those original shoes and how he could see those elements really come to life here.

Hull: It was kind of surprising too, because I envisioned his shoe closet having everything he's ever played in. When we pulled out the Go LWP and the Flight One, he hadn't seen the Flight One in awhile, so it was a trip down memory lane for him. To see those come together in the Rookie was great.

Dolce: I spent three months of research before we even started sketching this shoe. In the presentation, we looked at his career, and started with him as the 3rd pick in the 1993 draft, originally traded for Chris Webber on Draft Day, and then winning MVP of the Rookie game. That was a big inspiration. Even though he wore the Flight One in his second season, I ended up calling it the "Rookie" because I felt like his first year was really strong and it put him on the map.
When Penny and I started to talk about the shoe, the inspiration and concept was really strong, and I showed him a few videos of him playing at Memphis and Orlando and it was great to see him really re-live his first two years in the league in front of us. He said, "Wow, I haven't seen the Flight One in so long!" It was really cool to see him get excited, and then we were able to say that we used that model as inspiration for a new shoe for him. He appreciated all of the little details, like the logo coming through the bottom and the stitching along the tongue being from the Foamposite.

NDP: Did he give you guys any direction on colors he'd like to see?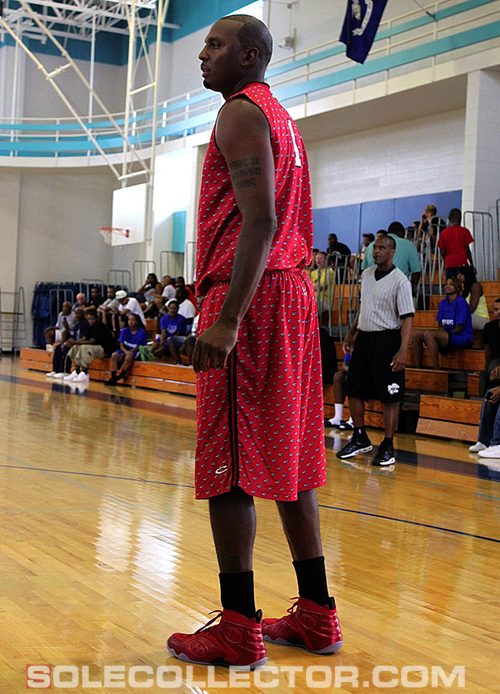 Dolce: He actually asked us to make him the all red Rookie that matched his Memphis Express uniforms. They are three-time defending champs now at the Tournament of Stars pro-am that's held every summer in Louisiana. He wanted to wear something that was candy apple red and inspired by 1950's hot rods. The red armour is pearlized and as iridescent as we could get it. People have been calling us everyday since you posted the story of him playing in them. [laughs] There's no current plan to commercialize it, and they're just for Penny…but you never know. We'll see. [laughs]

NDP: How did Penny like playing in them?

Dolce: Penny loved the way the shoe fits and feels. I was actually at the tournament when he first played in them, so I got to hear his feedback right after the first game. He likes being lower to the ground, and it provided the support and traction he was looking for.

NDP: Something I always thought was real sharp of Penny to say, was how he much he liked having a smaller Swoosh on his shoes to let the design really be the key. Did you ever toy at all with having a more visible and bigger Swoosh on the upper, or did you want the smaller Swoosh all along?

Dolce: I really just wanted to stay true to the original LWP and Flight One and keep it still fairly small. Nike Basketball has a more visible branding strategy for on the court. We have a great relationship, and they are definitely creating the future. If you take a look at some of the recent work by Leo Chang, the Hyperfuse and Hyperdunk will eventually be classics for us in NSW. In Sportswear now, we're really focusing on moments in time for our athletes, the heritage of the brand and making sure that we continue to bring those stories to life. We're just curating the stories Basketball already created, but for the next generation of kids.

To me, these projects are more than just a shoe, but it's a way to connect with the consumer and get that emotional connection. It allows me to tell a story and hopefully excite a new generation. At Nike, we have the ability to really leverage innovation and new methods of making. That's our competitive advantage. When I design products, I like to push new form and balance it with something that's familiar. I think that's the key to some of the greatest shoes.