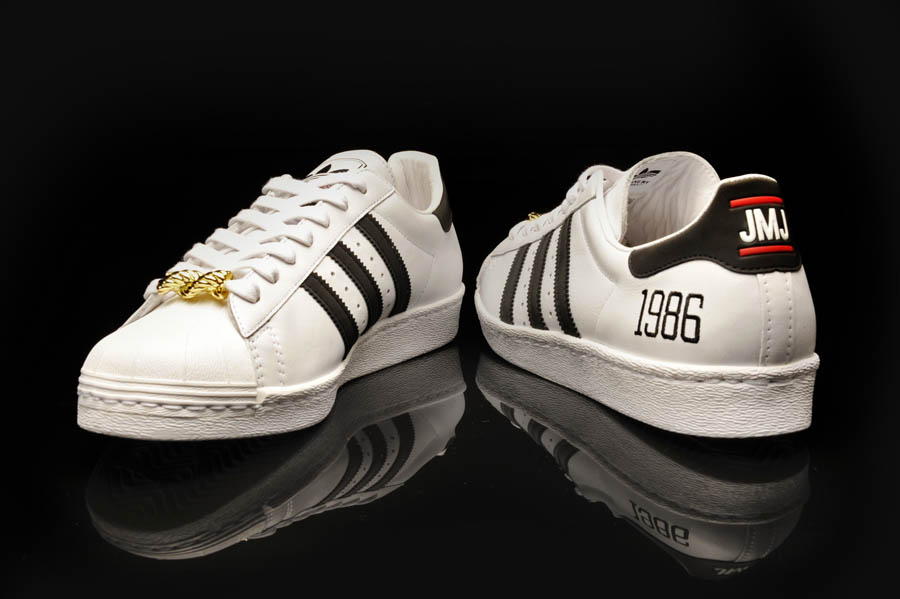 words // Brandon Richard
Though adidas Originals has had a great deal of success with their "Icons" campaign this year, when I think of adidas Originals Icons, I immediately think of the Kings of Rock - Run DMC. Back in 1986, the Hollis-bred trio celebrated their signature "Shell Toe" sneaker and apparel fashion statement with the hit record "My adidas" off their third studio album, Raising Hell. The song not only defined the genre at the time, but changed the course of street fashion forever. In celebration of the 25th Anniversary of "My adidas," Originals is set to release a commemorative pair of Superstar 80s next month.
The shoe comes in the signature white and black colorway that Run DMC made popular in the 80s. Stitched onto the outsole heel is the year 1986, celebrating the year that "My adidas" was released. Embroidered on the heel tab are the letters "JMJ," paying homage to the late great DJ Jason "Jam Master Jay" Mizell. Run DMC's logo is printed on the leather lining of the footbed, while a "Me and My adidas" song lyric appears on the woven tongue label stitched to the interior of the tongue. The group's iconic dookie rope chain style is reflected on the laces with a gold-plated chain lace lock. Also included are three sets of laces in white, red and black.
The official release of 1,986 pairs of the commemorative sneaker is set for November 11, 2011. In addition to the sneaker a "My adidas" graphic t-shirt and track suit was created. The sneakers and apparel will be available exclusively in the U.S. at a select number of partner retail stores, Originals stores and online at Shop Adidas.
To celebrate the release two events will be held on November, 11 2011 at Dr. Jays and the Originals store in New York City.