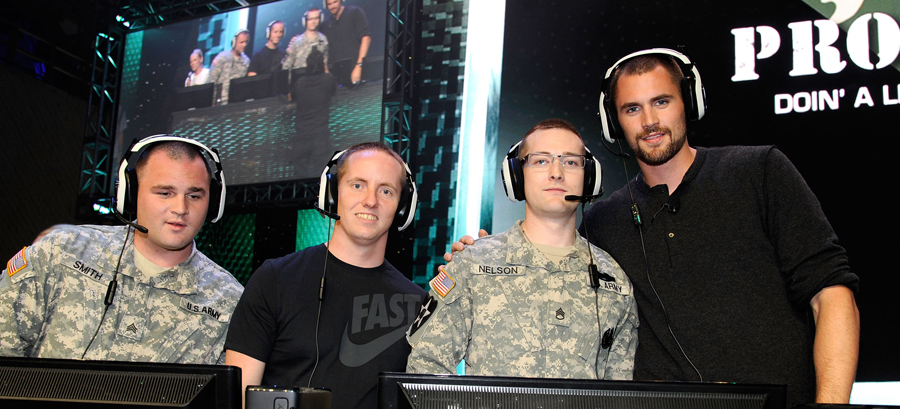 words // Zac Dubasik
For fans of Call of Duty – which there are a lot of, considering Black Ops is the best-selling video game in history – this was a big weekend. Activision pulled out all the stops, treating COD aficionados to an immersive experience dubbed Call of Duty XP, which included paintball, ziplining and even a performance by Kanye West. Most importantly for these fans though, was the chance to be the first to play Call of Duty: Modern Warfare 3.
To put that in sneaker terms – it's like wearing Concord Retros before Halloween.
On hand to help celebrate this fan experience was Kevin Love, who along with a team of military servicemen and attendees, battled a Chris Bosh-led team in a Pros vs. GI Joes Call of Duty Grudge Match. Prior to their match (which Kevin's team won), I had a chance to talk to Love about how he's spending his summer, his foray into beach volleyball, and he even dropped some breaking news on his new sneaker deal.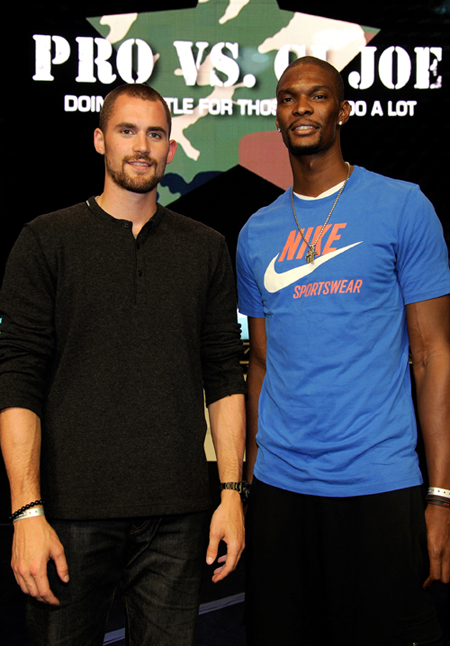 Zac Dubasik: There is a ton happening at Call of Duty XP today. Could you talk about some of the things going on?
Kevin Love: Chris Bosh and I have the Grudge Match coming up, but what I'm looking at right now is they have a ropes course, zip line, and a paintball course that has replica levels from Modern Warfare incorporated into the paintball. And then they have a jeep course, where guys have to go around and shoot each other through the jeeps. It's very, very interactive, and very, very fun. I'm looking forward to the Grudge Match and playing the game myself.

Do you get a chance to play Call of Duty a lot?
I pick it up as much as possible! I play a little bit during the season, but I don't end up having too much time. I've been trying to work on my craft a little bit to try not to embarrass myself too much. [laughs] But I think I have the upper hand against Chris [Bosh].

Are any of your teammates on the Timberwolves big players?
Yeah, there're definitely guys that could be competitive throughout the video game circuit. … We've got a bunch of gamers on the team. Guys like Michael Beasley, Lazar Hayward and Wes Johnson. Jonny Flynn liked to play a lot. Martell Webster – those are all guys that are gamers.

The Call of Duty games have had all kinds of different themes, like World War II in the older games, and then more modern times in the newer ones. Are there any new settings or themes you think would make for a good future game?
That's a great question. They've incorporated some new aspects into Modern Warfare 3, that drops November 8th. They have it to where if you have a certain number of kills you can release the dogs, or if you have a certain number of kills you can bring in the napalm, you can drive the car around and have it explode. Maybe they could have more wide open and spread out levels, and then maybe they could incorporate in jeeps, and incorporate in different aspects of rolling around and killing people, not just on foot. That would definitely be interesting. But other than that, this is the largest selling game of all time, so when you look at it like that, and all the anticipation for Modern Warfare 3, there's not really much they should change since they are having so much success. But I'll definitely like to see what they come up with.

Have you always been a big gamer?
Yeah, I was more in the era of Nintendo 64 and Sega Genesis. I was playing Ken Griffey Jr. Baseball, NBA Jam, and all the 64 games. Now for me it's PS3 and Xbox obviously, and I play a lot of those games as well. But I was definitely the type of guy that was so competitive at games, I would have to work my way through chores for my mom and dad to replace the controllers and replace the system, because I'd get so angry and break the controllers. [laughs] I love video games. I've always been a gamer and I've always been competitive, so it's a good mix.

Let's talk a little bit about sneakers now. A lot of guys go through high school, AAU and college wearing one brand, and then sign deals with that same brand if they make it to the League. You've been in a lot of different brands over the years, like Reebok in AAU, adidas in college, and then Nike some in the NBA. But then you took a different route. Could you talk about how you decided to look to China when it came to your sneaker deals?
That's a very interesting question. There were always offers from Nike, adidas, Reebok, and those companies. But I think, and especially now with Yao Ming retiring, that the influence in China as far as basketball goes and the development of the game and where it's headed, and how it's blowing up – especially after seeing the Beijing Olympics in 2008 – I thought it was an interesting prospect to really assess my options, and check out a sneaker company in China. So, to look at those shoes, and really be one of the first guys to do so with certain brands, I think it's something that you have to look at. Obviously, the money is greater in China in some regard – but if you can build your brand in China, I think that's huge. They're very, very powerful, especially with the economy over there.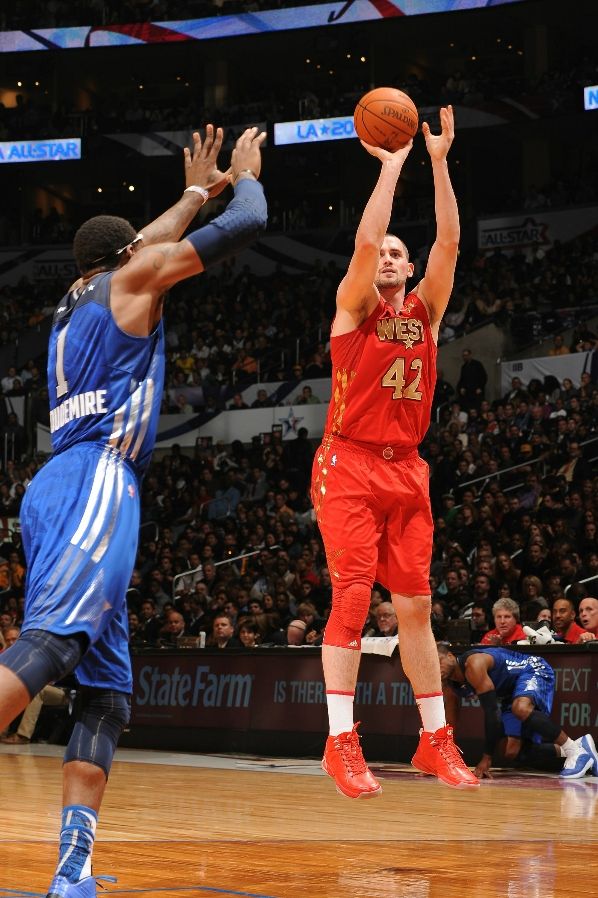 Was your contract with Peak just a short-term one?
Yeah, I actually just signed with 361.

Have you had a chance to visit China yet?
Yes I have. I just went for my first time the first through the eighth of August. It was definitely an eye-opening experience for me to see the growth of basketball – it's phenomenal. Seeing that through your own eyes definitely opens up a whole new world for you.

Have you had a chance to give input into what you like to see in your shoes yet?
I did. Obviously I wanted something that was light, something that I could be quick on my feet in, with a good design. I didn't want it to be too flamboyant or too sexy so to speak. I wanted it to be a nice sleek shoe – something that fits me – something really professional and really nice that people will not only like the look of, but will like to rock on the court as well.

Has this summer been much different than last as far as your training goes because of the lockout?
I think I'm definitely a lot more focused this summer. Last year I was very focused on improving my game. And being able to work out with the World Championships team was an experience in itself, and really helped me raise my level of play day in and day out, being amongst great players, a great coaching staff and a winning mentality. It was huge for me. So this summer I just wanted to continue to cut down on my weight as much as possible and really keep building my body. I went from playing in the mid-to-low 260s, to now I'm mid-to-low 240s. My body is feeling great. I'm preparing for the season, whenever that may be. But when that time comes, I'll be ready to go. I'm still playing basketball, I'm working out six days a week. I'm doing my lifting and cardio four days a week, doing my yoga two to three days a week, and running two days a week. I'm definitely doing a lot, while being able to rest my body, take care of it, and eat well. I'm very, very focused.

Has it been any harder to stay motivated without the team contact?
No. There's never a lack of ambition on this end. You definitely have to keep an edge, and you definitely have to keep your mind focused and really have tunnel vision on your whole career. What drives me is keeping a professional mentality and approach every day.

The Timberwolves had the number two pick in the draft and were able to get Derrick Williams. Have you had a chance to spend any time with him or work with him at all yet?
Yeah, Derrick is actually out in LA. I haven't had a chance to work with him too much yet, but I'm very excited about his prospects and the potential that he has. He's just 20 years old, and he's a big kid. He's going to be playing a little bit of the three and a little bit of the four. He's got a great skill set from what I've seen. Obviously he's a Pac-10 guy, so we're gonna welcome him in, and I'm very excited about him. I felt that he was the best player in the draft.

So, how'd the whole beach volleyball thing come about, and how did you end up deciding to give that a try?
[laughs] Well, José Cuervo just came to me and wanted me to entertain the idea. And I said, "Why not?" I'm the type of guy that likes to try new endeavors and I want to be multifaceted. So I thought, hey, at 22 years old, I can try playing beach volleyball. Obviously it didn't work out too well for me, because we were the lowest seeded team in the Manhattan Beach Open. We had to play against Sean Scott and John Hyden, who are two of the best players in the world, and the best team in the country at this point. Going up against them was very tough, but hey, I learned how to play beach volleyball and I got to try to cross over in less than a month. I'd never really played before and I thought I did a pretty good job. More than anything, I've developed relationships with different professional volleyball players, José Cuervo and everyone they're affiliated with. All in all, I thought it was a 10 out of 10, and a great experience for me.

Everyone is hoping that next season gets on track soon. When it does, do you have any personal and team goals that you'll be keeping in mind?
I think there are two goals: Every year you set out to make the playoffs. We definitely have to make a very large jump. We all have to grow up and really step up our games. That's going to take the whole team united as one to make those leaps and bounds to the playoffs. The Western Conference obviously is very tough, and we're going to have to get a great coach to help us get there. He'll have to lend his hand, and help us through growing pains. As far as individual goals, I'd like to keep pushing through where I was last year. I want to keep helping the team as much as possible, become an All Star again, and prove to everybody that this wasn't just a one-time thing – I'll be doing this my whole career.