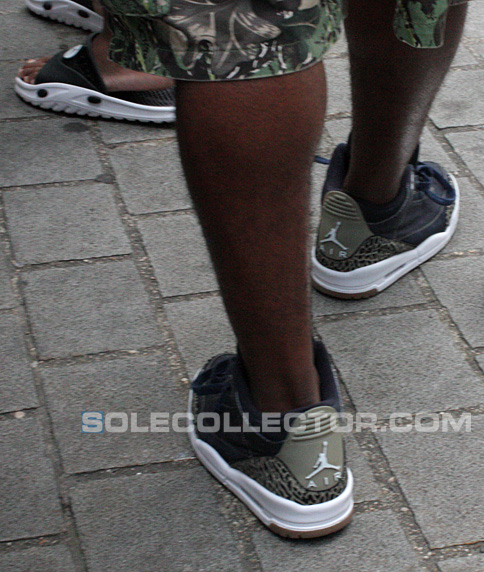 words & images // Nick DePaula
When a denim-based sample of the Air Jordan Retro 3 made the rounds around the usual sneaker blogs and our homepage yesterday, there wasn't too much info to go along with the image of a single shoe propped up on a random desk.
Was it an early round sample of an upcoming quickstrike? Perhaps a new lifestyle shift to more non-traditional materials for the spring? The answers were sparse.
Well, actually, it's a sample from the summer of 2009 that simply never made it beyond the exploratory phase.
I first got a glimpse of the shoe that summer while in Paris of all places to check out Jordan Brand's annual Quai 54 streetball tournament.
After leading up the launch of BBC's Ice Cream footwear line while at Reebok and later heading west to manage the product line for Nike Sportswear, longtime footwear marketer Astor Chambers was just getting settled into a new role at Jordan Brand as Footwear Business Director. Looking to inject some flavor into the Retro business, Chambers had just gotten done spinning up quite a few samples with more textile and non-traditional colorways in mind.
It was in Paris, home to the Quai 54 tournament that brought together streetball teams from around the world, where it seemed like a pretty good locale for Chambers to break out a pair of his recently arriving samples.
After taking what was a pretty detailed on-foot close-up photo of the shoe on the tournament's final day, I was asked to hold off on releasing the image until the brand figured out a plan of attack for what could eventually be a pretty sought after colorway of the iconic Air Jordan III.
As it turned out, Chambers left his role at Jordan Brand at the end of that year to help with Nike Inc's upcoming World Basketball Festival efforts. As often happens in the world of footwear, the denim-based Retro 3 never quite materialized or went forward beyond the sample pair he wore that weekend in Paris, and hadn't been seen by the public until a mysterious sample made the rounds yesterday.