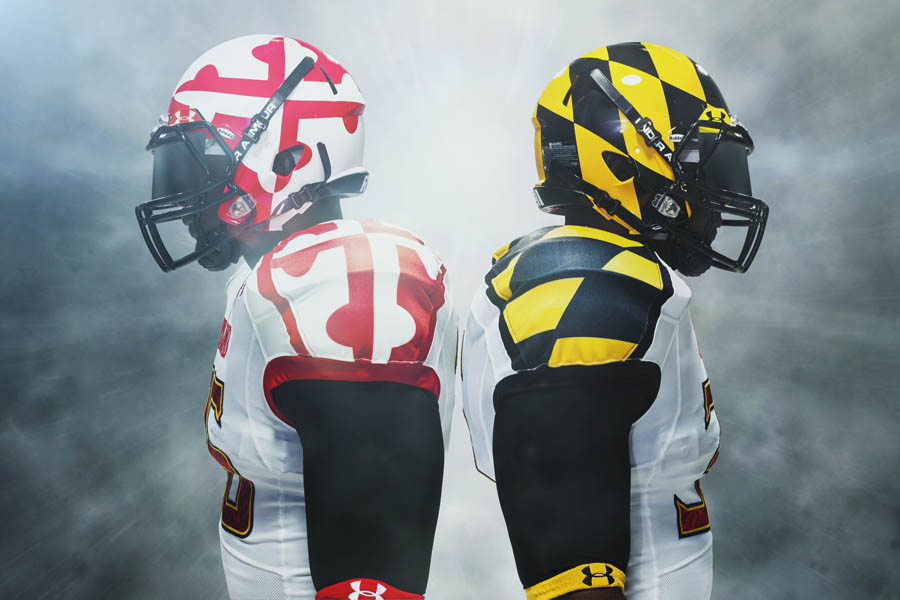 words // Brandon Richard
They're the uniforms that everybody is talking about tonight. In their season-opening game against the Miami Hurricanes, the University of Maryland Terrapins have debuted their brand new Pride uniforms and cleats by Under Armour. The new look is inspired by Maryland's state flag, with the helmets, jersey numbers, gloves and cleats all featuring the familiar Calvert and Crossland Coat of Arms print. Terrapin football heritage and those who have taken the field as a Terp since the beginning of the football program are saluted with the Pride uniforms.
The new look is centered around the new Under Armour CompFit Pride Jersey, which features a tight fit with no drag or grab and increased flexibility for enhanced speed. Under Armour's CompFit Pride Pants are built with muscle-boosting, core stabilizing technology, while the UA GrabTack Pride Gloves are scientifically proven to have twice the grip.

Lastly, the custom Maryland Pride cleats are built for speed, each featuring the state flag print and Micro G cushioning to give players extra bounce so that they are quick off the line for every play.
Take a detailed look at Maryland's new Pride uniforms and cleats by Under Armour below and let us know what you think.