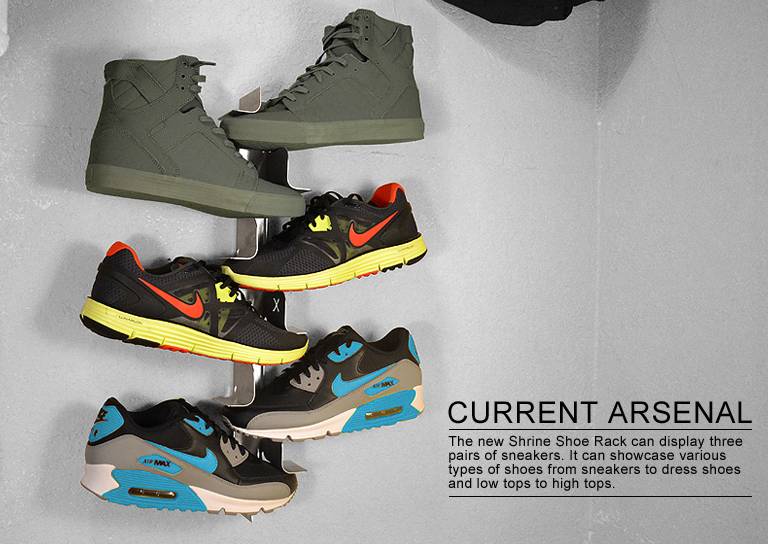 words // Brandon Richard
Back in April, we gave you a look at the Shrine Sneaker Rack, a stainless steel platform that can be mounted to your wall for a "shrine" style sneaker display. Expanding on that concept, Fernando Robert and Shrine Rack have introduced a new product called the Shrine Shoe Rack, a similar display device that allows you to store up to three pairs of sneakers per rack.
The new Shrine Shoe Rack combines the appeal of the original Shrine Sneaker Rack with the ever-increasing need for additional storage space in the lives of shoe enthusiasts. The shoe rack not only gives you a way to show off some of your most prized possessions, but offers a legitimate space-saving solution in the process.
If you have variety in your footwear lineup, the Shrine Shoe Rack is built to house all types of shoes, accommodating both high and low tops. Shoes are placed between upper and lower arms along the rack and are held in place by bent tabs that gently support the weight of the shoe. The racks are also built so that they can be stacked on top of each other (racks on racks on racks), perfect for continuous storage.
The Shrine Shoe Rack, which retails for about $50, is available to pre-order now at ShrineRack. Expected shipping date is sometime in late-September.
Check out a few more photos of the Shrine Shoe Rack below and let us know what you think. Is this something you'd consider picking up to free up some space?