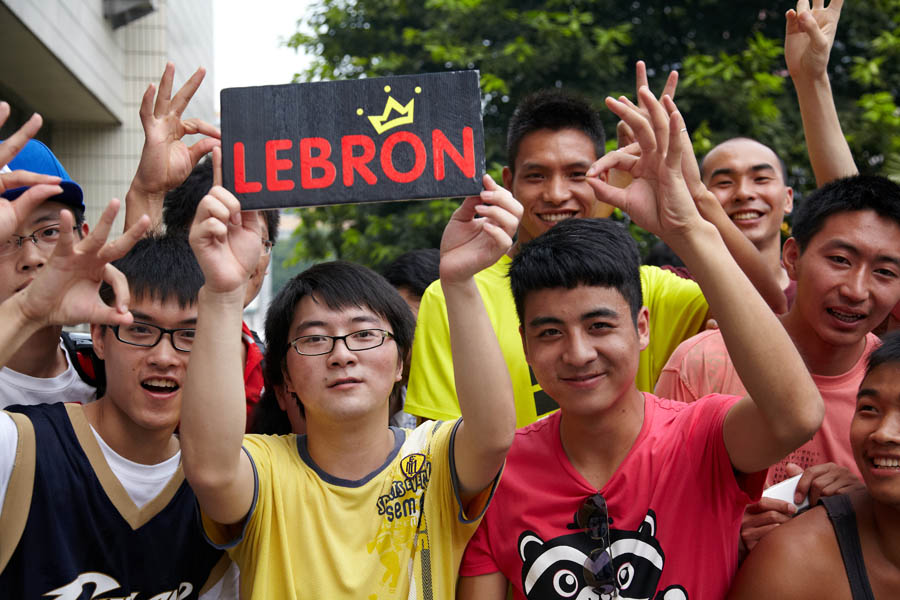 words // Brandon Richard
via Press Release
The 2011 LeBron James Basketball Tour reached the halfway point today in Chengdu, China. LeBron's day began at Sichuan Sports University, where he coached a group of local high school basketball players. These players will be participating in next Thursday's 2011 Nike Summer Ballers Network Basketball Tournament at the World Festival of Sport in Shanghai.
After a warm-up session, the 48 players were split into four groups, each working on basketball fundamentals with American and Chinese coaches. Skills that were practiced included dribbling and passing, as well as slash-and-kick and pass-and-move drills. Like he did in Taipei, LeBron expanded the symbolic coach role with a more hands-on approach to helping the kids. James participated in the drills and then stepped aside to explain and demonstrate the concepts that were being worked on. Spending quality time with all four groups, LeBron taught players defensive close-out techniques, footwork out of the triple-threat position and transition offense concepts.
Finishing off the clinic, LeBron sat down in front of the entire group to take questions from individual players. With most of the questions centered around on-court improvement, James cited his personal experiences, stressing hard work and repetition.
"I always tell players to work hard," said James. "For me, I try to work on all parts of my game so I can be a good all-around player. I always feel like I can get better."
Before taking off for the second half of the tour in Xi'an and Shanghai, LeBron was able to take in some of the Chengdu scenery. On the afternoon tourist agenda was a visit to two of Chengdu's most famous attractions: WuHou Temple and the Giant Panda.
Read on for a look at Day 2 of the 2011 LeBron James Basketball Tour in Chengdu.