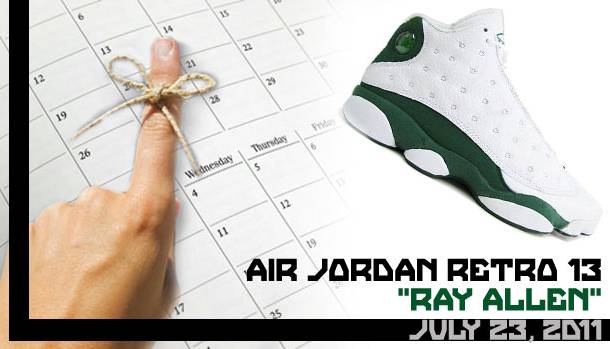 words // Brandon Richard
After weeks of heavy anticipation, confusing release information, sky-high eBay prices and a week-early lineup, the release of the Ray Allen 3-Point Record Air Jordan Retro 13 is finally upon us. A replica of the pair he wore to break Reggie Miller's all-time mark earlier this year, the Ray Allen 13 sports a dimpled white leather upper, clover green nubuck detailing and Ray's custom logo embroidered on the tongue. The shoe will be available in limited quantities tomorrow.
Where exactly will the Ray Allen Retro 13 be released? After releases in Miami and London earlier this month, the shoe will be released at several Boston-area retailers, including Nike Town and Concepts. Surprisingly, Finishline reps on Twitter have confirmed that a small amount will also be made available online, but have yet to give specifics on a day and time. We'll make an update here if they announce any new information.
For those heading out tonight (or those that are already in line), good luck and make sure you stop by the Official Ray Allen Retro 13 Thread in the forum to share your experience.