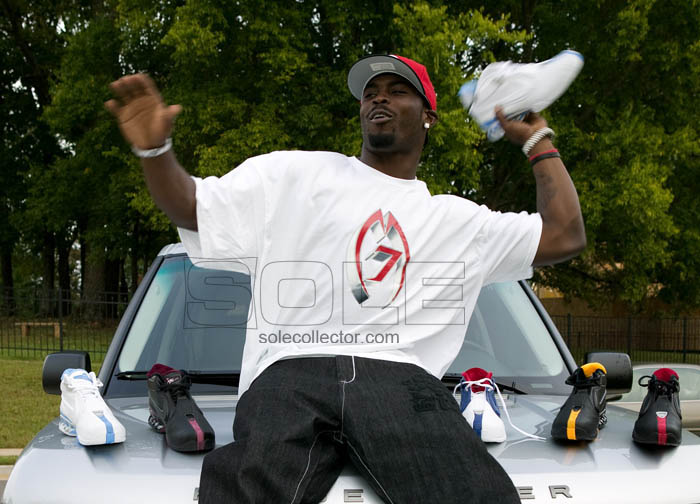 words // Brandon Richard
After simply agreeing to supply him with on-field apparel back in 2009, Nike, Inc. has officially re-signed Philadelphia Eagles quarterback Michael Vick to a long-term endorsement deal. According to a report from CNBC's Darren Rovell, both Nike and Vick's representatives acknowledged that the two parties have entered a formal agreement, but did not disclose the terms of the deal.
"Michael acknowledges his past mistakes," Nike spokesman Derek Kent told CNBC. "We do not condone those actions, but we support the positive changes he has made to better himself off the field."
Though Vick received Nike product to wear on the field in the previous two seasons, he was not financially compensated for representing the brand. That all changes with the new deal.
Vick's longtime agent Joel Segal told CNBC that "Michael is excited to have a long-term and strong relationship with Nike." The deal was done by Chicago-based attorney Andrew Stroth.
Of course, we all remember Vick's signature foot and apparel from his first go-round with Nike. When his legal issues first surfaced, Nike halted the release of the Air Zoom Vick V, causing the company to lose millions in potential revenue. That only makes these new developments that much more remarkable.
Nike hasn't decided how exactly they'll use Vick, but you can certainly believe he'll be a factor when the brand takes over official NFL licensing and apparel rights in 2012.
Another interesting tidbit - prior to signing the deal with Nike, Vick heavily considered starting his own footwear and apparel line, but passed up the opportunity in the end.
This breaking news serves up a platform for strong opinionated reactions for obvious reasons. Are you happy to see Vick back with Nike? Let us know why or why not in the comment section below.