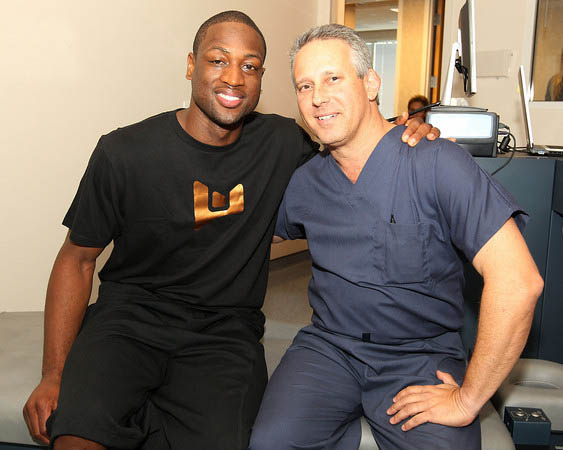 words // Brandon Richard
To improve his vision and hopefully offset some of the problems he's had with migraine headaches over the last few years, Miami Heat guard Dwyane Wade enlisted the help of Dr. Cory Lessner and the Millennium Laser Eye Center to provide with him a Lasik eye procedure. Millennium, one of the go-to eye care facilities amongst celebrities and athletes, is the official Lasik provider for the Miami Heat, Miami Dolphins, Florida Marlins and Florida Panthers. Other celebrities like Dwayne "The Rock" Johnson" and Gabrielle Union top their client list as well.
For his procedure, Wade wore a new Jordan Brand t-shirt with a curious logo displayed on the front in gold. That logo, as reported by CNBC's Darren Rovell and confirmed by Jordan Brand rep KeJuan Wilkins, is the new Dwyane Wade logo. Steering away from the Agent D3 logo seen on the tongue of the Jordan Fly Wade, the new logo is more sophisticated, but still plays on the appearance of the "3" and "W." Is it me or does Wade's new logo look similar to the new LeBron logo?
As for the surgery, it was deemed a success and Wade praised Dr. Lessner's work. "It's actually an amazing experience and nothing to be scared of. My eyes are getting a lot better by the minute. Dr. Lessner's professionalism is second-to-none and he really takes care of you. The result is awesome. I would recommend having it done to everyone."
Check out the new Wade logo in pictures and video below.