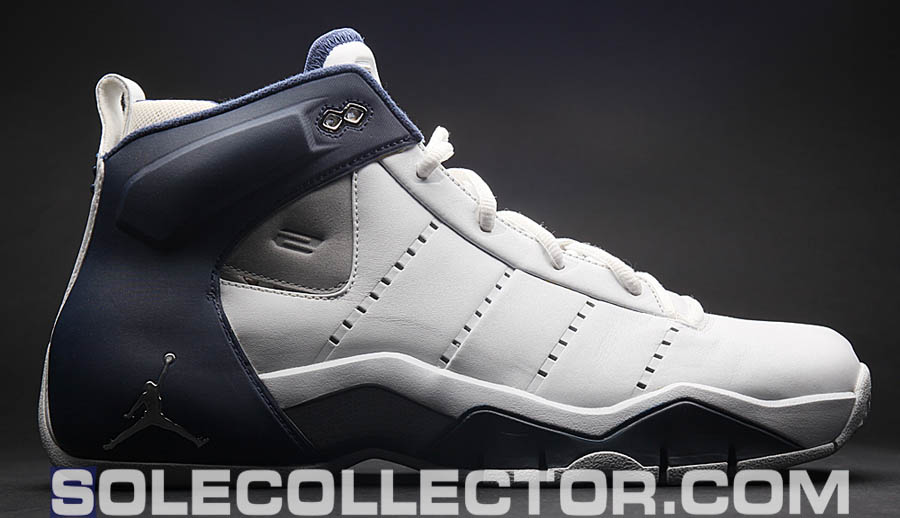 words // Brandon Richard
images // Nick DePaula
Derek Jeter finished the 2007 season with 2,356 hits after adding another 206 to his record 3,000 hit pace. Though the season was generally regarded as a disappointment and Yankees were eliminated in the Division Series by the Cleveland Indians, Jeter continued to rack up the accolades. In addition to his 8th All-Star selection, Jeter recorded his sixth overall and third consecutive season with 200 or more hits, tying him with Lou Gehrig. Defensively, Derek set a career high after being involved in 104 double-plays. Offensively, he added the second of his four Silver Slugger Awards.
In terms of footwear, Jeter did his 2007 damage in the Jordan Jumpman Jeter Vital, designed by Jason Mayden. Behind the tagline "Training is Tough, but Losing Hurts More," the Vital was built to make individuals faster, stronger and quicker. Inspired by Jeter's presence on and off the field, Mayden wanted to create a shoe that was stealth and aggressive, but refined and sophisticated at the same time.
The synthetic-constructed shoe featured a notched tongue that could be pulled forward for easy entry. Breathability is enhanced by a vent on the quarter panel and a sphere-mesh bootie. For toe-drag protection, they went with a leather underlay so that it wasn't too intrusive on the design. A foamposite collar was introduced to the Jordan training line with the Vital to ensure a snug fit. Stability is improved by the use of a midfoot support shank, while traction is provided by a combination of herringbone and nubs on the outsole.
Symbolism ran deep with the Vital, a design technique we've seen throughout the duration of the Jordan Jeter signature line. In addition to obvious Jeter hits, like the use of the number 2, four stripes along the side panels are symbolic of the four championships he had won at that point. Similarly, four stripes on the heel tab represented his status as the Yankee Captain. The double lace eyelets were a simple nod to his famous jersey number, while the tongue featured the debut of the new Jeter logo with lenticular film. More Jeter elements are seen on the heel of the shoe, including five circular points that were reflective of his being and a custom version of the famous "Wings" graphic.
Take a detailed look at the Jordan Jeter Vital below and stick with Sole Collector for more Derek Jeter 3,000 Hit coverage.