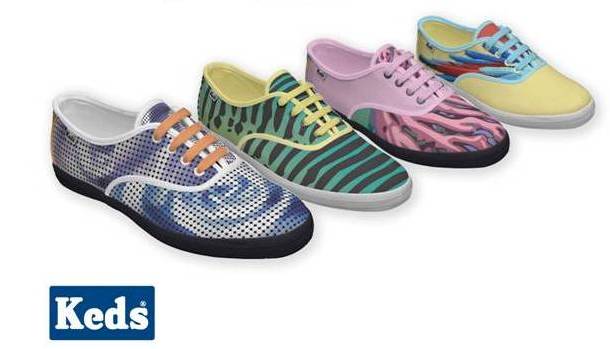 words // Brandon Richard
Back in April, we told you about the Keds How Do You Do? Shoe Design Contest, which featured students from the Fashion Institute of Technology and Pratt Institute bringing new looks to the classic Champion model. Each school was represented by four students who created unique graphic designs to add to the shoe's upper. Using an online voting contest hosted by Lord & Taylor, one of the schools was selected as the overall winner and will have their four designs sold at the popular retailer. That school ended up being the Fashion Institute of Technology (F.I.T.) and you have a chance to meet the winners and see their designs this Thursday.
Starting yesterday and running through Thursday, the four winning students will be at Lord & Taylor from 11:00 a.m. to 2:00 p.m. for on-site customization. Then, on Thursday afternoon, Keds will present FIT as the official winners of the design contest at an event that will include more live customization, free food and live models wearing Keds. As a bonus, Lord & Taylor will be giving away a GWP tote bag with every Keds purchase.
Check out the flyer below for more information, as well as the story behind each student and their winning design.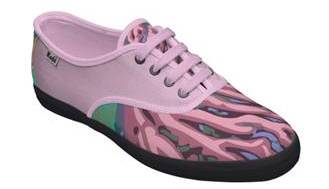 'Coral Splash' Shoe
Letisha Marsh - FIT Team
Valley Stream, N.Y.
My shoe design has a combination of a coral and a fish image. I was overall inspired by the beauty of the deep blue sea, as well as the colors, and joy that the ocean brings us each summer. I have always been very passionate about art and creating new things in any aspect.
I have been designing, drawing, painting, writing and performing since a very young age so it has became like second nature. I want to be able to inspire people with my designs and ultimately push someone to get up, be creative, and just enjoy art!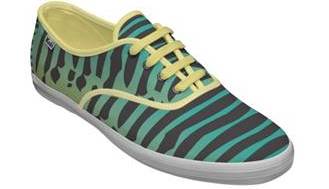 'Zebra Stripe' Shoe
Lisa Bellissimo - FIT Team
Seaford, NY
Inspiration for the shoe came after the group brought a bunch of ideas to the table and came up with a consistent theme of nature. Being that I love animal prints I choose to use zebra stripes so it is bold but also not such a pronounced image at the same time.
I like to design and create pieces that are usable and simple with a pop of color or decoration to grab your attention. After sewing and wearing my prom dress in high school, my interests in designing have continued to evolve.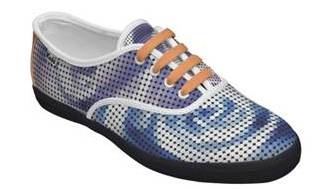 'Graphic Rose' shoe
Monica Yong Yang, FIT Team
Queens, NY
I wanted my Keds shoe to fit into my team's nature theme and maintain my personal design aesthetic. I pixelated the image of a single rose in Photoshop, added an overlaying pattern and played with hues and saturation to achieve the graphics on the vamp and quarters. I chose white bindings and a black midsole to give the shoe a clean look. I used orange for the laces, footbed and heel because the complementary relationship between blue and orange help make the design pop. The rose is not immediately apparent but becomes more obvious with a second glance.
I have painted, sculpted and illustrated with Illustrator and Photoshop. My artistic influences change often, but I currently draw inspiration from pop artists. The first time an artist's work literally gave me goosebumps was when I saw a collection of Francis Bacon's paintings at the Metropolitan Museum of Art. The paintings were raw, powerful and a little scary, but I couldn't peel my eyes away.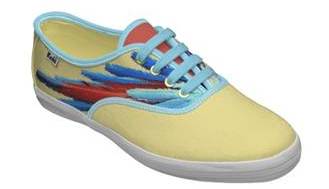 'In Flight' Shoe
Svetlana Yermak
New York, NY
The yellow, blue and red palette of the "In Flight" design was inspired by the feathers of a Macaw bird. The placement of the feathers is designed to mimic the placement of its wings in flight, so that the person wearing it will feel like their very own Hermes.
I always joke that I came out of the womb with a paint brush in my hand. I can't remember not painting or sketching; I even designed and drew my own toys as a kid. And yes, my first memory is of a painting - I was 3, and it was a print done on blue scale of Prince Charming asking Cinderella to dance at the ball.