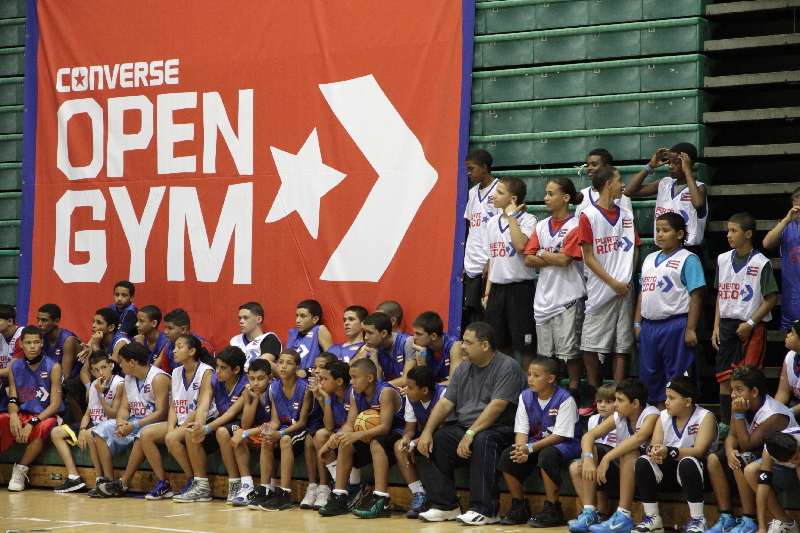 words // Nick Engvall
On Saturday, Converse launched the Converse Open Gym Puerto Rico, the grassroots program dedicated to supporting youth basketball. Serving as honorary on-court monitors were Converse athletes Carlos Arroyo and JJ Barea, who talked to the kids about how basketball has played a major role in their lives. A record number of kids, more than 1,000, attended the launch of the Converse Open Gym Puerto Rico which is free for all participants ages 10-18.
As part of the event, kids were invited to play pick-up games and had an opportunity to try on the latest Converse basketball shoes. The event featured a green screen-technology photo area where kids created their own Converse Connectivity Campaign, a temporary tattoo parlor highlighting the Puerto Rican national flag and Open Gym graphics, and the Converse barbershop where local barbers, including Carlos Arroyo, gave free haircuts to participants. They even helped some of the kids with drawing their own pair of Converse.
After being launched in 2007, Converse Open Gym has provided a free and safe place to play basketball for over 56,000 kids in cities like Atlanta, Chicago, Philadelphia, Miami and Boston. The next Converse Open Gym Puerto Rico will take place on September 24th.
Check out some of the pictures from the event below.